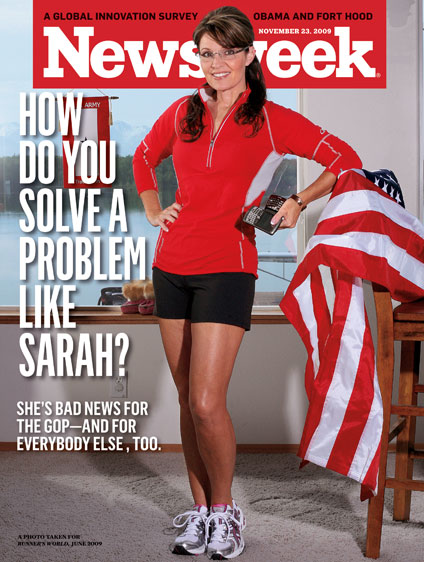 I've been looking this shot since yesterday, trying to get past initial impressions--those being that Sarah Palin has a legitimate grievance. But, for me at least, there really is no getting around it. The claim that two women were behind the cover means almost nothing to me. Newsweek editor Jon Meacham's defense isn't much better.
"We chose the most interesting image available to us to illustrate the theme of the cover, which is what we always try to do," Meacham said. "We apply the same test to photographs of any public figure, male or female: does the image convey what we are saying? That is a gender-neutral standard."



I don't really understand how Sarah Palin, in running gear, conveys either the headline, or the two stories. (I read both.) I've been trying to decide where gender fits here--Would they have  done this to, say, Dan Quayle? John Edwards? I don't think that's knowable. I do think that this photo, used in this context, objectifies Sarah Palin. I get why she's pissed off. It feels like a cheap-shot.