Rites of Passage: A Yankee Family Story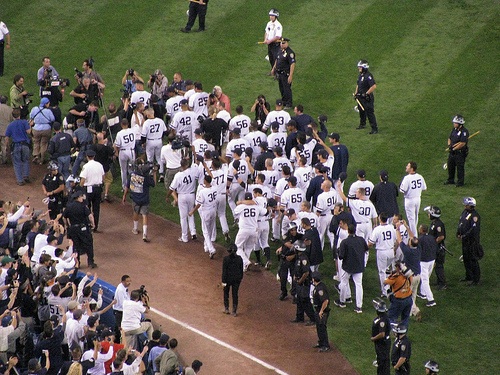 When I put my son to bed at around 8:45 Wednesday night, after watching a few innings of the World Series, I read him a story and unavoidably looked at two items I've placed in his room: a 1956 Sports Illustrated cover illustration of a young superstar, Mickey Mantle; and a dinky plastic Yankees helmet autographed by a now-81-year-old man in New Jersey named Gil McDougald.
The framed cover is on a wall and the helmet is atop a bookcase. Baseball was a potent vehicle for the assimilation of my German immigrant father into American culture. He arrived in New York from Munich in 1927, the year Babe Ruth hit 60 home runs.
He went to lots of games and, when he married late in life and had a son, he took the son to Yankee Stadium all the time. We'd walk to 86th Street and Lexington Avenue to take what I've always known as the Woodlawn-Jerome (now romantically renamed the No. 4 train), watch a game (for a few bucks, lower grandstand, between home and first), maybe two games on a Sunday, then head home.
I always knew that those formative years as a young immigrant impacted dad in various, arguably strange ways. He would sometimes spontaneously utter, "It's a pop-up." He swore that was the result of once sitting near some passionate female fan who, regardless of where a ball was hit, instantly proclaimed, "It's a pop-up!" It was his own Yankee Tourette's syndrome.
Later on, I learned from my mother that when I was small, he called me "McDougald." That was in honor of Gil McDougald, a terrific 1950s Yankees infielder who is somewhat forgotten in history despite the sort of track record--.276 lifetime average, five-time All Star, dandy fielder--which would make him a millionaire many times over today.
When I married late in life and had a son, a close friend's son found the little autographed helmet on a sports memorabilia website and gave it to me as a present. It's become a fixture in the room of my son, Blair, whose first t-ball team last summer was, wouldn't you know, the Yankees.
A few years ago, I was feeling nostalgic and sorry that my dad, who passed away in 1988, wasn't around to see Blair and the little plastic helmet. I felt compelled to reach out to Gil McDougald himself with this tale of generational continuity. I found his address and wrote him a letter about my father loyalty to him and a little boy in Chicago who slept near the helmet he autographed. I never heard back but that didn't really matter.
Fast forward to last night, Nov. 4, 2009, and watching the sixth game of the World Series with my son, who had turned six the day before. To my wife's chagrin, he's picked up on my rather overt fidelity to the Yanks. I let him watch a few innings, then took him to his room and read him a favorite story about a peddler who wears a whole bunch of different colored hats.
"Daddy, will you tape the game for me?" he asked.
After watching way too many post-game interviews after the Yankees victory ("Alex, does it get any better than this?" was among the typically acute queries), I went back upstairs, brushed my teeth and headed down the hall to his room. There was Blair, spread-eagled above his blanket and sheets, grasping his favorite penguin.
I put him back under the sheets and blanket and, as I do each night after he nods out, gave him a kiss. Once again, I couldn't help looking at the plastic helmet and the Mantle illustration on the wall. I then remembered that, for good luck, I was wearing a 1950s Tiffany watch that was my dad's.
This morning, our five-month-old awoke in his crib and my wife brought him into our bed around 5 a.m. A few minutes later, there came the pitter-patter of little feet hustling down the hall toward us. It was Blair, wearing his baseball glove and holding his favorite yellow tennis ball.
"Did the Yankees win?" he asked. I said yes. Delighted, he announced, "The Yankees have won the World Series 27 times, Daddy!" He proceeded to kiss his baby brother, who was smiling, screaching and peddling some imaginary bike with his feet.
It just so happens that, after a long period of unemployment, I returned to work fulltime the other day. And, now, the Yanks have won again. Sometimes the past is prologue. Thanks, Dad, Gil, Mickey and, of course, little Blair, who can now be heard bouncing the ball in the family room.
Photo Credit: Flickr Users Ben Yankee and Thomas Duchnicki