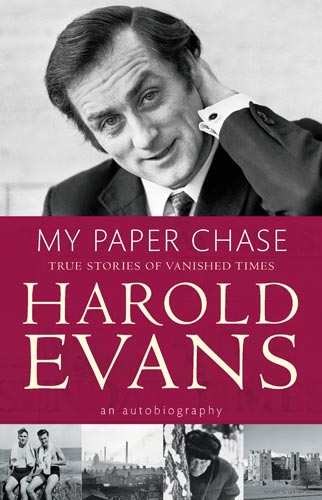 For the past twenty-five years, Harry Evans (formally, but rarely, known as Sir Harold Evans) has been based in New York in a succession of high-profile media roles, including publisher of the Random House Trade Division, founding editor of
Condé Nast Traveler
, best-selling author, and husband of Tina Brown. But before all that, Harry already had made his name as hands-down the best newspaper editor in Britain of his era, mainly at the
Sunday Times.
Now 81, Evans has written his memoir, covering the full arc of his very full life. His youth and early career take nearly half the book and have an elegance and generosity of style. Harry does everything with verve, and this autobiography is, to use a time-honored encomium, rollicking.
But at the core of the book is also an element of melancholy, not about the time he has spent so productively, but because he believes the courageous spirit of journalism's best features are endangered. He titled his book My Paper Chase: True Stories of Vanished Times, reflecting his sense that myriad pressures are debilitating newspapers without providing the clear path to how they will be adequately replaced. Evans's career always has been characterized by creative optimism. In recent years, he was involved with the Week, the American offshoot of a British weekly that is a well-edited aggregator in print format and that has defied the odds and succeeded in this very troubled period. And, on his next-to-last page, he cites the Daily Beast, Tina Brown's lively Web site, which he mentions in the midst of declaring his hopes for the best of newspaper traditions to be combined with the potential of Web technology.
"The question is not whether internet journalism will be dominant," he writes, "but whether it will maintain the quality of the best print journalism. In the end, it is not the delivery system that counts. It is what it delivers." I'll drink to that.
Yet Harry's most palpable joy in this memoir is for his years at the head the Sunday Times, which in his day was celebrated for investigative, campaigning reporting that uncovered secrets and wrongdoing. This was news-gathering of the very expensive and time-consuming sort that was only possible because of the business commitment of his owners--Sir Roy Thomson and later his son, Kenneth--and their respect for newsroom independence. Evans was editor of the Sunday Times from 1967 to 1981, when he left for a stint at the Times, then just purchased by Rupert Murdoch. Barely more than a year later, he was forced out, a measure of what happens to a strong editor who displeases a willful proprietor.
At the Sunday Times, a signature feature became the Insight team, a task force of reporters who combined extensive detail and forceful writing. One of the most famous of these exposes involved thalidomide, a drug given to pregnant women between 1958 and 1962 to counteract morning sickness and other symptoms. Taken in the first trimester, the drug caused babies to be born with deformed or missing limbs. Evans writes that more than four hundred babies were affected in Britain and as many as 20,000 worldwide. His account of the Sunday Times relentless pursuit of the drug manufacturer and others conniving to limit compensation due the victims is a classic of what that kind of journalism is meant to accomplish. Many of Insight's legendary stories--the case of Harold "Kim" Philby, a Soviet spy who penetrated the highest echelons of British intelligence, for example--were distinctly British in subject matter. For American readers, these are more than good yarns, however, they are scenarios for what should be journalism's calling, written, in its way, as an elegy. The book's epigraph attributed to James Madison in 1822 is "Knowledge will forever govern ignorance and a people who mean to be their own governors must arm themselves with the power which knowledge gives."
Evans' American period is highlighted by his exploits at Random House (where we were colleagues). Among many other publishing adventures, he acquired the multi-million dollar autobiographies of Colin Powell and Marlon Brando and worked closely with these enormous personalities. Powell's book did better. For anyone who thinks book publishing is a sterile and colorless craft, here is evidence that you can come away from the experience of stewarding a major book with stories worth retelling. (Also in this entertaining genre was Another Life: A Memoir of Other People by the former editor-in-chief of Simon & Schuster Michael Korda).
So words well used have always been Harry's forte. But his greatest ardor was for the newspaper, especially the Sunday Times. "I still get a high from the fumes of those Saturdays when a vague idea from the beginning of the week--or an investigation started months back--crystallized into a thriller package of story, headline, photograph and graphic. Or the glorious moments when we got our hands on the first copies of the newspaper, expunging all the raw, urgent untidiness of the passion and fine-tuning in the making of it. How authoritative everything looked! How delicious the smell of the still warm newsprint." In its way, My Paper Chase is a reminiscence of more than a life. It is a tribute to journalism, especially rendered on the printed page.
(Photo: Little, Brown Book Group)