Introducing the Chicago News Cooperative
Chicago was the quintessential twentieth-century newspaper town. Ben Hecht and Charles MacArthur's play Front Page, which premiered in 1928, captured the city's zest for breaking news. Tribune Tower, a monument to Colonel Robert McCormick's vision of his daily as the "World's Greatest Newspaper," was also a buttressed symbol of power. In its pre-World War II heyday, the Chicago Daily News had the premiere cadre of foreign correspondents in the country. In later years, New York was the financial and media capital of the nation. Los Angeles had the movie business. Washington had politics and government. Chicago had The Mayor (Richard J. Daley) and the ne plus ultra of big-city columnists, the great Mike Royko.
With both of its surviving metro newspapers in bankruptcy and local network affiliates' running cut-rate news outfits, this decade has been a harsh comedown for newsgathering on the southern shore of Lake Michigan.
The Chicago News Cooperative (CNC), which launched last week, is not, singlehandedly, going to reverse that decline. It is a start-up, and many major tests are still to come. But as CNC's press release declared, it is committed to providing "high quality, professionally edited news and commentary to the Chicago region on the Web, in print and over the airwaves." The cooperative begins with the backing of Window to the World Communication, the parent of WTTW 11, Chicago's public television station, and on November 20, it will start providing two pages of news twice a week to the New York Times for its edition distributed in Chicago and the region. The editor of CNC, James O'Shea, is recruiting a staff whose work will begin appearing immediately in probably the most prestigious newspaper in the world. Good luck, Jim.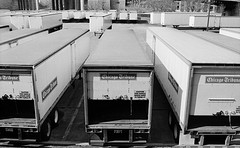 I am the chair of the CNC advisory board. My Chicago bona fides in journalism are all second hand. I married into a family with deep Hyde Park roots more than thirty-five years ago; my son spent a decade as a reporter and foreign correspondent for the Chicago Tribune, which made me a regular reader. My friend (and former fellow Moscow correspondent) Howard Tyner introduced me to the digital future when, as editor of the Tribune in the 1990s, he helped establish the multi-media newsroom, with a strong presence on America Online at its peak and a local news channel CLTV operating round-the-clock--all this a decade before most people came to realize that newspapers would need to expand their platforms and adapt their revenue models. CNC has refined that model, updated to the technical and fiscal realities of today.
O'Shea would make all those twentieth-century Chicago news people proud. He has a natural reporter's energy combined with leadership skills. For CNC, he has made himself knowledgeable in the expectations of contemporary readers, a combination of public interest news with a community base, a balance between the best of professional news gathering and respect for what interests and concerns the people who will, over time, become CNC's consumers. "Journalists must adapt to new technologies and devise some creative, innovative ways to fulfill our obligations," O'Shea said in the CNC release. That, succinctly put, is the challenge we face.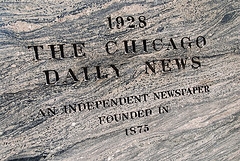 The CNC announcement coincided with the publication of a major report, "The Reconstruction of American Journalism," written by Leonard Downie, the former executive editor of the Washington Post, and Michael Schudson, a leading scholar of journalism and democracy, and commissioned by Columbia's Graduate School of Journalism. The report has received well deserved attention because it comprehensively summarizes the roiled landscape of the news business, highlighting the broad range of new approaches being devised to offset the impact of what is an upheaval in the realm of print and broadcast of unprecedented magnitude and velocity.
Reading the report in tandem with the planning for the Chicago News Cooperative, I was impressed with some clear guidelines for reconfigured journalism. There is an emphasis on collaboration--in CNC's case, as a contractor for the New York Times and a partner with WTTW. These relationships will be defined in practice and success will require finesse from all parties. Winston & Strawn, a major Chicago-based international law firm, has provided indispensable early legal assistance, pro bono, and has offered space for CNC's downtown newsroom, conveniently nearby to City Hall. O'Shea is in discussion with WBEZ, Chicago's public radio station, which has a very strong local presence about the possibilities of content sharing. The staffing of CNC will ramp up quickly and the goal is to have the Web site, Chicago Scoop, in stride sometime in 2010. The combination of these elements, rather than reliance on a single benefactor or investor, is the organizing principle for CNC and underscores a core message of the Downie-Schudson report: "there is unlikely to be any single new economic model for supporting news reporting. . . . American society must now take some collective responsibility for supporting independent news reporting in this new environment."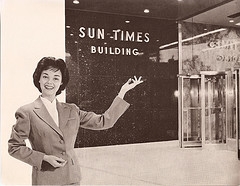 The John D. and Catherine T. MacArthur Foundation has made an initial grant to CNC, which together with other pledges and in-kind support assure the cooperative of a first year of operations. We hope other foundations and individuals will join in this founding phase. I have on my desk a report from the Knight Commission on the Information Needs of Communities in a Democracy that reflects the breadth of philanthropic interest in this subject. Ultimately, for the CNC to fulfill its objectives, it will need to reach well beyond these early backers to the great city it seeks to serve, and persuade the people of Chicago that public interest news is a civic asset worthy of their support, one way or another.
Photo Credit: Flickr Users Alex Barth, Steve Rhodes, mod as hell