Coen Brothers's Movie Is "Seriously" Good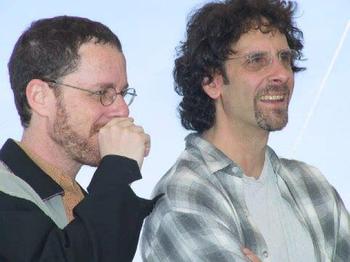 This unusual film, "A Serious Man," written, produced and directed by the Coen brothers, received mixed reviews from other critics. 
It opens with a long scene involving a husband, his wife, and a possible Dybbuk a century ago in Poland.  A Dybbuk is a feared living spirit inhabiting the body of a dead person usually associated with evil.  The characters speak Yiddish, most of which I understood, but the subtitles helped with the translation.  The Dybbuk is played by Fyvush Finkel, a well-known New York actor whom I have met and once joined with in celebrating an event at the old 2
nd
Avenue Deli in Manhattan.  Oh, the good old days.
The movie is about a modern but religious Jewish family living in Minnesota in the late '60s.  The father, Michael (Larry Gopnik), is a physics professor at a local college.  His wife, Judith (Sari Lennick), is going through a midlife crisis and having an affair with a widower, Sy (Fred Melamed).  Michael and Judith have two children:  Danny (Aaron Wolff) who is studying for his bar mitzvah, and Sarah (Jessica McManus), a teenager who is the least interesting member of the family.  Her major concern appears to be washing her hair.  Finally, there is Larry's brother, Uncle Arthur (Richard Kind), who sleeps on the family's sofa.  Arthur seems to be mentally unstable and also spends an inordinate amount of time in the bathroom.
Larry appears as a modern-day Job, visited repeatedly with a series of problems too difficult for most people to handle.  His wife reveals her affair and asks Larry to move to a motel, which he obediently does.  Larry is being threatened by a student and is offered a bribe by the boy's father to give his son a passing grade.  At the same time Larry, who is being considered for tenure, is told by a friend on the tenure committee that it has received anonymous letters attacking his character.  Larry muddles through one setback after another.
I, like Larry, enjoyed the canonical music, felt very comfortable in the synagogue and was surprised by the virulence of his neighbor's anti-Semitism.  The entire script is a mishmash:  funny, droll, and anxiety producing, just like daily life in many Jewish families.
I enjoyed watching it all unfold wondering what gentiles and Jews in Minnesota and elsewhere will think of the film.  A Serious Man" is not a typical film, but one that this Jewish kid from the Bronx thoroughly enjoyed. 

I saw the picture at the Landmark's Sunshine Cinema, 143 East Houston Street, on the Lower East Side.  The 1898 building was formerly a Yiddish vaudeville house and the Houston Hippodrome Movie Theater.  The current theater shows popular and artsy films and has wonderful stadium-style seating allowing a view of the entire screen.
HS said:

The last Coen brothers film I saw was "No Country for Old Men."I did not like it. Watching innocent people being gunned down by a psychopath is an unpleasant experience for me, no matter how artistically the victims are dispatched or how magnetic the killer appears to be.That is why I was so delighted by "A Serious Man," which showed the comic talents of the Coens in dealing with a serious subject, coping with misfortune.
It was also a pleasure to see a thoroughly Jewish movie, without gore and without hysteria. There was sarcasm in dealing with Rabbis and teachers, but the principles of helping others and doing your best are upheld as core values.The great gifts of the Coen brothers are put to use here in depicting one honest and just man, Larry, bedeviled by the modern equivalent of Job's trials.Parts of the movie are "galgenlieder" (gallows humor), but well done.
I particularly recommend this movie to secular Jews.They should see what they are missing.Some of it is very good, some is not so good, but it is their DNA.


Photo Credit: Wikimedia Commons