Books: Get Them While They're Hot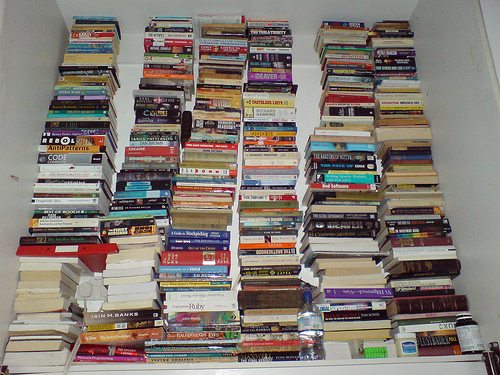 Two announcements lately highlight the growing and increasingly glamorous role of the digital delivery and distribution of books. HarperCollins, publisher of Sarah Palin's memoir, Going Rogue: An American Life, said it was rushing the book to sale on November 17, months earlier than originally planned. But the publisher is withholding the e-book version to be offered on the Kindle, Sony Reader, and their emerging competitors until the day after Christmas because the hardcover price, listed at $28.99, will be so much higher than the digital book, which certainly will go for much less ($9.99 on the Kindle, for example). Meanwhile, Tina Brown and my colleagues at the Perseus Books Group launched a new imprint, Beast Books, which will feature works by writers from Brown's Web site, The Daily Beast, first as e-books, and a month or two later as paperbacks.
Both of these stories were especially eye-catching because of the star names attached to them. Sarah Palin in politics and (my friend) Tina Brown in media attract crowds for whatever they do. The actual developments being reported were not as unprecedented as some news accounts made them sound. But they do reflect important trends in publishing as the digital age truly arrives for books.

Releasing a book in hardcover followed sometime later by a lower-priced version in paperback has been standard practice for probably close to a century. Some book historian will know. It makes sense to stage the availability of a book in various formats, and adding an e-book to the mix is now inevitable. Movies always have been released into theaters first to corral the ticket and popcorn sales, followed by DVDs and broadcast. In the past two years, the simultaneous debut of some independent films in multiple formats (via distributors such as IFC and Magnolia) has added to their audiences because there were so few theaters where they could be seen, but this is still unusual.
The point is that the concept of withholding the e-book for a while to drive hardcover sales (the same strategy was used for Ted Kennedy's memoir True Compass) is sensible, traditional in its way, and certainly no egregious abuse of consumer prerogatives. As the marketplace for digital books develops, this may well be a standard pattern for expected bestsellers: readers will have to wait to get the book in lower-priced versions, as they have for decades.
The Beast concept of "instant books" updated to the digital era also has been around for years. Until the Internet made it outdated, publishers would rush out high-profile investigative official reports almost overnight. This was true as far back as the Warren Report on the assassination of President Kennedy in 1964. In 1998, PublicAffairs scored its first number one paperback bestseller by turning the steamy Starr Report into a book in seventy-two hours, from release on Friday afternoon to in-store sale in major cities on Monday. Those books were all air-shipped, an expensive process but well worth the trouble given the enormous sales that resulted. Quick books on hot topics also have a venerable past and a lively present. Today's bookstores are loaded, for instance, with books about Michael Jackson, barely more than three months after his death. By my count, there are already six books published about Bernard Madoff and his massive Ponzi scheme, with many more in preparation.
So, if the staging of books in various formats isn't new, and neither is the notion of instant books, what then is actually happening to justify the buzz about these developments?
It is the emergence of digital books as a significant factor in the future of book sales. Last week, Barnes & Noble announced it would have an e-reading device in stores for the holiday season, and Amazon again dropped the price of its standard Kindle. Forester Research predicts total sales for e-book devices will be three million units in 2009 and double that in 2010. Most remarkable of all, Amazon CEO Jeff Bezos said that for books available in hardcover and Kindle, the digital sales now make up to 48 percent of book sales. Last spring he said the percentage was 35.
Assuming those Kindle figures are not misleading (there are no actual numbers to analyze), then the whole measure of book sales is changing. A New York Times story about the sales of The Lost Symbol, Dan Brown's new blockbuster novel, never mentioned e-book sales in its estimate of how the book was doing under a headline that said "Book Sales Are Down Despite Push." Well, maybe not as much as you think. The book has sold close to three million hardcovers in its first three weeks. And The Lost Symbol was released simultaneously as an e-book, so the total sales are somewhat higher. All these assessments may well sound like insider palaver to most readers, so let me reduce all the trade talk to a simple fact: You are going to be able to buy books in new fangled ways with prices that will bounce around a bit. The five-hundred-year-old era of the printed book is definitely not over, in my view, or even especially endangered, aside from the impact of the brutal recession we've been through. But the digital age has now, really, unequivocally, arrived. And that, for the publishing community as well as readers, should be a plus.
(Photo: Flickr/zimpenfish)