Woody Allen's Latest... It Works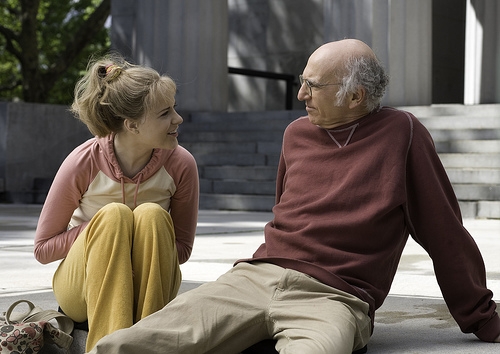 I'm a Woody Allen groupie, and even his failures amuse me.  This film didn't totally work for me, but it is interesting and often funny.

Boris (Larry David) is an idiosyncratic, know-it-all, genius physicist, who meets and later marries a homeless woman, Melody (Evan Rachel Wood), who is young and beautiful.  Her mother, Marietta (Patricia Clarkson), shows up unexpectedly and ends up in a ménage a trios.  Melody's Mississippi near-hillbilly father, John (Ed Begley Jr.), also travels north to find his daughter.

The main problem I had with the film is that Larry David, who occasionally--as in a Shakespeare play--steps out of his role and addresses the audience, was not convincing in his role.  He has an HBO show, Curb Your Enthusiasm, for which he writes his own terrific scripts.  His performances are marvelous on his own show, week after week, but not so outstanding in this movie.
Woody Allen is always exploring new avenues.  While Whatever Works isn't close to his best films, it is far better than most of the current crop of romantic comedies, most of which are schlock.
HS said:  "The movie is aptly titled.  It worked for me, although I was turned off somewhat by the Woody Allen character's egomania.  I realize Allen was satirizing himself, but why at such length?  Overall, I enjoyed the film, which is the purpose of paying to see it.  Is this move the best of Woody Allen?  Is every play by Shakespeare the equal of Hamlet?  I particularly liked the numerous location shots, which were very New York.  The plot was preposterous, but so what?  Woody Allen's work attracts and holds your attention.  See for yourself."

Photo Credit: http://www.flickr.com/photos/sinemabed/3519203239