Remembering a Remarkable Jewish Mother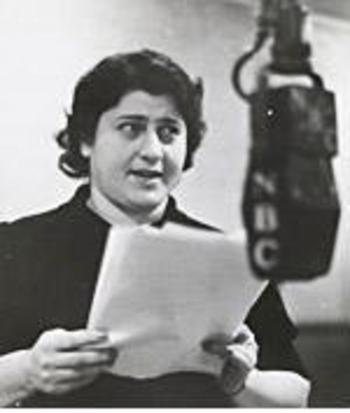 A documentary feature making the art house rounds this summer with the jolly title of Yoo-Hoo Mrs. Goldberg is a fascinating and revealing look at the story of Gertrude Berg. She was the star, writer, and producer of an enormously popular radio and television series in the 1930s, 1940s, and 1950s, which was also a movie and Broadway play. In retrospect, this warm-hearted portrayal of a New York Jewish family without reference to anti-Semitism, ethnic insecurity, or the Holocaust seems amazing, all the more so because the program eventually was undermined by a different scourge, the anti-Communist fervor of the post World War II era.
The film is the work of Aviva Kempner who made an award-winning movie some years ago called The Life and Times of Hank Greenberg, about the great Jewish baseball player of the 1930s and 1940s and his confrontation with anti-Semitism in sports. She chose Berg as a subject, Kempner says, because for all her accomplishments, she has been largely forgotten, which is one of the reasons her story makes so deep an impression. Berg died in 1966 (at age 66) and the series, The Goldbergs, never went into syndication (there is talk of a boxed set next spring). Berg defied the odds of her time as a creator and businesswoman, and showed extraordinary courage in the face of the McCarthyist onslaught of the early 1950s about which I'll talk more in a moment.
The Goldbergs was a top-rated situation comedy for CBS in the earliest television years. Berg was the first recipient of an Emmy for lead actress in a series. As Molly Goldberg, she presided over a household consisting of husband, Jake, two teenage children, Rosalie and Sammy, and "Uncle David," who like Molly herself was a dispenser of wry wisdom with just enough malapropisms to be funny. The show always began with Molly leaning out of Bronx tenement window, urging viewers to buy Sanka (the sponsor in its peak years) and gossiping with the neighbors, all clearly Jewish. Nothing about the characters or the situations reflected any self-consciousness about their identity. Clips from the program in the film make no mention of the fact that this was barely five years after the full revelation of Hitler's "Final Solution" and in the embattled, inspiring early years of Israel. In one episode, a letter is received from relatives in Europe with the anodyne observation that they hadn't been heard from since before the war.
If the program or Berg herself as a writer and actor ever displayed awareness of the anomalies of being a Jew at that time, the documentary makes no mention of it. There are extended excerpts from an Edward R. Murrow interview with Berg on his Person-to-Person program, and we see her in her luxurious Park Avenue duplex, accompanied by her husband, looking elegant and well spoken, a doyenne who, by donning an apron on her ample bodice and adding a lilt of Yiddish inflection, became the perfect Jewish mother. (She had six grandchildren when she died.) Berg wrote thousands of scripts for the radio show and the television series, which spent nearly five years on the air, ending in 1955. Along with her work on the feature and Broadway show, she was clearly a formidable dealmaker able to persuade, among others, William Paley (the founder and chairman of CBS and a largely closeted Jew) that Americans would take to this Jewish household and sensibility. This is also the period in which the all-Black Amos and Andy show was also a national hit. Looking back, that program was so egregiously stereotypical and racist that in the age of Obama (let alone in the summer of Henry Louis Gates and racial profiling), it is acutely embarrassing. The Goldbergs, while dated, feels affectionate, an idealized version of family rhythms, uncluttered by grittier matters.
But reality did intrude, in September 1950, when Red Channels: The Report of Communist Influence in Radio and Television listed Philip Loeb, who played Jake Goldberg, among actors with Communist party backgrounds or affiliations. The documentary suggests he was named because of his work on behalf of Actor's Equity in the 1930s. General Foods, sponsor of the show, insisted that Loeb be dropped because he had become controversial. When Berg refused, they withdrew their support and The Goldbergs went off the air while Berg searched for another sponsor. She appealed to New York's Cardinal Spellman, who was thought to be influential in such situations. The documentary says that he agreed to help if Berg converted to Catholicism. Loeb finally resigned, accepting a financial settlement. He later committed suicide. (His death was dramatized in a film called The Front starring Zero Mostel, his friend and another victim of the blacklist.) The Goldbergs reappeared with a new Jake, but never recovered its momentum. Its time slot went to I Love Lucy.
Berg's last major success was on Broadway, where she won a Tony in 1959 for her role in The Majority of One as the widowed Mrs. Jacoby, who lost a son in World War II and falls in love with a wealthy Japanese widower (played by Sir. Cedric Hardwicke) who lost a daughter at Hiroshima. Berg received an extensive and highly positive obituary in the New York Times, which listed all of her achievements as an artist but made no mention of the Loeb saga or the eerily apolitical context of The Goldbergs. Interestingly, Kempner's wonderful film doesn't discuss that issue either, probably because neither Berg nor anyone else publicly recognized at the time how strange that was. It wasn't until the early 1960s that the term Holocaust came into common use, shaping Jewish history for all time thereafter. Gertrude Berg did a star turn, and as this film shows, she was also a class act.
(Photo credit: NY Public Library)