What do you get for a $15,000 dinner with the President? Try crab cakes, baseball highlights and a chance to debate the Honduran coup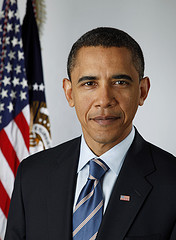 President Obama's perfect, four-hour homecoming Thursday included exulting in a Chicago White Sox no-hitter and raising around $3 million. But what was in it for your garden variety rich American?
Well, at the North Side home of Penny Pritzker, a close Obama chum and super fundraiser, there was a large, if culinarily unimaginative, early-evening buffet dinner, according to resourceful Mike Flannery, a reporter for Chicago's WBBM-TV and the best political journalist in town.
A highly-placed kitchen source told Mike that the buffet for the 100 attendees included rack of lamb, beef tenderloin; Ahi tuna; crab cakes; mushroom tart; lobster and shrimp jambalaya; flat breads with chutney and goat cheese; and rice crackers and seaweed salad.
Mike, a cerebral Georgetown University graduate, will admit to not being a potential contestant on Bravo's "Top Chef." But my Pulitzer Prize-winning wife, a bonafide ace cook, sniffed that it sounded "like a buffet at Houlihan's." Ouch. That's a decidedly uninspired downtown restaurant that's a slight improvement over T.G.I Friday's. Then, again, she studied cooking in Paris.

"You don't spend $15,000 for dinner," said Norman Bender, a plumbing magnate from Woodbridge, Conn., among guests who came from across the land and, in one case, London. "We got to speak to the President of the United States."
But before you did, you apparently had to watch highlights prepared for Obama of that afternoon's rare perfect game pitched by White Sox star Mark Buehrle. Obama, if you didn't know, is a Sox diehard. But since there was at least one woman who came all the way from London, I could only wonder about perhaps being a cricket fan and paying $15,000 to see the President, only to face the obligation of watching video of a sport you had no clue about.
Regardless, folks did have a chance to speak to, and have a picture taken with, Obama. And, at least in one case, there was the opportunity to exhibit some nerve.
The interview wound up on the cutting room floor due to time constraints but Flannery did buttonhole Chicagoan Sheldon Baskin, who indicated that he'd confronted Obama on U.S. criticism of the coup that ousted Honduran President Manuel Zelaya. If you recall, Obama was very public and immediate in justifiably denouncing the action as illegal.
So that meant Baskin was making an argument for the coup?
At that point that Flannery raised his own assumption, the lady at Baskin's side interrupted. "Shelly, Shelly, don't talk about it!" she apparently declared.
But, wait. So how did the President respond, Baskin was asked.
"He disagreed," Baskin said.
Obama spent about 90 minutes at the apparently gorgeous Pritzker house before heading to a less intimate hotel fundraiser, then back to Washington. But he clearly reinforced the loyalty at the economic apex of his political base. What can be the reflexive journalistic penchant to ooh and aah over a $15,000 price of entry was dismissed by plumbing magnate Bender.
"Nobody in there was spending the college fund," he reported.
Of course, curmudgeons and Blue Dog Democrats would probably get dyspeptic over such distribution of funds on anything.
Now, if Obama, Rahm Emanuel et al. can only be as efficient in dealing with the Blue Dogs on health care as Buehrle was with the Tampa Bay Devil Rays (dispatched in a wonderfully brief two  hours and three minutes), there's hope for success on that front.
Of course, the growing Washington conventional wisdom is that Obama has played his cards wrong on health care. Relax. It's early. The D.C. echo chamber is running amok.
Hey, a left-hander selected in the 38th round of the baseball draft in 1998, meaning his prospects were slim to none, pitched his second no-hitter Thursday.

(Photo: Pete Souza/Official Presidential Portrait)

As for dessert, it included tea cookies; fruit finger tarts; chocolate mousse; mini-cheesecakes; strawberries and blueberries; and chocolate éclair. Again, it wasn't Alinea, a nearby restaurant deemed the best in America by Gourmet magazine. But so what?