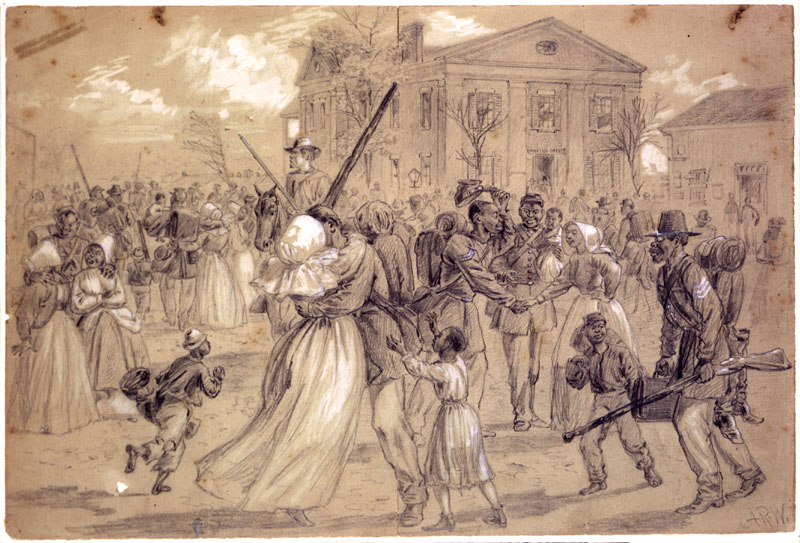 Published in Harper's Weekly, May 19, 1866.
The mailman just arrived with a copy of Noah Andre's Trudeau's Like Men Of War: Black Troops in the Civil War 1862-1865. I'm trying to knock this Drew Faust joint out in the next couple weeks, so I can move on. Probably shouldn't talk about books like that--I'm taking time to absorb this Drew Faust joint. Sound better.
Anyway, dig this engraving from Harper's Weekly. It was made in 1865 after the artist watched black troops "mustering out in Little Rock." Here's the artist as quoted by Trudeau:
Just in from Duvall's Bluff, where they had been stationed, their landing created a furor among the resident colored families...[Some] rushed into the arms of their husbands with an outburst of uncontrollable affection...Children ran about with bundles of blankets or knapsacks for their papas, or begged the privilege of carrying a gun for some sable warrior.

Damn. Obviously I'm taken by the soldier in the middle kissing his wife. I don't know how to explain this, and not sound melodramatic. When you're black you feel yourself discussed in this singular, grinding, tragic way. Again, that may not be objectively true--but it's how it feels. And truthfully, on some level, you start to buy it. How many times have we heard some riff off the refrain that black folks can't stick together? You find yourself saying things like, "Niggers and flies I do despise\The more I see niggers, the more I like flies."
Even if it isn't the explicit, you can't help but buy into the narrative. A buddy of mine once said that living in a black New York means getting off the train every evening in your neighborhood, surveying the terrain, and going, "Damn."
But then you see something like this...