"Music Is the Freight Train In Which God Travels..."
[Alyssa Rosenberg]
Many thanks to Ta-Nehisi for letting me hang out here this week and represent the ladies.  In my day job, I'm a staff correspondent at
Government Executive
, The Atlantic's sister publication about government management, and on the side, I
write about pop culture
for
The Atlantic
's website and do some other freelancing.  I like science fiction, comics, British television dramas, unusual women singers, fast rhymes, baking, and bourbon.  I'll get to those in a minute.
But first I wanted to say how glad I was that Neil
brought up
The Wiz.  
The show isn't an exceptional favorite of mine, but these sentences stuck out at me: "
there was something about that hateful, little blurb running once or twice a year alongside glowing reviews of 

Mary Poppins

 or

Chitty Chitty Bang Bang

 that rubbed me very much the wrong way. It was one of my earliest brushes with what I eventually decided was -- say it with me, folks -- racism!"  Neil's talking about the movies, but

The Wiz

 began life as a musical.  And it's worth remembering how undeniably white Broadway is, and how hard it is for a show like

The Wiz

 to break through to occupy a Broadway stage, much less to become a massive hit there.
Broadway is so calcified in certain ways, that it was somewhat unusual last year when two musicals by non-white composers and writers, and rooted in African-American and Latino experiences, were playing in Broadway theaters,

Passing Strange

 at the Belasco and

In the Heights

 at Richard Rodgers.  The latter won praise (and a bunch of Tonys) for its theoretically unusual voice, embodied in the choppy flow of Lin-Manuel Miranda, the show's creator and star (which I found almost unbearably irritating).  But I suspect the show did so well in part because it was so familiar to critics and traditional Broadway audiences--

West Side Story

 without the stabbing, an extended rendition of "America" without the anger.  If I never see another love song delivered from a fire escape, it will be far too soon for me.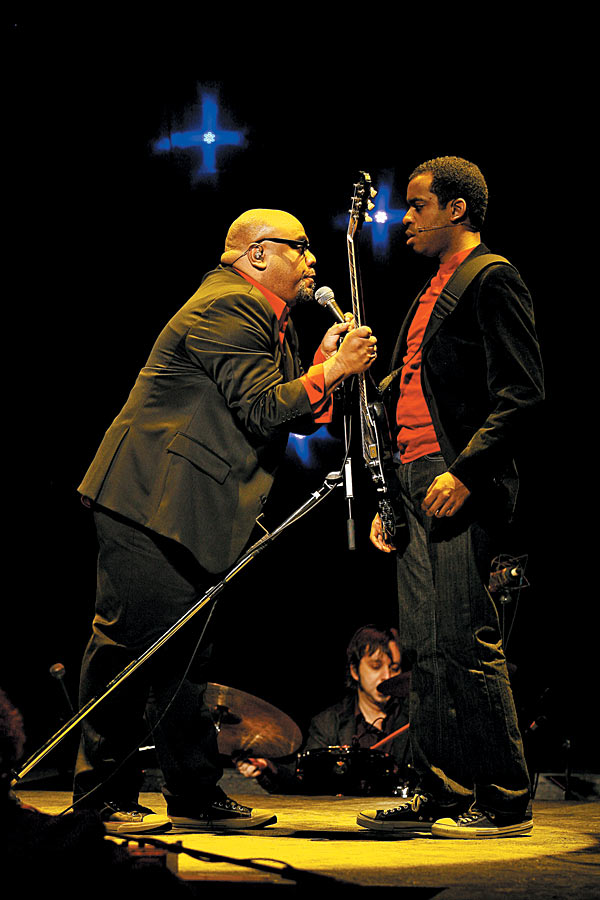 Passing Strange

, in contrast, had a deep skepticism about the musical theater format in its very structure.  Stew and Heidi Rodewald, co-creators of the show and partners in the collectives STEW and The Negro Problem, used a stage that raised and lowered the band in and out of the action.  Stew frequently broke the fourth wall in his role as a narrator.  And the show, which traces the Youth's (a younger version of Stew) attempts to forge an identity for himself as an African-American man in middle-class black Los Angeles churches, Amsterdam coffeehouses, and Berlin art collectives, begins in gospel music and travels through punk, pop balads, electroclash and rock, but eschews hip-hop.  The show was stubbornly anti-typical, and gorgeous.  And it closed last summer, despite fantastic reviews, Tonys of its own, and the fact that Spike Lee was filming it for a television adaptation, while

In The Heights

plays to sold-out audiences.  
Passing Strange

's lesson is depressing, not just because the ultimate message is that it's hard to get black characters, much less all-black casts on Broadway, but because it's so difficult to do anything that breaks with Broadway's staging and story-telling conventions, no matter the color of your skin.  Fortunately, 

Passing Strange

will play in a limited theatrical release this fall, and on PBS in 2010.  But it was incredible live, and it's a loss that audiences won't get to see it that way.