The Tragedy And Betrayal Of Booker T. Washington
These days, it's popular to bemoan the fact that Washington has fallen into disfavor. But it wasn't blacks who proved the Atlanta Compromise fraudulent—it was the whites of that era.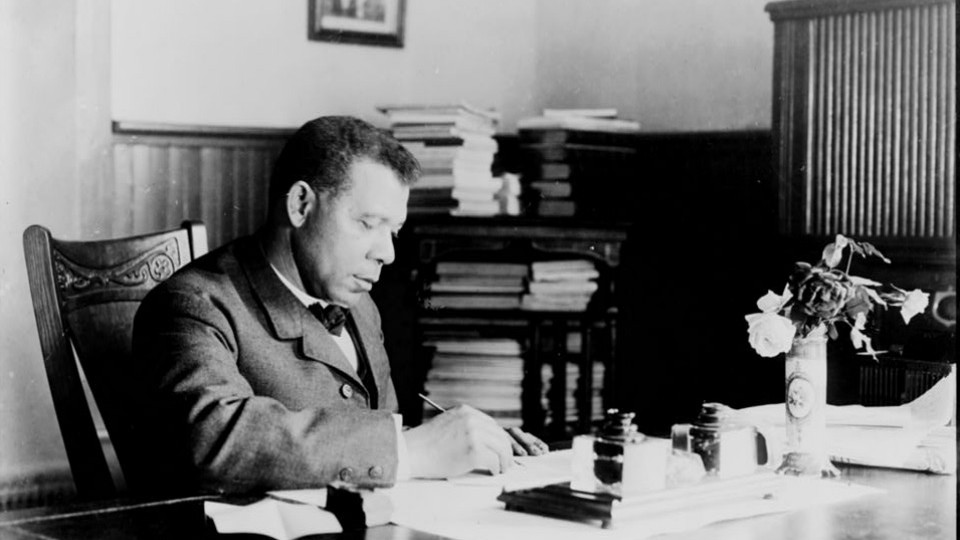 I've been (slowly) making my way through this Booker T. Washington biography. It really is a great read. But that aside, I think that it also highlights a great tragedy in race relations in this country. Washington is arguably the most effective and powerful black conservative in this country's history. (I maintain that Malcolm X was, for much of his public life, a black conservative.) Unlike today, Washington lived in a time when there actually was a credible black conservative tradition. Washington's "Atlanta Compromise" is remembered as a betrayal and a sell-out because it accepted segregation, and argued against black political agitation. But in fact, at the time, the response from black America to the "Compromise" was at worst mixed, and at best quite positive. No less than W.E.B. Du Bois called the speech, "the basis for a real settlement between whites and black in the South."
It makes sense, when you think about it. Washington basically said to the white South in 1895,"You win. We don't want the right to vote. We just want to till our farms, better ourselves, and be left alone. Leave us in peace, and you'll hear no more of this voting or integration business." You have to remember the state of mind of black people, at that time. Reconstruction had been rolled back. The South was wracked by race riots. Three years after Washington's speech, the only coup in American history was orchestrated in Wilmington, North Carolina by racist thugs. Washington was basically conceding what he'd already lost. In return he hoped to simply secure the right of good Christian blacks to work the land in peace.
The dominant logic of the post-Reconstruction era held that the real problem wasn't white racists, but carpetbaggers and meddlers from up North who'd elevated illiterate blacks above their station. The white Southerner, presumably, had no existential objection to blacks, they just didn't want to live next door to them or have an illiterate and morally degenerate population electing their politicians. To this Washington, and much of black America, said Fine. Cease fire. You let us be, we'll let you be.
In retrospect, this was a grievous error. In point of fact, whites actually did have an existential objection to black people. Their beef wasn't that illiterates and moral degenerates might get too much power. Quite the opposite. Their beef was that blacks would prove to not be illiterates and moral degenerates, and thus fully able to compete with them. To see this point illustrated, one need only look at the history of race riots in the South. When white mobs set upon black communities they didn't simply burn down the "morally degenerate" portions—they attacked the South's burgeoning black middle and working class and its institutions. They went for the churches, the schools and the businesses. It's one thing to be opposed to black amorality. It's quite another to be opposed to black progress. The lesson blacks took post-Atlanta Compromise was that whites had used the former to cover for the latter. These days, it's popular to bemoan the fact that Washington has fallen into disfavor. But it wasn't blacks who proved the Atlanta Compromise fraudulent—it was the whites of that era.
You must understand the chilling effect this had to have on black people. To actually concede to all the racist propaganda out there, and then to be rewarded by hooligans burning down your community must have been psychologically devastating. People wondering why the GOP can't get a foothold in the black community, need to not just think about Goldwater and Nixon. They should think about Du Bois telling black men to go fight in The Great War, and then having those veterans come home to the Red Summer of 1919. They should think about the pogroms that greeted Booker T's compromise. There's a lot of hurt out there. A lot of ancient hurt. A lot of it, even in these times, quite deep.