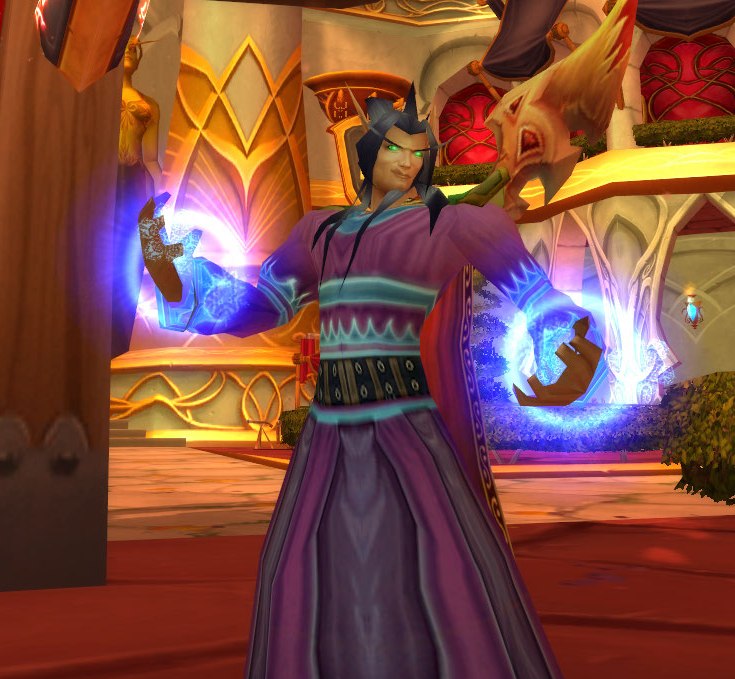 Folks I did all I could, but in the end I couldn't resist. Besides. Everyone knows that in the heart of every 6'4 black man, there lies a drug-addicted, vengeful, nationalist elf sorcerer just dying to get out. You can read about my back and forth with World of Warcraft here. I initially came in as alliance--for the uninitiated there are two sides in WoW, the horde and the alliance--playing a human mage and a Nelf hunter. But the more I dug into the lore, the more I felt out of place. There was something so familiar about Thrall's story--dude raised in slavery, educated by his enslavers, escapes, is schooled on his true heritage, rises to become a champion of his people. Heh, don't know where I've heard that one before. Then there was Orgrimmir itself, there was something about that I'd seen before...
When the blood elves came out I was even more tempted. All fantasy fanboys want to be elves, let's just be straight about it. But these weren't Gary Gygax's elves. These guys had suffered a horrible massacre, been betrayed by mankind and were single-mindedly set on rebuilding their nation. They even had an Uncle Tom among them. Something about their whole way of being ("Hold you head high," the doyens of Silvermoon tell you. That and "We will have justice") put me in the mood of my rights-of-passage training, where, as young boys, we were drilled on our responsibility to rebuild the community. Plus the humans in WoW are kind of racist. Well everyone's racist, but...
Anyway, it's getting all racial up in this piece. The point is I'm back, playing a belf mage and an orcish death knight. If I disappear for a week, you'll know that my PC ate me.