About that Nubian queen meme...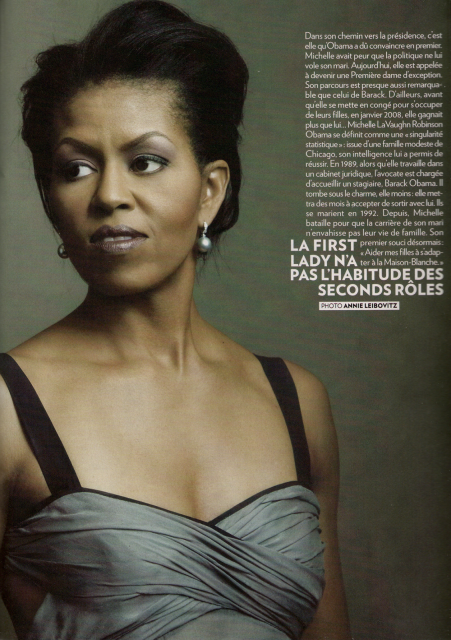 UPDATE: To be perfectly clear, I think she looks beautiful. Sorry for the initial confusion.
I don't speak French, but I think I get the message...Man, it keeps hitting you doesn't it? This whole "black president" thing is like fragmentation bomb. And I keep getting smacked by the shrapnel. This is fucking embarrassing. Look, this blog is Ta-Nehisi thinking out loud. I say it's embarrassing because I'm constantly worried about getting sucked in and churning out hagiography--to the point that sometimes I find myself just looking for things to disagree with Obama on.
I was writing yesterday about the need to say something different. And yet when I see a picture like this, when I see a black woman, who isn't an entertainer, photographed like this I'm stunned. And the worst part is, as of this Fall, I knew all this was coming. I thought Obama would win, and I knew there'd be pictures just like this. Yet perhaps I've been too intellectual. I think intellectually, I was, and am, ready. But emotionally, I'm unprepared.
I didn't do much thinking about how all of this was going to make me feel toward black people, toward my own identity as a black person. We've always been the antiheroes of the American narrative. I love the X-Men not the Avengers. I love Spiderman not Superman. I love Boromir not Aragorn (in the film at least). Lucille Clifton has this great short poem, which goes like this:
Love rejected
hurts so much more
than Love rejecting;
they act like they don't love their country

No

what it is
is they found out
their country don't love them.

That's who we were for so long--"The Love Rejected." I've been hard on post-racial euphoria, because it's so obviously stupid. But equally stupid is cynicism in this age, to walk around like nothing's changed, like we simply are "The Love Rejected." That probably has more to do with my own fears, than anything out there being written. Anyway, I'm rambling. Again.
Props to Blacksnob for the link.