They are who we thought they were--again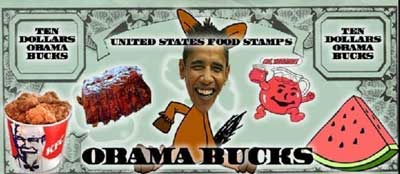 I am assuming you guys have seen this. I'm pretty much of out of outrage, especially given the fact that all of this is backfiring on these cats. Wasn't it MLK who said the arc of the universe bends towards justice? I think I can see the curve. By the way this wasn't some nut at a rally--it was a local Republican Party office. Think this can't be tied to McCain and the national GOP? I guess. But you'll have to tell me why McCain is out campaigning with one of his own officials, who urged his workers to push the Obama is a terrorist line.
All of this brings me to another point, one I've made before. It's all fine to attack liberals for upholding "diversity" or for being too "politically correct." I basically agree that Affirmative Action is problematic and a debate is in order. But lefties shouldn't be chastened by thier failures. Here is the thing--at least we're taking up the challenge. We were the first to understand that a country ruled by White Men--not on merit, but by bigoted design--was country on suicide watch.
Our soloutions have been imperfect, wrong, and sometimes straight quackery. But we've been trying, and we have not ducked the long, twisting journey into our identity as Americans. This willingness to take the trip (even when we don't know where the bus is headed), the courage to confront our own prejudices is, in some measure at least the reason our rallies look like this and their's look like that. We've spent the last 40 years grappling with great problems of our democracy --race, gender, poverty. Meanwhile, they've been sitting in the corner cracking watermelon, fried chicken jokes and waxing sarcastic over the health of pregnant women. This is who they are.