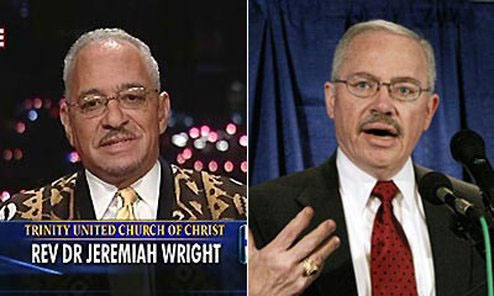 Group News Blog makes a point that us politically-aware Negroes have been thinking for some time, though not around white folk. But this is the age of Obama so here it goes--Folks, there's something vaguely familiar about Bob Barr:
You see, Bob Barr has long been the butt of many jokes in my family since the ugly winter of 1998. He was such a annoying, little pit bull against Clinton, you just wanted to smack him...but...

There was something odd about him. Something that was "off".

Media people have noted that "offness" of late, but I will tell you that this has been long discussed in other more insular circles.

Bob Barr, um...well...as my mother said it "Looks a little 'funny' 'round the mouth...Dig the lips, folks...That ain't collagen...that's collards and Coltrane.

Funny-ass hair texture too--particularly on the 'stache. "Rev. Al's shit is straighter than Barr's is." one friend loves to note frequently.
The first time I saw Bob Barr, during his Bill Clinton-pursuing heyday, I thought to myself, "I didn't know there were was another black Republican in the House besides J.C. Watts." I have of course since been corrected, but I have to say, there really is some Anatole Broyard/Nella Larsen/Jessie Fauset business going on with this cat.