A rambling statement on Dungeons & Dragons, Michael Strahan and black fathers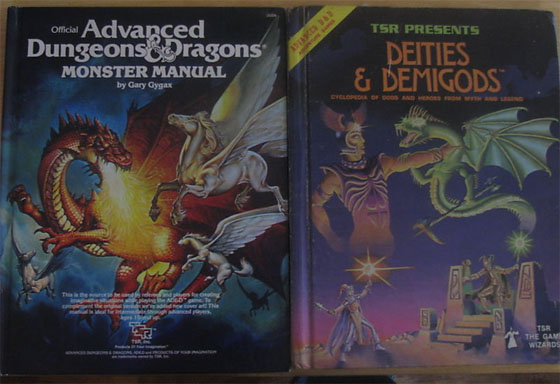 The geeks among us--and there are many--will recall that I am an old-school D&D fan. The alive among us will recall that I'm also a father. A few weeks back I wondered about the possibilities of teaching my son D&D. He will turn eight next week, and along with a giant Lego set, I plan to begin teaching him all about orcs, elves and halberds. Today three books I ordered arrived, two of which you see above. I've been flipping through them all day, and man I tell you, I had forgotten exactly how much in love I really was. A few months ago me and Kenyatta decided to cut off our cable, then our TV blew and we decided to not buy another one. I think D&D may work well to supplement the gap and offer an active chance for us to really build some family. To that end, Kenyatta's actually volunteered to learn the game--so we'll have three of us playing.
We tried this before with football and it really worked out well. When me and Kenyatta first hooked up, she thought football was just a bunch of men falling on top of each other. Now she's got a favorite team (the Colts) a favorite player (Peyton) as does my son (the Giants, and the now retired Strahan) who also plays little league. Some of our best memories revolve around football--last year we had a ball watching Devin Hester  return two touchdowns against the Broncos (I'll never forget him hurdling Todd Sauerbrun). I may even start taking the boy to the sports bar on Sunday. We'll see.
There's a greater point to all this rambling. I'm consistently amazed at the coolness of building family. The first two years are drudgery, no doubt. But then it just becomes awesome. I really wish we'd been able to have a second kid shortly after Samori was born, but money and health made it prohibiitive. Still, even with the one I'm often surprised by the sheer fun of the whole project. My Dad once told me something that has stuck with me for years. The saddest thing about so many black fathers--and fathers in general--quitting on their kids is that, invaribly, they cheat themselves more than they actually cheat the kid. I've seen a lot of folks turn out fine without knowing their second parent. But the absent parent, permenantly loses that link, that ability to share the things that once excited them, that chance to relive their own childhood with their flesh and blood. That goes for D&D and for Devin Hester.