Especially The Racists And The Antisemites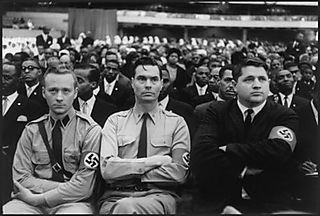 My beautiful spouse just made a brilliant point about John Hagee's claim that Hitler was doing God's work, and some of the more odious relations black nationalists enjoyed with hardcore racists. But first let me get to what Hagee actually said:
"Theodore Hertzel is the father of Zionism. He was a Jew who at the turn of the 19th century said, this land is our land, God wants us to live there. So he went to the Jews of Europe and said 'I want you to come and join me in the land of Israel.' So few went that Hertzel went into depression. Those who came founded Israel; those who did not went through the hell of the holocaust. "Then god sent a hunter. A hunter is someone with a gun and he forces you. Hitler was a hunter. And the Bible says -- Jeremiah writing -- 'They shall hunt them from every mountain and from every hill and from the holes of the rocks,' meaning there's no place to hide. And that might be offensive to some people but don't let your heart be offended. I didn't write it, Jeremiah wrote it. It was the truth and it is the truth. How did it happen? Because God allowed it to happen. Why did it happen? Because God said my top priority for the Jewish people is to get them to come back to the land of Israel."

Hagee is one of these dudes who actually backs Israel because he thinks it will usher in the end-times and the mass slaughter or mass conversion to Christianity of all Jews. This idea of people supporting you because of your part in their delusional grand-plan looks familiar. Black nationalists--like Jewish nationalists--frequently flirted with people who had no love for them, but greatly endorsed their desires to return to Africa. This goes back to Garvey meeting with the Klan, and Elijah Muhammad dancing with George Rockwell (see above picture). In fact, Rockwell's meeting with the Nation was one of the main things that pushed Malcolm X out of the Nation. Man, ideology can be blinding.