How to Teach Drama Remotely
Bradley Friedman on the challenges facing performing-arts teachers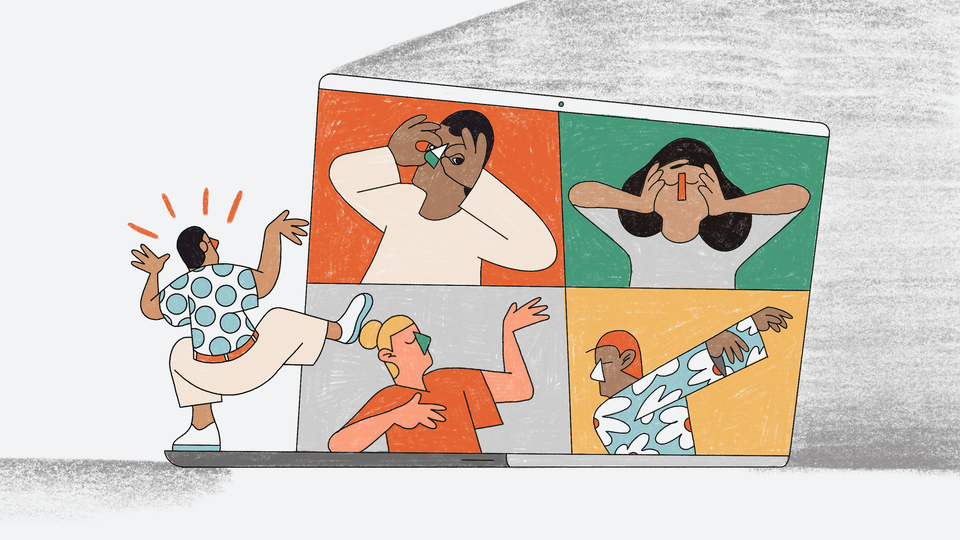 Editor's Note: In 1988, a teacher most commonly had 15 years of experience. In recent years, that number is closer to just three years leading a classroom. The "On Teaching" series focuses on the wisdom of veteran teachers.
---
For more than three decades, Bradley Friedman has taught drama to public high-school students—the last 28 as the director of the award-winning theater program at California's San Mateo High School. In that time, he has directed more than 80 musicals and plays.
Friedman, who is 64, was planning to retire in 2021. This spring, before the pandemic, he was already preparing the shows for his swan-song year, and the parent booster club was planning a season of tributes. Then, with the resurgence of COVID-19 this summer, he—like many educators nationwide—decided to retire early instead of returning to teach in the fall. Friedman talked to The Atlantic about that decision, and the many lessons he's learned as a drama teacher. His remarks have been lightly edited for brevity and clarity.
---
Sara Mosle: How did you find your first job in 1989?
Bradley Friedman: The entire English department had just walked out of Capuchino High School [in San Bruno, California]. So they were looking for English teachers, and I applied and was hired to teach English and drama. I spent the next three years cutting my teeth—I didn't know what I was doing! I didn't learn how to teach drama in teacher school. I was basically copying what I had done when I was in high school and college, trying to figure out what worked.
Then the job at San Mateo opened up. The school is where everyone goes if they want to do theater. It's renowned, the unofficial arts magnet in the district. They have this gorgeous theater, seating 1,500 people. I was able to walk in and be the head person.
Mosle: How did your job change?
Friedman: I had many great students at Capuchino. Some have been friends for 30 years. Some are doing theater now. But there wasn't a lot of parent involvement. There was very little money. Now I was at this school where everyone wants to be a star, where the parents have this big booster organization. People come and expect to see this very high level of excellence, and I had to keep that up—or I'd be out!
At Capuchino, I learned how powerful being in a play could be for students who have never done anything like that. I saw kids who were kind of lost find themselves in theater.  Some of them find themselves on [stage] crews. Some find themselves acting in a play.
When I got to San Mateo High, I let that credo slip at a back-to-school night and was immediately blasted by the drama boosters. I don't think I would be by the group now. But they felt that San Mateo High School shows were Broadway caliber, and my philosophy would destroy the program.
Mosle: That sounds like you had a lot of stage parents—or is that unfair?
Friedman: Every drama teacher has stories that would curl your hair—just like every coach does. I have a large group of students who are very talented. I'm trying to create a sense of what a student would come up against if they decided to do this professionally. So they've got to be prepared for auditions, really know the material. That said, I try to give kids opportunities who normally wouldn't have them by putting them in the chorus or giving them a small role. And I try to give my students who are really talented variety—so they aren't always playing a lead. I might give them a funny character role instead.
Mosle: How do you deal with the disappointment students inevitably experience in theater?
Friedman: Sometimes I'll have parents ask, "What can my daughter do to get a better part?" And I try to be as frank as I can. You know, just given the competitive nature of this, especially for girls [who outnumber boys in theater], it's hard. Every year, I give the lamb-chops speech. We have a potluck the night before we post the cast for the first show. And I say, "This is the last night of the year you're all going to be talking to me—so I'm going to tell you the story of my mother and the lamb chops." I didn't get the parts I wanted as a kid. I wanted to be the leading man, and I was this little funny boy. I'd come home crushed, and my mom would say, "If this is what you want to do, this is what you signed up for. Now dry your eyes and come downstairs. I made lamb chops," which was my favorite meal. So I tell my parents, "Stock up on lamb chops. Don't tell your kids, 'You should have gotten that part.' Tell them, 'Honey, I'm sorry, but you know this happens sometimes. And you might get it another time.'"
Mosle: What is the best advice you've received as a teacher?
Friedman: At Capuchino, I had a really good mentor who told me that teachers need to be involved in their schools. A lot of teachers like to close their doors and do their own thing. But he put me on a bunch of committees. I was on the finance committee and on the teacher leader committee. He said you have to do that, because you want to be in a position to make decisions.
Mosle: How has the profession changed since you started?
Friedman: Art, for one, is more accessible. There are just all these different platforms and streaming services. The interconnectivity is different: how it shrinks the world, and how someone can be a star on Instagram or TikTok.
The kids are also more grown-up. When I was starting out, I was always having to remind kids, "Stop it with the racist, sexist, homophobic language in your improvisations," and they always looked at me like, "What?" And now there is so much more sensitivity to that, which is wonderful. At the same time, kids are on social media so much they don't know how to interact with each other, and drama forces them to do that—to speak out loud and to each other.
There's also been a growing emphasis on student wellness over the past 20 years, as a result of the Columbine shootings. Teachers are no longer just providers of content. More than ever, we have to help students navigate through crisis management. I remember when 9/11 happened; all we did that day in my class was put up a big TV screen, and I said, 'If anybody wants to talk about this, or if anybody has questions about this….' When there were the shootings in Florida, the kids got together in the morning for a rally outside the theater, and we watched and listened as they found their voice. We try to find ways for students to express themselves—free writes like crazy!
Mosle: When do you rehearse your shows?
Friedman: We have always rehearsed at night from 6:30 to 9:30 p.m, and as late as 11 p.m. the week before a play opens. And four hours on Saturdays for the bigger shows from August through February, and then in the afternoons for a smaller show from February to April. That's on top of my regular teaching from 8 a.m. to 3 p.m. That's basically been my schedule for 28 years. I sometimes see the kids more than their parents do.
Mosle: How did you adjust your teaching when school went online in March?
Friedman: I'm a big murder-mystery nut. So every year, the final project for my drama students is to write their own mystery and perform it. We were just starting that [when classes went online]. So we tried to do it virtually, but it was challenging. One group really embraced writing their own script to perform virtually. They had identical props to create the illusion they were passing an item between Zoom boxes. When one character had his death scene, they had the computer topple at an oblique angle. With the other four groups, I put together a couple of old radio scripts—classic detective stories. I met with them each week to go through a rehearsal, to talk over what's different now. You don't have your body anymore, and you don't have scenery.
Mosle: Do your students go on to careers in the dramatic arts?
Friedman: Nobody has thanked me at the Oscars or Tonys yet! I do have a former student who was about to make her Broadway debut this summer, but that's now been pushed back. I have some kids who are doing wonderful things—not just acting but writing for a TV show and technical stuff. One of my first students is now an actors' agent, and a lot of them are teachers. A few years ago, they gave me a big party for my 25th year at San Mateo High, and some of my former students came back and said, "I'm in the boardroom now, and my drama classes really helped prepare me for when I'm meeting with clients or co-workers."
Mosle: How has the theater department been planning for next school year?
Friedman: At a board meeting [in June], the superintendent asked whether subjects like music and drama could really be taught remotely in the fall. So we asked our principals to sit down with us to see how we can keep the draw of art in our school even if everything has to be virtual next year, and everyone is trying to figure out ways to do that, which are so daunting. But we committed this summer to meeting with cohorts from other schools, to taking some workshops, to trying to figure out the technology, and seeing if we can make those moments happen to get us through to the vaccine.
Mosle: Do you think it's safe to return to in-person teaching?
Friedman: This is one of the questions we've been asking: If we were to go back to school, how much power do we have over kids who say, "I don't believe in this. I don't want to wear my mask"? What about the parents who say that? And what about when we do have the vaccine, and parents say, "I'm an anti-vax person, and so my kid's not going to get a vaccine"?
Mosle: The protests over George Floyd erupted right as the school year was ending. What do you think educators can learn from the Black Lives Matter movement?
Friedman: I can't imagine a teacher worth their salt in this country who hasn't spent a great deal of time over the past few months contemplating the history of racial injustice, how it's insinuated itself in schools, and most difficult of all, what part we might have played in maintaining that injustice. That tendency we've had to become defensive, to promote ourselves, to excuse the past as being "just" the past, and to set up walls against change has become so apparent to me in some of the most casual conversations.
We need more teachers and administrators of color in the profession, and we need to take a long, hard look at our national curriculums to see where we have failed at inclusiveness. I was talking with my successor only yesterday about how my film class could better tackle that. I know I could have done much better.
Mosle: Have you made a final decision about whether you'll return in the fall?
Friedman: I've made the difficult decision to retire a year early. The way the rollout for the coming school year was unfolding signaled to me that my final year would be full of stress, constant grappling with technology I didn't understand, and sadly, not much theater-making.
This pandemic has robbed all of us of carefully made plans. But I won't let it stop me from celebrating my 31 years working with incredible students, parents, and fellow artists. The show we did that sums up my experience most may be a little musical called Lucky Stiff. Everything about that show, which most people have never heard of, was magical: the cast, the technical aspects, the material—so funny and so much heart! If I had to put a title on my life at San Mateo, that would be it.
---
This article is part of our project "On Teaching," which is supported by grants from the William and Flora Hewlett Foundation, the Spencer Foundation, the Bill & Melinda Gates Foundation, and the Panta Rhea Foundation.