Why a Career and Technical High School Has a Genocide-Studies Class
Justin Bilton and Jason Stark on the importance of teaching students about systemic violence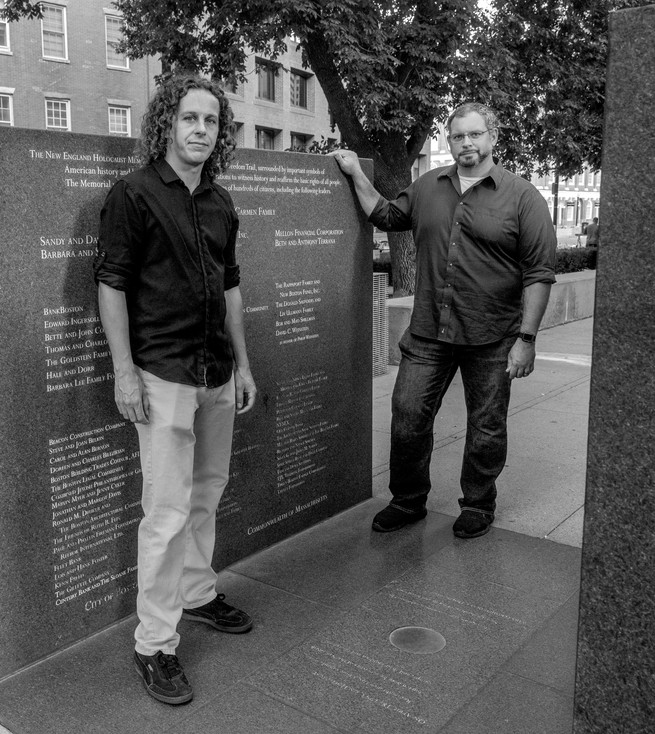 Editor's Note: In 1988, a teacher most commonly had 15 years of experience. In recent years, that number is closer to just three years leading a classroom. The "On Teaching" series focuses on the wisdom of veteran teachers.
---
In 2014, English teacher Justin Bilton and social-studies teacher Jason Stark were assigned to share an office at the newly opened Essex Tech, a career and technical education campus in  Massachusetts's North Shore region. Bilton had studied the Holocaust and totalitarian regimes in college and grad school, and he told his new officemate about his summer experience at the U.S. Holocaust Museum's Belfer National Conference for Educators in Washington, D.C. Stark, whose maternal grandmother survived the Holocaust, was intrigued.
He and Bilton decided to team up and create a genocide-studies class—a rare find in a public high school, especially a CTE campus. What began as an elective in the fall of 2015 is now an optional history course for Essex Tech's seniors; the curriculum includes the Holocaust, the Khmer Rouge in Cambodia, genocides in Armenia, Rwanda, and Bosnia, and contemporary human-rights issues. In 2019, Bilton, 39, and Stark, 41, testified before the Massachusetts legislature in support of a bill that would make genocide studies a required part of the state's high-school curriculum. At a time when the majority of American teens don't know how many Jews were killed in the Holocaust, Bilton and Stark hope their class can be a launching pad for students to better understand the roots of systemic violence. I talked with them about the class in June 2020; our conversation has been edited for clarity and length.
---
Richmond: Did you get pushback from anyone who thought that for career and technical high-school students—or even high schoolers more generally—that a genocide studies class was too ambitious?
Stark: That's something that we're trying to fight with this course—some of the stereotypes about vocational education. One big misconception is that these kids don't want to take college-style seminar courses—that it's their senior year and they just want to focus on their shop so they can get a job right after high school. But we have very high academic standards.
Bilton: We've definitely heard concerns that the material is too intense or too depressing. At a faculty meeting early on, someone said: "Why would anyone want to take that?"
Stark: When I heard that comment I thought to myself, This is exactly why we need to teach the class. We really need to demonstrate how important genocide education is. The real mission of education is to broaden what our students know. I think genocide studies definitely succeeds in that.
Bilton: It's a high level of reading and research that's required in the class. We have traditional lectures, but we follow that up with a lot of discussion, a lot of project-based work and reflective writing. And then we read a lot of books and primary sources like Salvaged Pages, a collection of diaries of students from the Holocaust, or Machete Season, a book of interviews with 10 of the killers from Rwanda. But what we've found is that the kids become, over the course of the year, increasingly invested in it when they see that it's relevant to their lives, that it's important, and that it's something that more people should know about. It tends almost without fail to engage them.
Richmond: How do you divide up the teaching?
Bilton: At the beginning, we had this clear division of labor where Jason was the history teacher and I was the English teacher. That's entirely evolved to the point that we're planning the lessons together; we're teaching them together. We've tried to make the discussions student-based, so that the students are doing most of the talking.
Stark: Justin and I definitely have different backgrounds, and our approaches to teaching are very different. It's made us both more well-rounded and, I think, effective educators. Justin is a lot more structured than I am as far as how he plans lessons. I generally will introduce a very broad topic and some questions. I'll use silence and pauses to try to elicit kids thinking about different aspects. I really want the kids to be in those uncomfortable moments where they really don't know what the answer is, and then they start asking more questions. I have definitely learned that sometimes I need to structure myself a little bit more.
Richmond: Is there a day you remember that was especially memorable in teaching this class?
Stark: The Monday in October after the Tree of Life synagogue shooting (in Pittsburgh, Pennsylvania, in 2018) was really hard work. At that point, we were really deep into the Holocaust in the curriculum. I am Jewish, I go to the synagogue; almost every Saturday I teach religious school. I know teachers are maybe not supposed to show their emotions, but I openly wept. I knew no one that perished. I've never been to that synagogue. But I told the students that Shabbat is a time for reflection, for study, for community—and for that to be broken by anti-Semitism and a gunman filled with hate hit me very personally.
The kids were silent until I opened it up for questions and comments. There were tears in the eyes of many of the students. They said, after what happened during the Holocaust, and knowing what had happened, how could Jewish people still be threatened by hate? They were angry. They were talking to each other about anti-Semitism that we studied already. They made connections; they showed empathy. It was one of my proudest days as a teacher.
Richmond: Do you have a sense that the class has had a long-term impact on your students?
Bilton: For some of them, it changes the direction of their career. Or it's just changed their outlook on the world in general. We've had genocide survivors come in and speak. And when you're listening to Claude Kaitare, a survivor of the Rwandan genocide, talk about witnessing a neighbor being killed, it's hard not to want to do something to help those people who have lived through that. Some students connect their projects to their CTE area of study: We've had students who were in the health-assisting program explore the effects on the human body of living in a ghetto during World War II and the effects of starvation, a lack of hygiene, and the psychological factors. It was incredible work.
Stark: We had one student who was in the equine-science program. She told us the genocide-studies class changed her career direction. She's now studying political science, international studies, and human-rights law in college. Justin and I are both extremely proud when we hear from kids now and again—and we've heard from a lot of them recently about what's going on in the United States. Some of them have become involved in the Black Lives Matter movement, fighting for racial equality, and it's been very heartening.
Richmond: Will anything be different this fall?
Bilton: This course affords us the opportunity to look at current events, and how those have similarities to these past events. This coming year, the overarching theme will have to do with Black Lives Matter and systemic racism. It's a topic we've discussed before, but we plan to get into the role we all play in changing those injustices that continue to plague the Black community. We're trying to encourage kids to be lifelong learners, and we model that by showing them that Jason and I are also still learning.
Richmond: What advice do you have for teachers who may want to follow your lead and create a genocide-studies class?
Bilton: You need to allow students to choose to take the course rather than require them to take the course, because it leads to better engagement. And to allow students to have a choice in what they read, and how they present their knowledge. Also, being an upperclassman is a requirement, in my experience—it's psychologically, emotionally, and spiritually taxing. We've found that with teaching 17- and 18-year-olds, they're ready for that deeper level of meaning—to be able to face brutality with a healthy amount of academic distance but also a healthy amount of empathy.
Stark: If I was going to speak to a teacher who's looking to develop a course like this, the first thing I would say is don't be afraid of it. A lot of people will approach teaching about genocide and think about it in the old terms: We can't talk about this; we can't talk about that. This is too dark. This is too deep. It needs to be. You can't polish it; you can't shine it. It needs to be real. Sometimes that's incredibly hard. But don't be afraid of the real stories.
---
This article is part of our project "On Teaching," which is supported by grants from the William and Flora Hewlett Foundation, the Spencer Foundation, the Bill & Melinda Gates Foundation, and the Panta Rhea Foundation.