The Healing Power of Garden Class
Rahn Broady's mission is to introduce New Orleans students to the magic of nature.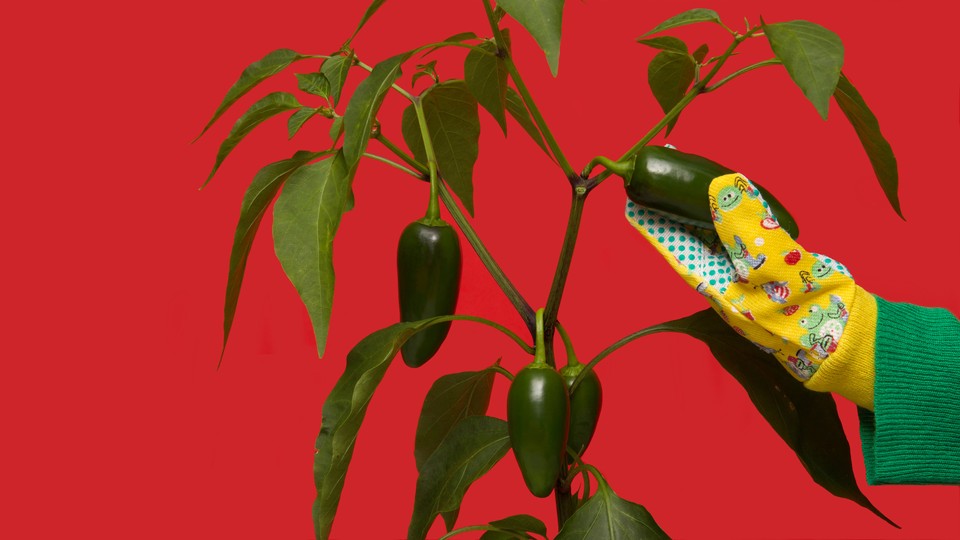 Editor's Note: In 1988, a teacher most commonly had 15 years of experience. In recent years, that number is closer to just three years leading a classroom. The "On Teaching" series focuses on the wisdom of veteran teachers.
---
Even a couch potato notices nature with the New Orleans teacher Rahn Broady. Walking in the Arthur Ashe Charter School garden in May, he plucked a blue feather off the ground. "There was a fight here," he said. Maybe an owl ate a blue jay? He walked another few steps and, sure enough, found an owl pellet and a tiny bird hip bone. He beamed. "I try to influence the kids to be explorers, and I turn into a kid myself," he said.
At 47, Broady radiates enthusiasm. He won a school award for being fun. He's stylish even when working in the garden, wearing his hat cocked at an angle and a belt buckled with turquoise. On the side, he churns decadent ice cream flavored with local plants. But a sense of seriousness is always close to the surface. "We forgot about the environment, so the environment has to bite back," he told his students when the COVID-19 pandemic first hit. "We're wearing masks because we've done this to ourselves."
Broady works to fill what he calls "the nature deficit." For eight years at Ashe Charter, he worked as a garden teacher introducing students to the worlds outside their door. In July, he started as an agriculture and careers teacher at Living School, a high school in its second year that follows a "learning by doing" philosophy; students focus on multidisciplinary projects, and the goal is to graduate with both a college acceptance letter and a trade certification. But even in a slightly different role, Broady has the same mission as always: bringing health, healing, and connection to students, particularly children of color.
Broady's own childhood, in Florissant, Missouri, had nature in droves. His father, a former science teacher, kept a huge garden. Broady took himself on adventures in the woods across the street. "It was a dream," he said. "I was able to just explore in nature, and I knew that nature was my own." He majored in biology and began teaching high school in New York City in 1999. That was the first and last time he held a traditional classroom job. From 2000 to 2009, he taught in community-education programs and alternative schools, designed curricula, worked as a chef, and made electronic music. Eventually, he settled in San Francisco.
Over that same period, programs that introduced public-school kids to gardening were putting down roots in New Orleans. In 1998, volunteers started an after-school gardening program at the city's first charter school, New Orleans Charter Middle. NOCM's organizers, now a charter-management group called FirstLine Schools, had just taken over Samuel J. Green Middle School in 2005 when Hurricane Katrina destroyed the NOCM campus and temporarily closed Green. In 2006, the famed Berkeley chef Alice Waters invited Green to become the first spot to replicate her original Edible Schoolyard, a public-school garden program that introduced children to sustainable agriculture and nutritious eating through hands-on activities. An edible schoolyard is different from a regular school garden because of its "seed to table" philosophy: Community members grow food, then cook and eat it, together.
When Broady heard about Edible Schoolyard NOLA in 2010, he got so excited that he applied for the only open job—a policy-administration position, not his forte. Then he had one conversation with the director, bought a Volvo, and drove from San Francisco sight unseen. Fortunately, Green had just lost a garden worker, so Broady got a job. And, as it turned out, he was instrumental in expanding the program; during his time, FirstLine took on four additional elementary-middle schools. He started teaching in the largest garden, at Ashe.
Today, Ashe has a cornucopia of annual Edible rituals. In October, they hold Sweet Potato Fest, with a parade and a community spud harvest. November is fifth-grade "Iron Chef." For the annual report-card night, when parents come to the school to see their children's progress, Broady displays objects like bird skulls found in the garden, and an array of student-concocted herbal tinctures, teas, and salves. Every September brings Watermelon Fest, including a seed-spitting contest, math games, and a taste test. The last, combining flavor, nature, and deep thinking, hit Broady's sweet spot.
"If you're lying down, sit up," he told students during the 2018 watermelon week, as he passed out cubed fruit. They were going to pick herbs they had planted and taste a variety of them with melon. "We're going to really savor it," he said.
The first pairing was just plain salt. "Okay, y'all, this is where I geek out the most," he said, explaining that salt draws water out of fruit and vegetables and thereby intensifies the flavor. The students closed their eyes and munched, and their responses spilled out:
"It tastes like ocean water."
"It tastes like watermelon with salt."
"Tingling!"
"It's nasty!" a girl giggled.
Broady leaned in, pushing the girl to tune in to and interrogate her senses. "What does 'nasty' taste like?" he asked.
For many of Broady's students, growing, tasting, and thinking deeply about plants is a new experience. Even as the pandemic has inspired adults to start gardens, go for walks, and bake bread, it's not easy for Black children in New Orleans to experience nature.
"When slavery was abolished, no one wanted to have anything to do with the land. It was such a painful place," Dr. Denese Shervington, founder of the Institute of Women and Ethnic Studies, told me. And for many decades after abolition, that separation from nature was also forced. Discriminatory policies—like the USDA's barriers to loan funds—robbed Black farmers of their land. Garden clubs and school agriculture clubs were long segregated or open only to white people. Until 1965, Black children in the South could not join Future Farmers of America; they had a sibling organization, the New Farmers of America. When Future Farmers and New Farmers merged, Black teachers and students lost leadership positions.
These days, Black men like Broady represent only 2 percent of the country's teachers. They make up 14 percent of the teachers in New Orleans, according to the nonprofit New Schools for New Orleans, even though state data show that around 40 percent of the city's student body are Black males. The imbalance is even worse in agriculture education: African Americans make up about 1.5 percent of the membership of the National Association of Agricultural Educators. And in New Orleans and other cities, "nature is something that is far removed from the experience of families," Shervington said. "It almost seems like a privilege."
And yet, getting into nature might matter more to New Orleans children than practically anyone else: Their rates of post-traumatic stress disorder and depression are two to three times the national average, and nature "is one of the core ways in which we recover from trauma," Shervington said. Public health is routinely underfunded in Louisiana. Almost all of the city's public schools are charters, which are periodically assessed for renewal based on students' math and English test scores. It's hard to argue against those priorities: New Orleans was the lowest-scoring school system in the country before Katrina hit, though it has improved in recent years.
But a number of charters and charter groups, including FirstLine and Living School, have started to push for a broader education. FirstLine co-founder Jay Altman, who retired last year, thinks that charter evaluation metrics have become "reductionist." Not only is providing options like garden, art, and recess the right thing to do, he said, but "kids who are healthy, happy, and well adjusted do better on test scores." And, indeed, Ashe has consistently scored above most other open-enrollment elementary-middle schools in New Orleans on the state report card.
When I visited the Ashe garden for a second time in May 2020, I saw what the middle-school students had planted. "We're just freaks for variety," Broady told me. Mirliton squash, a local favorite, was growing next to turmeric, and sunflowers stood 10 feet high. Annoyed by a perennially muddy slope, students researched erosion control and planted vetiver grass to stabilize the area. Muscadine grapes and hyacinth beans wound up the posts of a pavilion. The kids love the hyacinths, because after you eat their flowers you spit purple.
The garden feeds students on a deeper level as well, Broady said. "It is answering to all the trauma." Gardens don't judge what grade you got in math. They respond to care. And Broady tries to cultivate that sense of nourishment: If students swear at him, they don't get in trouble, because it's important for kids to be whoever they are at that moment. "I am present for the geeks, the freaks, the queer and disenfranchised," he said. "They all deserve to be heard, and they all deserve to be loved and understood." At the pedagogical level, that means providing lots of options. "We're here to guide them, we're not here to govern them," Broady said. Rather than assign writing, he gave students beautiful notebooks—and then they wanted to write. He provides jobs for the messy kids, the kids who like to be in charge, and the ones who don't want to get their good school shoes muddy.
Sometimes, the students also create jobs for themselves. When Giovanni Rodriguez brought home monarch caterpillars, his mother was apprehensive. Like many New Orleanians, she was most familiar with the hairy caterpillars that fall on your head in the spring and sting. But her newly attentive son had her gently pet the caterpillars, then placed them on her arm to crawl. Broady checked in to see if Rodriguez needed help, and made himself available on weekends and holidays. Then the butterflies hatched from their chrysalises, and monarchs flew around the house.
Now 15 and in high school, Rodriguez has kept up his gardening and caterpillar activism. Farmers hate hornworm caterpillars, he told me, but without them the tomatoes would be overgrown. And besides, he explained, they have the right to eat tomatoes just as much as humans do. They have a role to play in keeping the world in balance—and so does he. "I'm helping the ecosystem by bringing the population of the caterpillars up," Rodriguez told me proudly. "I will protect these creatures as long as I live."
When the pandemic hit, Broady stepped up his community work. He set up a mutual-aid table outside his house and stocked it with free vegetables and plant cuttings, giving away 50 to 100 plants per day. Friends supplemented with everything from canned goods to home-cooked meals to masks. And as the summer began, he took a new step in his career. FirstLine adjusted the Edible Schoolyard program in the face of an anticipated steep drop in public funding and philanthropy—so Broady took a job as the career-technical-education teacher at Living School, focusing on agriculture. He's excited to work with a group of staff that is mostly Black.
Broady has big plans for his work at Living School. To start, he's teaching entrepreneurship; he and his students will work on building wetlands and a food forest, and using what they grow to create herbal products. He has a new garden to build, in a neighborhood of abandoned lots that tend to attract illegal dumping. He brought in two of his ice-cream makers.
But first comes his biggest challenge: doing it almost entirely online, at least to start. At Ashe this spring, he distributed produce and shot some videos, but he didn't have to teach a full virtual course load. Now, after working outdoors for 10 years, he has to stay in. He plans to work with math and science teachers to have students design an aquaponics system using Tinkercad, a 3-D printing program.
Despite the stress of this time, maybe something good can come out of the pandemic, Broady said: people taking care of each other outside the economy. "I tell kids, 'You can do anything you want to. But most important, you can grow your own food.'"
---
This article is part of our project "On Teaching," which is supported by grants from the William and Flora Hewlett Foundation, the Spencer Foundation, the Bill & Melinda Gates Foundation, and the Panta Rhea Foundation.