Education for Cultural Survival
Josephine Tatauq Bourdon on integrating Indigenous knowledge and language into Western curriculum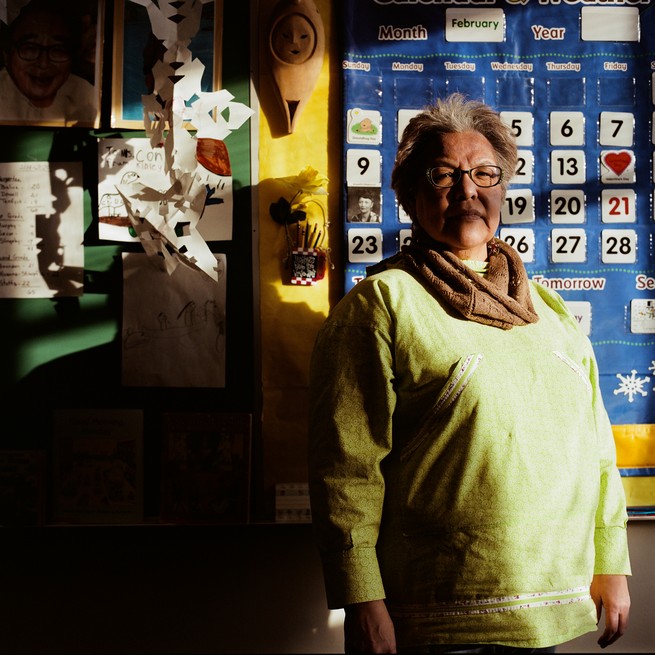 Editor's Note: In 1988, a teacher most commonly had 15 years of experience. In recent years, that number is closer to just three years leading a classroom. The "On Teaching" series focuses on the wisdom of veteran teachers.
---
Life in the village of Wales, Alaska—located about 55 miles from the Siberian coastline—can be hard. Here, roughly 150 Indigenous Inupiaq residents live in one of the coldest climates on Earth. All store-bought food must be either flown in or brought in by boat, and the harsh weather and winds can shut down schools or connections with the outside world for days. Most of the Indigenous people of Wales depend on gathering berries and greens in the tundra, as well as hunting whales, seals, and other sea life for survival. This means that access to traditional Inupiaq education—how to read the weather to avoid a life-threatening blizzard, how to hunt in a way that doesn't disturb the delicate balance of nature, sharing, and cooperation—can be a matter of life or death.
But until the early 1990s, most rural schools in Alaska didn't teach Indigenous knowledge and languages. Wales didn't have any Native teachers until Josephine Tatauq Bourdon began her first year of working in her mother's Native village in 1988. Back then, all of the school's 60 students were Inupiaq, but none of the classes were taught in the Inupiaq language. Native knowledge was dismissed by the Western school system, founded by colonial settlers in the late 19th century—even though the state of Alaska is a home to the largest Indigenous population in the U.S.
All of that began to change when Alaska Native educators, including teachers like Bourdon, began to develop new, innovative models of schooling that would integrate Western and Native concepts. In August 2019, I spent a week with Bourdon in Nome, Alaska—where she grew up, went to school, and taught for 28 years, after her two-year tenure in Wales. She retired in 2018. This interview has been slightly edited for length and clarity.
---
Kristina Rizga: Your family raised you in traditional Inupiaq ways. What did that look like in your home?
Josephine Tatauq Bourdon: The Inupiaq family unit and the way we educate children is deeply connected to the seasonal cycles and the land. My family—grandmother, aunts, uncles, cousins—all lived near each other in Nome, and we did everything together. We hunted, went fishing, gathered berries and greens on the tundra, preserved the food, put it away, and ate together.
As soon as I could walk on my own, my uncle took me salmonberry picking in the harbor. You take a boat for half a day to get there. We'd go for two weeks at time. The first bucket of berries, or your first catch, you must bring to an elder. Sharing, cooperation, and respect for elders are some of the most important Inupiaq values.
Seasonal activities are connected to Native tales, passed down through generations. I remember when I first began berry-picking with the whole family—mom, grandparents, uncles—they would always say: "Don't waste anything. Don't overharvest or deplete. Only take what is needed for you and your friends." I also remember them saying: "Don't bring harm or turmoil to any living thing. Animals are not there to entertain you." To this day, my mother refuses to watch sports-fishing channels for this reason—for her, catching and releasing fish is torture. If you fish, do it only for food.
Close to half of our diet here in Nome consists of Native foods. In the villages, it's much more. Store foods in Nome are flown in or brought in by boat. They are expensive, and many are heavily processed. The Native diet is full of nutrients, and it's gathered in a respectful way that inflicts the least amount of harm to nature.
Rizga: How did your family feel about Western education?
Bourdon: My mother went to school only up to the second grade and my father up to fourth grade, but schooling was very important to them. They really stressed education and homework, and they participated in all of our school activities. I was the first in my family to get a college degree, and they were very happy and proud that I attained that.
Rizga: Were there any classes in your school as a student—and later as a teacher—in which Inupiaq was the primary language?
Bourdon: None, and that's why the language is slowly disappearing. English is pretty much solely spoken in Inupiaq families these days, unless they have a grandparent who is still fluent. When I was a student, we didn't have any Native teachers, and most were often not from Alaska. Native people worked as cooks, janitors, or in maintenance. In my high school in Nome, you could take an Inupiaq-culture class as an elective and learn Native crafts. Now the big push is to incorporate Native languages. Nome High School currently has a class in the Inupiaq language. So that's one big and positive change.
Rizga: What are some of the consequences of losing connection to Native culture that you see in Nome?
Bourdon: The land is our life. The land is our livelihood. It feeds our bodies, minds, spirit, and soul. Without the land and family connections, we are nothing. I think that the educational outcomes and social ills that we see in my community today, such as high rates of alcoholism and suicides, is caused by the lack of connection to our land and Native culture.
Rizga: What was it like when you were in school?
Bourdon: I went to school in Nome, down the block from where I lived. I graduated from high school in 1982. Even though Inupiaq culture was not a part of my schooling, I loved school and my teachers. We had a lot of school organizations; I remember being a part of Future Teachers of America, Future Homemakers of America, Future Farmers of America. I remember joining student government—and since I loved writing, I became a class secretary taking notes and minutes. Those activities really enriched our academic life, and our schools don't have that anymore.
Another thing schools had when I was a student were different programs that helped Native students get to know careers that maybe no one in their villages were a part of; in high school, we had a work-study program, and I chose to work at a day care for two weeks. It was so exciting to go to the big city, Anchorage. They housed us in people's homes, and then I would walk to the day-care center each morning. When I was involved with Future Teachers of America, we would meet with our high-school teacher, and we'd go observe elementary schools. These programs helped me imagine myself as a teacher, get inspired, and then get my college degree.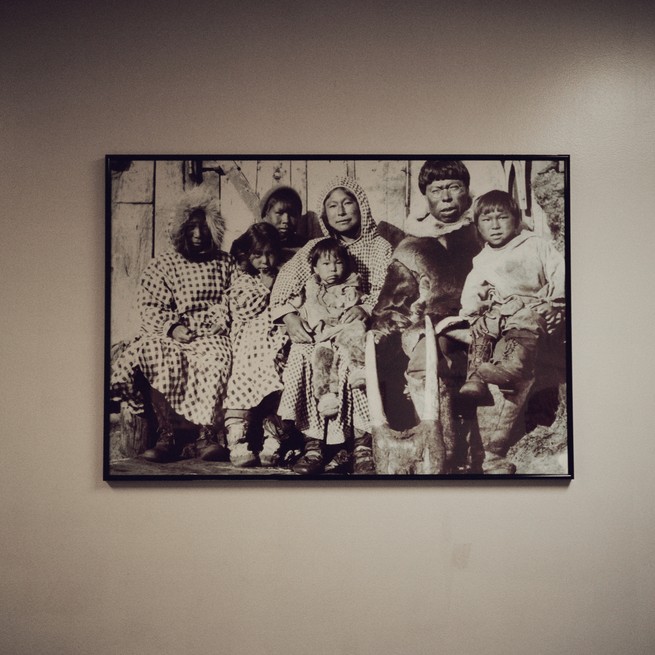 Rizga: During your 30 years teaching in Nome, did you see more Native teachers than when you were a student?
Bourdon: There are more Native teachers today, but not many more. At Nome Elementary, four to five out of about 22 teachers are Native. At the same time, about 80 percent of the students there are Native: The two primary groups are Inupiaq and St. Lawrence Island Yupik.
In the last two years, the University of Alaska started a "grow your own" teaching program that aims to increase the numbers of Alaskans going into teaching instead of relying on educators from other states. One issue is that it's really hard to find housing in the villages. It's expensive, and schools try to subsidize it. The other incentive that's needed is paid professional development that teachers choose themselves. It would help retain teachers and motivate them, and it really helps students a lot. Most of the time I looked for and paid my own professional development: I was involved with Alaska State Writing Consortium, and through that, I also became involved with the National Writing Project, which really improved my teaching of writing.
Rizga: What approaches were effective for growing your Native students' engagement with academic work in a Western classroom setting?
Bourdon: One thing I'll say about Alaska Natives is that we tend to be very shy, quiet people. We are not the ones who robustly raise our hands to interject the answer that the teacher wants. Some of the shyness comes from the fact that in our culture, you have to let the elders speak first before you take your turn to speak. It's also expected that you will first allow others to speak, reflect on their words, and then form your own answer. Writing became a really important tool to promote my students' voices and grow their confidence, because a lot of their imagination and creativity could come out that way, without fear of speaking in front of others.
I also noticed that in the third and fourth grades, plays were really important for learning how to project your voice and speak out. We'd prepare for weeks, and parents would come out and see the performances. Drama was a big motivator for my students to improve their reading, writing, and public-speaking skills.
Another program that was really popular among students and Nome residents was my community pen-pal program. Instead of writing to their parents or family members, students would write to a professional they were curious about. Suzy would write to a nurse. John to a fishery biologist. Jeannie wrote to a postmaster, and Tom to a high-school sports director. I was manually delivering these letters. And then we had pen-pal tea, so you can meet your writing partner.
But the highlight of my career was when two fourth-grade teachers and I worked for three years together on the weekends to create a schoolwide curriculum based in science and local geography and culture. We had reading, writing, language arts, math, history, and technology, all wrapped around the scientific themes of fish, birds, mammals, water—all of which you can find in Nome. And at the end of each theme, we had a culminating event, and parents and community members would be engaged in that. My favorite unit was on insects. Children in the third and fourth grades are so enthralled with dragonflies and beetles. We were learning about their life cycle and how it affects other animals and fish. The culminating event was a project in which students had to invent their own insects: build them using all recyclable materials, name them, and create a presentation about their life cycle. They then had to present it to the community. It's so much more engaging than saying, "Open chapter 16, and we are going to learn about insects. Then, write answers in a worksheet."
Rizga: How did you think of effective teaching when you were first starting out, and how did that change after 10 or 20 years in the classroom?
Bourdon: When I was starting out my career, I really wanted my students to learn how to read, write, do math, and problem-solve, and I wanted them to go to a university. As I got older, I started thinking about how much emphasis we put on those skills. You can be successful culturally, too; you can embrace both. If someone didn't go to the university—but can read and do math and also hunt, fish, make mukluks [traditional boots], and provide for his family—he is also successful. Western knowledge is important, but where we live, so is Indigenous knowledge, language, and culture. If you can read the cloud formations and the wind and know not to go out when there will be a raging blizzard two hours later, you can save your own life. As I became more experienced, I brought in more Inupiaq culture.
Rizga: You eventually transitioned from a general-education classroom to a cultural-studies class. What led to that change?
Bourdon: Turnover of administrators increased in the mid-2000s, and these days, the new administrator always wants to bring in something of their own. The last straw was when one administrator wanted us to adopt a curriculum from another Inupiaq district. It was in a very different geographic and cultural region. And there was no time given to adopt anything: just take this book and copy from another place. And that school didn't have better test scores. The administrator—who was not Native or even from Alaska—just thought it was better.
Toward the end of my career, I transitioned from a regular classroom to a cultural-studies classroom; I was driven out by the standardized test being the ultimate goal of learning. The administrators started coming in with more observations and demands: "How are you going to cover this?" and "I want to see the standard written out when I walk in here." It was just all about test, test, test. Where's the creative and cultural aspect of teaching? I want to have an active classroom where students are learning and engaging. Yes, there is book time, but I don't want them to just open books and answer questions on worksheets from morning to night.
Rizga: What do you miss the most about not being in the classroom?
Bourdon: I miss the students. Each year is different, because the kids are new every time. Everything they bring to the classroom is different and interesting. I miss the plays. I miss doing the Inupiaq spelling bees that I started. I loved anything that brought out the shy, quiet, Native person to go in front of an audience and feel comfortable performing in front of people.
I had so many Alaska Native students who used to be very shy, and are now doing very public things. One of my students sings in the opera. Another is a musician and studying at a university in Wisconsin. I recently heard from one student who had to give a keynote speech at the Alaska Federation of Natives convention. She thanked me for the writing skills and for preparing her to speak in front of a huge crowd of Alaska Native tribes. Instances like that tell me that what I taught helped my students—even if it's not measured by the darn test.
---
This article is part of our project "On Teaching," which is supported by grants from the William and Flora Hewlett Foundation, the Spencer Foundation, the Bill & Melinda Gates Foundation, and the Panta Rhea Foundation.