Celebrating Neurodiversity in the Classroom
Tracy Murray on helping kids develop emotional and social skills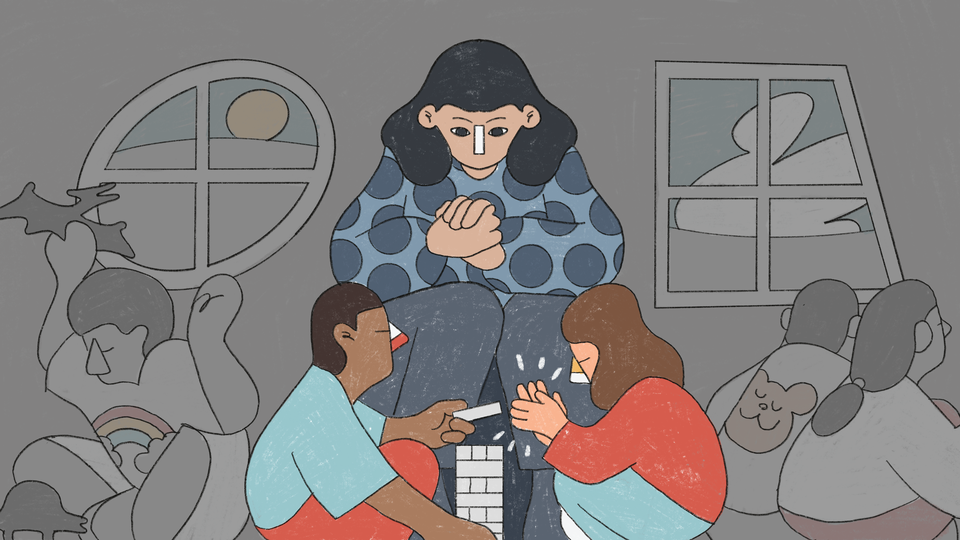 Editor's Note: In 1988, a teacher most commonly had 15 years of experience. In recent years, that number is closer to just three years leading a classroom. The "On Teaching" series focuses on the wisdom of veteran teachers.
---
Tracy Murray has witnessed a lot of change in her 27 years of work in classrooms. But in her view, no shift has been as radical—or as positive—as the difference in the way children with autism spectrum disorder (ASD) are viewed by society. Murray's kindergarten class is part of ASD Nest, a program run by New York City's Education Department and New York University; it includes kids with and without ASD in the same classroom and helps them all develop social and emotional skills. When Murray started teaching with ASD Nest in 2003, many of her general-education students were pulled out of the classroom by their parents, who cited concerns that their five-year-olds would regress academically if they spent every day with children on the spectrum. Today, many parents request to be a part of the program. ASD Nest is now running in 54 elementary, middle, and high schools across New York City.
This big cultural change is largely due to the advocacy of autistic people themselves, Stephen Shore, a professor of special education at Adelphi University who has autism, told me. Dorothy Siegel, a co-founder of ASD Nest and parent of an autistic child, credits a memoir about autism by the animal-behavior expert Temple Grandin, Thinking in Pictures, for making her rethink how to support autistic children in the classrooms. Ever since Siegel and her partners launched the program in a Brooklyn elementary school, Murray has been focused on helping her students on the spectrum develop independence and confidence. When I visited Murray's classroom in November 2019, I asked her to reflect on the practices that work best in her classrooms. This interview has been slightly edited for length and clarity, and the names of all children have been changed to protect their privacy.
---
Kristina Rizga: What are some of the most important aspects of your teaching?
Tracy Murray: I love that the primary goals of our program are about human-to-human connections, not just adding one plus one. We have permission in our school to prioritize social skills—which are important for all children, but especially for kids on the spectrum. If we ignore social skills, it impedes academic success. Our program is very intentional about this, and it doesn't happen in many classrooms.
This means doing more incidental teaching: responding to challenges in the moment and not letting those moments go by. Let's say there are two kids on the carpet, and one of them is on the spectrum, but he is taking the initiative to talk to another kid. I'll pause the academic lesson, because they're having a social moment. They are learning how to form relationships, how to experience life more independently, learning about themselves.
Another big part of our teaching is about paying attention to students' strengths and interests—rather than their deficits—and building on that. Our meetings among teachers and specialists are focused not on our children's negative behaviors but on what we can do to help them be more successful in class. For example, one of our boys has a three-second attention span on his independent work. We know that he loves dinosaurs, so my co-teacher, Mrs. Garber, is bringing everything she knows about them into the lessons to keep him engaged. We changed math problems to include references to dinosaurs. When we were writing opinion pieces, the other students were all writing about their favorite desserts, but this student wrote about his favorite dinosaur. And sure enough, we're able to get his attention for 15 minutes during a math or writing lesson.
Rizga: How did your teaching improve with more experience in the classroom?
Murray: I help children reach learning goals differently now. I remember early in my career, I had a three-year-old girl with Down syndrome, Brittany. One of the goals on her IEP [Individual Education Plan] was: "Brittany will demonstrate object permanence through auditory localization and visual pursuit." It basically means she'll be aware of an object and vocalize it. So, if she was at the table playing and I disappeared under the table, would she look for me? I spent so much time making sure she knew that goal: making noises, tap dancing, throwing things on the table to see if she would look up if I put my phone down.
The goals that we're working on now are so much more meaningful, because they are about what children are asking for themselves. I'm thinking of a five-year-old student on the spectrum I have this year named Calvin. He is a very sweet and social boy, but he has a hard time understanding other kids' intentions, feelings, or how to take turns. Calvin wanted to be friends with another boy on the spectrum in the class named Alan. That was his goal, and we worked hard to make that relationship a successful one.
Rizga: What were some of the strategies that were particularly successful?
Murray: When the year began, Calvin was always insisting on sitting next to Alan. And whenever he sat next to him, he'd ask him: "Do you want to sit next to me?" And Alan thought "next to me" meant touching. So he kept saying, "No!" And then Calvin would become angry and disruptive.
So we did what we call a comic strip—where I draw a simple cartoon with stick figures and dialogue balloons to represent what is going on. We used this strategy to teach Alan what Calvin means. Then we used the comic strip to explain to Calvin that Alan just doesn't want people sitting too close to him. The tension was removed from their relationship and it was able to develop. This kind of incidental teaching using a real-life situation is good for all students, but extremely important for students on the spectrum, because they have a hard time generalizing.
Rizga: How would a traditional classroom deal with a child like Calvin who was being disruptive?
Murray: The typical strategy would be time-outs. Our program teaches constructive-coping mechanisms instead. We have 12 children in the classroom. In a traditional classroom, you have 28 kids. You have to get through the lesson; there is no time to stop, investigate situations, and teach constructive social and emotional skills in the moment. Students get removed to have a conversation with a counselor, go into an in-house suspension, or get sent home. Last year, when Calvin was in a different class, he was sent out of the classroom a lot. This year, 48 days in, no one has been sent out of class yet.
Our strategies are really helpful for students on the spectrum—but learning how to perceive the intentions and feelings of others and manage your own emotions is good for all students, not just autistic children.
Rizga: Nonverbal communication, such as body language or tone of voice, is a challenge for many students on the spectrum. How do you teach that?
Murray: We incorporate it into everything we do. My teaching partner and I model and talk about our faces, body language, and emotions, and those of other students, all day long. "Mrs. Garber, you sound frustrated. Your face looks frustrated, because I can tell that your eyebrows are furrowed." Or, "Mrs. Garber, you look happy. I can tell, because of your smile." We read books where the characters are showing an emotion. We play a game: "Follow my eyes to the prize." Someone will hide, and then I will be using my eyes to point in the direction of where that person is hiding. This is helping the kids learn how to focus on the eyes, checking in with someone's face for information. In other games, we copy each other's facial expressions or play guessing games with each other's faces.
Rizga: How does ASD Nest help teachers improve?
Murray: We have intensive collaboration between specialists and constant engagement of parents. Every Thursday, we meet as a team—myself and my co-teacher, and occupational, speech, and physical therapists—to discuss individual students. On Friday, we let the parents know what was discussed, the strategies we will focus on, the language we'll be using, the rewards. When I was starting out in teaching, there was no collaboration. None. In other schools, therapists would take the kids out of my room. I had no idea what they did; they never communicated anything to me. I would know what was on a student's IEP, but I never saw what special-education staff were doing, and it was never brought into the classroom.
Rizga: How does ASD Nest promote strong relationships between teachers and parents?
Murray: As soon as the kids are accepted in the program, the teachers will go and meet them at their home. I remember when we went to Alan's home, we noticed that he really loves yellow trucks, so we incorporated them in our lessons. We want to get to know the children at their home space, where nothing is new and they feel most comfortable. We also get to know the parents and answer any questions. Often, we have to reassure parents that no matter what their child does, they won't be kicked out of the program. In so many cases, when kids are placed in the wrong programs, parents are used to having their children considered 'problems' and kicked out. We tell the parents we love everything about their children. We're not trying to change them or fix them in any way. We're just trying to help them be the most successful that they can be.
As children begin school, we set up a communication log right away that parents can check daily. We invite parents to class, and communicate with them several times each week. A lot of the communication is focused on the positive things their children did or learned. This is also where they tell us if they have any issues at home that we can help them with. We will then discuss it with the team of our specialists. We start our team meetings with the parents' concerns, and it doesn't have to be academic. It could be that they're going to the dentist and their child is scared. We offer workshops for parents once a month. Our senior parents work with the new parents.
Rizga: Can you think of any students who changed profoundly the way you teach?
Murray: I remember one student who had been in several other schools and was known as very violent. He was only five. And for several months, whenever I'd say, "Do you need help?" he could wreck a room. Chairs would fly all over. One day he told me: "My brain tells me one thing. My body tells me another. You are like my coach." And I said, "Will you let us coach you then?" He nodded, and our relationship changed completely. Just changing the word from "help" to "coach" made a big difference. Children are always teaching you something. You have to learn to pay attention to the smallest, subtlest things.
Rizga: What are some of the biggest shifts you've seen in education and society when it comes to students on the spectrum?
Murray: I have seen more inclusion and awareness of different disabilities in classrooms. Teachers are not looking at the special-education teachers as "those teachers," but "we are all in this together." I feel society is much more welcoming and more inviting for people with disabilities, as well. In my early days, I was going on class trips and feeling angry because people would stare at my kids with so much judgment. Now I don't notice that at all.
Acceptance and inclusion among parents has increased the most. When the Nest Program was opening its first school in 2003, most parents didn't want to send their kids to mixed classrooms with special-education children. Some parents did not understand the program and said outright, "I don't want my kid to turn retarded." My first class ended up being small: four students on the spectrum and three general-education students. These days, parents will call the school and ask for their kids to be placed in the program, because you have 12 kids to two teachers. Our neurotypical students are top of the grade academically. Our kids on the spectrum, being around so many neurotypical kids, develop friendships. I think that if this program were in more schools, the acceptance would increase even more. Differences would be honored and celebrated.
---
This article is part of our project "On Teaching," which is supported by grants from the William and Flora Hewlett Foundation, the Spencer Foundation, the Bill & Melinda Gates Foundation, and the Panta Rhea Foundation.