Teaching Theater Through Four Decades of Social Change
A performing-arts magnet in Dallas was founded as a tool of desegregation. Karon Cogdill has witnessed 40-plus years of the school's uneasy evolution.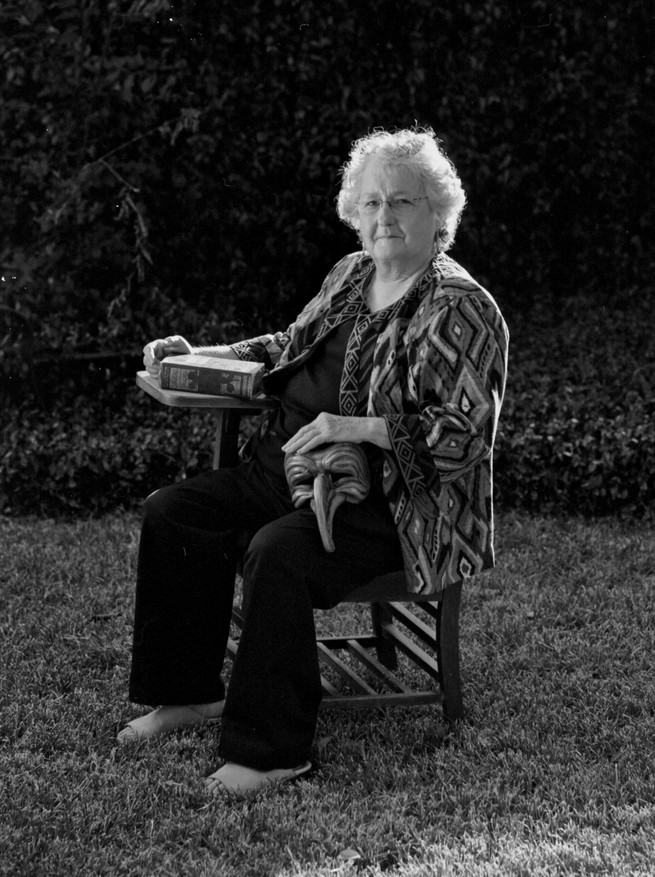 Editor's Note: In 1988, a teacher most commonly had 15 years of experience. In recent years, that number is closer to just three years leading a classroom. The "On Teaching" series focuses on the wisdom of veteran teachers.
---
For more than 40 years, Karon Cogdill has taught theater at Booker T. Washington High School for the Performing and Visual Arts in Dallas, and she's learned not to try to predict her students' futures.
"They all want to be stars," she says, "and my goal is to change that: 'You don't want to be a star. You want to work.'" In that work, she tells her students, they can nurture their inner visions, continue to improve, and perhaps be surprised by an unforeseen talent, like a knack for lighting or costume design.
Now, at 68, Cogdill is staring down her own uncertain future. This year will be her last at Booker T., which opened as an arts magnet in 1976 and has since become one of the country's premier arts high schools, with conservatories in theater, music, dance, and the visual arts. Cogdill has directed the theater conservatory since 2008, and she's been an integral part of the school's evolution. "Karon is a legend in Dallas," says Kristin McCollum, an actor and director who has sent two daughters to the school.
But Cogdill recently completed treatment for breast cancer, which, along with her age, makes her especially vulnerable to COVID-19. The Dallas Independent School District (DISD) reopened virtually on September 8, but the current plan is to resume in-person arts classes on October 5 (or September 28, for ninth graders). Cogdill expects to be there—but warily. "I have grave concerns about going back," she told me. Many teachers across the country feel the same; in an August 2020 poll, 77 percent of K–12 teachers said they would be worried about risking their own health if they were asked to teach in person this fall, and 16 percent said they would leave the profession.
The potential departures could hasten an exodus of teachers from the profession's aging workforce, just as schools are facing stark new pressures. In the theater program at Booker T., the pandemic pushed classes online in mid-March, upending instruction and the ability to hold live performances, the essence of stagecraft. A plunging economy is driving deep cuts to state education budgets that could especially affect the arts, which policy makers often view as expendable in the best of times—even as recent research suggests that this is where some of the deepest learning in schools occurs. The retrenchment could make addressing existing inequities that much tougher, as Black Lives Matter protests are casting a glaring light on systemic racism in American life. Ever since Booker T. was founded in compliance with a federal desegregation order, the school has been a microcosm of national issues—and, through the changes, Cogdill has learned to adapt.
The challenges were evident in May as Cogdill tried to squeeze her signature mime class into the tiny boxes of Zoom. Just under a third of Booker T. students qualify for the federal free-lunch program. Although the school provides a laptop to every student, many other schools in the DISD do not, which was creating logjams in some homes. "There's one computer in a family of eight," Cogdill said. "Kids send me work at one in the morning because that's the only time they can get on the computer."
Still, students were finding creative ways to get a jump on Arthurian legends, the subject of next year's big mime show, an annual event at Booker T. A student portraying Guinevere shared a video clip in which she silently sparred with her brother in their backyard. Next, Charlton Gavitt, a Booker T. alum and an expert in stage combat, walked students through some sword thrusts and parries from his driveway. Students followed along at home, slicing the air with improvised weapons: a toy light saber, a large umbrella, a toilet plunger.
Growing up, Cogdill swore she'd never teach. "My mother was a teacher. My father was a teacher. My grandmother was a teacher," she said. She knew too well the long hours the profession entailed. Like her students, she wanted to be a star. She studied acting at the State University of New York at Fredonia and did some summer stock in Maine before arriving in 1975 at an innovative graduate program for working actors at the Dallas Theater Center. As a condition of her financial aid, she was asked to teach drama part-time, starting in January 1977, at the city's new arts magnet school—now colloquially known as Booker T. Cogdill felt she'd found her true calling and soon started working there full-time.
For decades before she arrived, many of Dallas's white residents had been furiously fighting all but token integration. In 1971, when a federal judge introduced a modest busing plan, he noted that more than 90 percent of Black students in the DISD still attended schools in which less than 10 percent of classmates were white. Busing placed most of the travel burden on Black students. Even so, white flight accelerated. Between 1970 and 1975, the number of white students in the district declined by 43 percent. When the Supreme Court ruled in 1974 that district courts couldn't recapture white students by busing them across district lines, judges sought other means to achieve integration. In Dallas and elsewhere, they turned to magnet schools like Booker T.
In Dallas, the hope was that a high-caliber arts program could attract white students voluntarily to a diverse school. Enrollment was divided roughly in thirds through increasingly competitive auditions. "We'd take the top 30 percent white kids, the top 30 percent Black kids, and the top 30 percent Hispanic kids," Cogdill said. "Those days under the court order were the most diverse we were—and the best, as far as I'm concerned, for that reason."
Then the era closed. In 2003, as part of a broader trend, the court in Dallas lifted its desegregation order, declaring it no longer necessary. At the time, just 6.7 percent of students in the district were white. Then, in 2007, the U.S. Supreme Court ruled that it was unconstitutional for school districts to achieve or maintain integration—even voluntarily—by taking race into explicit account to create diverse enrollments. By the next year, only a quarter of Booker T. students were Black and 42 percent were white. (In more recent years, just under a quarter were Black and 39 percent were white.)
When Guinea Bennett-Price, a Booker T. alum, returned as a theater teacher in 2013, she was shocked by how few Black students, especially Black males, were in the theater conservatory. "I was already teaching in the DISD, and so I knew the situation," she told me, "but seeing it in my classroom, my hair almost caught fire." Theater tends to attract "more girls, period," she said, but she recalled that in her first year at Booker T., there wasn't a single Black male in the theater department's senior class.
At the same time, Booker T. is more integrated than most American high schools; Black and Hispanic students still make up more than half the school. At LaGuardia High School, the specialized performing-arts school in New York City, roughly two-thirds of students are white or Asian in a city where Black and Hispanic students make up two thirds of the school system. Competitive auditions, which tend to favor students whose families can afford years of voice, music, or dance instruction that hone talents, contribute to the disparity.
For that reason, Cogdill said, "the audition at Booker is designed to show off potential, not just trained skill." For example, Cogdill might ask applicants to pantomime a scene, such as walking across a frozen pond without skates. "The question is, are they willing to try? Are they willing to use their body and take a risk and do something they're uncomfortable with?" Cogdill said. She tells admitted freshmen, "You are here because somewhere in your audition, you thought outside the box."
But as Booker T.'s stature has grown—especially after a $55 million renovation was completed in 2008 as part of the development of Dallas's flourishing arts district—some families have been caught gaming the system. Last year, journalists at the Advocate, a community newspaper in Dallas, reported that out-of-district parents from the city's wealthy white suburbs were temporarily renting apartments or paying utility bills for friends or family in the DISD to provide "proof" of residency so their children could apply to Booker T. "To me, this is the counterargument to people who complain about affirmative action," Bennett-Price said. Without a court requiring people to be fair, she says, "people won't be fair."
While such debates continue at Booker T., too many public schools don't have arts programs at all. And even Booker T. must rely on outside fundraising by parents to hire consultants, many of them professionals in the theater, to assist with particular shows—an investment that low-income schools and districts can seldom match. As a relatively well-resourced school, Booker T. is also a magnet for experienced, talented teachers. Bennett-Price is one of them. Once Cogdill retires as director of the theater conservatory, Bennett-Price will take her place. She will be Booker T.'s first Black theater-conservatory director.
Elliot Marvin Sims, a student who graduated from Booker T. in 2012, says he adores Cogdill but welcomes the change. Growing up in the small town of Waxahachie, Texas, Sims was among a small percentage of Black students at his then mostly white public school, and few of the peers or adults around him took his artistic ambitions seriously. He recalls a day when he arrived late to track practice because of rehearsal, and the coach was incredulous. "He was like, 'Theater? You mean that thing where you wear a tutu and all that?'" His teammates stood around and laughed.
But when he moved to Dallas and switched to Booker T., Sims discovered "a whole other culture, a whole other life," he told me. "Symphonies were playing, and people were drawing masterpieces—murals on the wall—and dancing in studios you could see through big glass windows." In a school where talent is the currency, "everybody loved him, including the kids," Cogdill said. "He got a lead in a show right off the bat." Booker T. was also the most integrated environment that Sims had ever experienced. He relished having so many Black classmates. And he and Cogdill were so close, they often joked that Cogdill was like a second mom. "We would smush our faces together and say to other people, 'Don't you see the resemblance?'" he recalled—even though Cogdill is white. "I wouldn't be who I am without her."
But as Sims aged, he began to see his adolescence at Booker T. through a more complicated lens. He realized his elevated status as favorite student had papered over racial divides. Black classmates often had a very different experience at the school, he said. They felt voiceless, with fewer opportunities to perform, especially works by Black authors. When students raised the issue, the response was "'Let's have a Black-history show,'" Sims recalled. "It's a mockery. People don't even come and see it, and then they all pile in for the other shows." After graduating, he encountered similar obstacles in the wider theater world. Once, when he got a role in a prestigious Shakespeare festival, he was thrilled—until he was asked to cut off his dreadlocks. "I felt like I couldn't be my image of a Black man in my work," he said.
Those experiences have pushed Sims toward what he calls "art activism," which he plans to pursue at Northwestern University, where he is starting an M.F.A. in acting this fall. They also led him to attend his first-ever protest in June, when he was one of several current and former Booker T. students participating in a Black Lives Matter march on the Margaret Hunt Hill Bridge, west of downtown Dallas.
Still, "Karon will always be family," Sims said. He once brought a college girlfriend to meet her, and Cogdill recently attended one of his professional performances locally, which she described as one of the best she has seen by a former student.
Cogdill has seen a lot of change in her 40-plus years at Booker T. But she knows that some changes are just beginning, and this time they're coming from the students themselves. The day after the bridge protest, she reflected on her most recent cohort of students, among her youngest and last. "They are passionate about politics in a way I've not had with kids in the past," she said. "They believe we cannot have business as usual."
---
This article is part of our project "On Teaching," which is supported by grants from the William and Flora Hewlett Foundation, the Spencer Foundation, the Bill & Melinda Gates Foundation, and the Panta Rhea Foundation.