Shop Class, Over Zoom
How one career and technical high school is going remote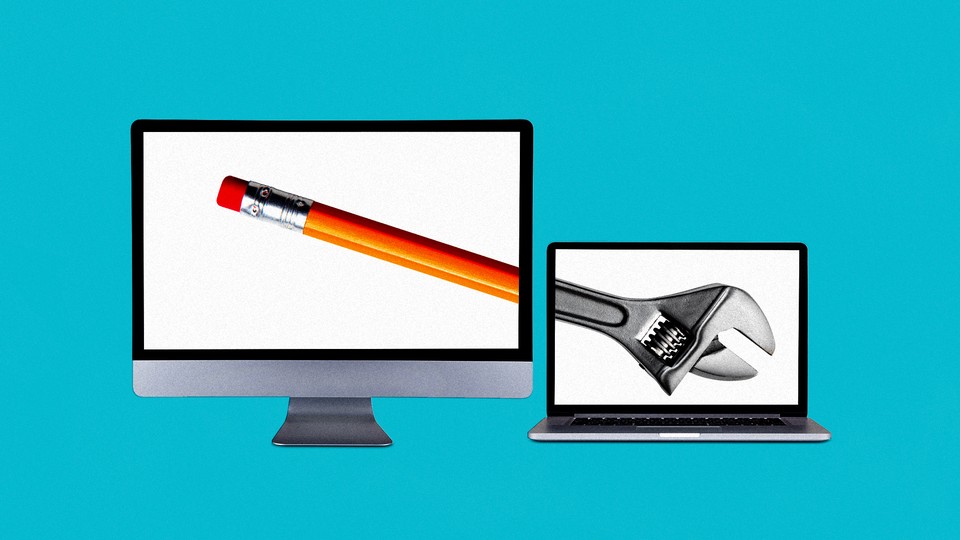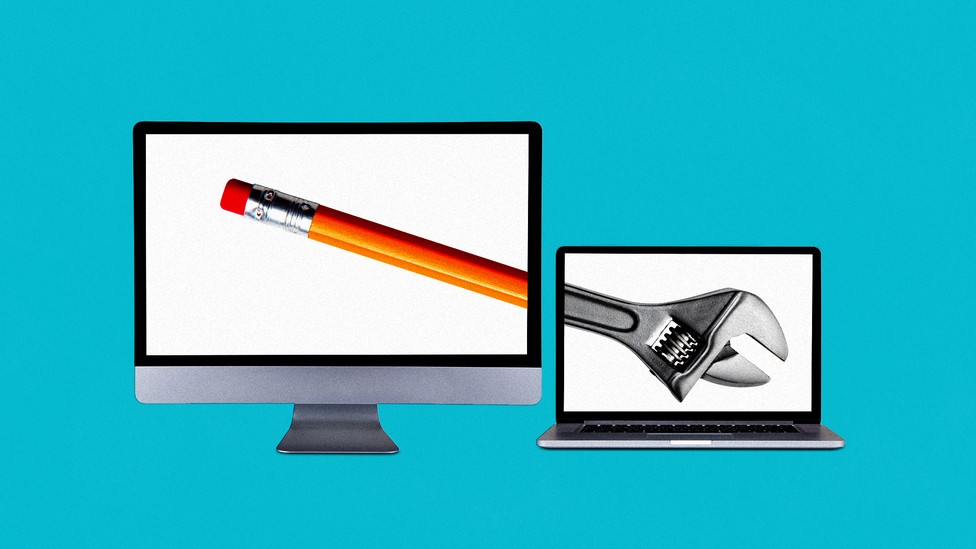 Editor's Note: In 1988, a teacher most commonly had 15 years of experience. In recent years, that number is closer to just three years leading a classroom. The "On Teaching" series focuses on the wisdom of veteran teachers.
---
Wearing a mask and heavy work gloves, and keeping at least six feet away from passersby, Amani Benouardia—a freshman at Essex North Shore Agricultural and Technical School, a public high school in Massachusetts known as Essex Tech—spent a recent afternoon picking up litter on her street. Her tally included 14 plastic water bottles, 26 bottle caps, and 263 cigarette butts.
Benouardia is in Essex Tech's environmental-science-and-technology program, which prepares students for careers in fields including wastewater management, ocean resource policy, and wildlife biology. She was supposed to take a school trip to the coast to look for shoreline debris. But with that canceled, Benouardia and her classmates did sweeps across their own neighborhoods, collecting and analyzing trash that could hurt marine life if it travels from storm drains to waterways.
This is career and technical education, or CTE, at a distance. Unlike vocational high schools of previous generations, where students learning trades were split off from their college-going peers, Massachusetts's CTE schools give academics and workforce preparation equal weight. The 1,300 students at Essex Tech, one of the state's 56 vocational and technical programs, alternate every two weeks between academics—including the options of honors and Advanced Placement classes—and training in a wide range of professions, such as plumbing, sustainable horticulture, and veterinary science. The school fielded about 1,400 applications for 460 seats in the upcoming freshman class.
At the sprawling campus in Danvers, 20 or so miles north of Boston, Essex Tech students operate large-scale manufacturing equipment, care for the school's horses and other livestock, raise endangered turtles and brook trout for eventual release into the wild, and conduct experiments in a biotechnology lab. They also help build houses for the needy, work in the school's public café and bakery, and earn training hours to meet state licensing requirements for fields such as cosmetology and construction. But with Massachusetts's public schools closed for the remainder of the academic year due to the coronavirus pandemic, the usual hands-on learning opportunities—the hallmark of the CTE curriculum—are now out of reach.
Teachers and students are suddenly cut off from the classroom tools and professional-grade equipment they have relied on; they can't use lathes, troubleshoot electrical systems, or run medical laboratory tests. Sarah Bacci, a junior planning to study sustainable energy or aquaculture when she heads to college, applied to Essex Tech largely for the promise of that career learning. Her friends in the arboriculture program want to be "six feet or higher up in a tree, working with chainsaws, learning new skills, getting to perfect their trade," Bacci told me. "There's definitely a strain for students who have chosen to take a different path and now … don't get to do that."
There's also the loss of in-person, close-up demonstrations of proper technique, and the opportunity for teachers to gauge students' mastery in real time. At Essex, this kind of multilayered instruction is crucial—and it's built on familiarity and trust between students and their teachers, who are grouped into "shops" for training, often with the same classmates and teachers throughout their high-school careers. Anthony Wilbur, who teaches environmental science and technology at Essex Tech, told me it's been hard to have these tight-knit communities interrupted. "That's a special thing that CTE teachers get to do, to mold them and teach them for that long," Wilbur said. "I still communicate with them, but being at home is nothing like being in the room with them and working one-on-one."
But Essex Tech teachers are finding creative ways to keep their students learning and engaged. Cosmetology teacher AnnMarie Lewis has dropped off mannequin heads, color mixing bowls, and hair clips for students who need them. For an assignment on how to talk with salon customers about the services they want, one student recorded a cellphone video of herself discussing hairstyle options with a new "client": her father. "She walked him through everything—it was amazing," Lewis told me.
Veterinary-science students in Jenn DeForge's class are completing online tutorials, preparing for the Certified Veterinary Assistant exam, and watching live webcams set up in pet day-care centers and zoos to sharpen their observation skills. First-year culinary-arts and hospitality teacher Krisztina Perron asked students to interview family members about a favorite recipe and write an essay about its origins, then document themselves actually making the dish. Next on the schedule will be a video lesson on sushi, in which Perron's 9-year-old daughter will assist her in their home kitchen. Jody Norton, who teaches information-technology services, has small teams of students configuring virtual networks that can handle documents, email, and webpages. They'll have to hold a videoconference meeting on their own network and record it for Norton.
In the physical classroom, Norton would typically be walking around the room, stopping amid the clusters of students working on their laptops to observe their progress and see who might need extra help. Teaching via a webcam "is difficult because you can't see the level of attention on the other side of the screen," Norton told me. But he also knows his students won't always have that kind of personal attention in the future, and the assignments they're working on now—without the training wheels—will be good for them. "This is what they'll have to be able to do in the real world."
Several teachers said that with the hands-on practice scaled back, they're emphasizing the conceptual elements of the curriculum. That's been the experience of junior Gabryel Diniz, who is in Essex Tech's program for automotive collision repair and refinishing. He would prefer to be on campus, fixing cars' cracked bumpers and scratched doors. Instead, he's at home studying for a certification test in the handling and disposal of hazardous materials. "For any chemicals in the shop, we learn how to get rid of them safely," Diniz told me. "We're focusing on the book work we had to do anyway, and when we get back into the school, we'll be applying it."
And even beyond curriculum changes, CTE staff are doing what they can to provide counseling and other support to students grappling with challenges related to the COVID-19 crisis—especially those who have picked up extra shifts working in grocery stores, or whose families are experiencing unexpected turmoil due to illness or job loss. Home-style meals are also available for students who need them. "We're trying to bridge that distance and say, 'We're here for you,'" Heidi Riccio, the superintendent director of Essex Tech, told me.
CTE is one of the few areas of public education that has consistent bipartisan support among federal lawmakers, and it's also favored by the public in national education polls. Massachusetts is one of a growing number of states boosting its investment in CTE: In recent years, it has distributed more than $78 million in grants to help expand CTE programs, including more classroom seats to accommodate students training for high-demand jobs.
The district has the resources for Essex Tech to adapt relatively quickly to remote learning; the school provided students with laptops or iPads at the start of the academic year, and administrators say they've been able to help families in need get access to mobile hotspots for internet service. The school's leadership team also put together a thorough blueprint detailing processes and expectations for students and staff while distance learning is the norm, something teachers and parents say has eased the transition.
Not every CTE school will have the same supports to fall back on, Jarrod Nagurka, a spokesperson for the national Association for Career and Technical Education, told me. But CTE's emphasis on creative problem-solving could help students and teachers adjust more swiftly to this new reality, Nagurka said. "We're seeing an incredible amount of resourcefulness," he said.
That's been the case for Massachusetts's CTE community more widely, which has responded rapidly to the remote-learning situation, Kevin Farr, the executive director of the Massachusetts Association of Vocational Administrators, told me. Teachers from the state's 56 vocational programs are sharing lessons, video lectures, and ideas for activities. "We're going to provide a solid bank of online resources from all over the country, as well as the state," Farr said. "We have to fill that gap until we can get our kids back to school, and back to the hands-on piece."
In the meantime, being forced to adapt to distance learning means that schools such as Essex Tech have a chance to reimagine how CTE is taught, which could be a boon for communities where the cost of building and outfitting specialized schools is an issue or for rural areas where in-person classes aren't possible. "Necessity does breed invention, and this situation we're all facing certainly qualifies as necessity," Robin Lake, the director of the Center on Reinventing Public Education at the University of Washington, told me. "We're very eager to watch what kinds of solutions people come up with and what kind of evidence we can collect to see which approaches work better than others."
For Benouardia, the Essex Tech freshman, the forced transition to remote learning has been both challenging and rewarding. Her classroom is now the two-story house that she shares with her parents, three siblings, and grandmother. The family's internet service has slowed down considerably with more people at home, and for some classes the workload is heavier than when school was open. There have been perks, too, such as setting her own schedule, and assignments like the litter survey. "That was the best homework I've ever had,"  Benouardia told me. "I learned a lot from it about my neighborhood and the people who live around me. That's going to stick with me."
---
This article is part of our project "On Teaching," which is supported by grants from the William and Flora Hewlett Foundation, the Spencer Foundation, the Bill & Melinda Gates Foundation, and the Panta Rhea Foundation.