The Real Lesson of the College Closures
Outside the Ivy League, students who go home for the semester are at risk of leaving school for good.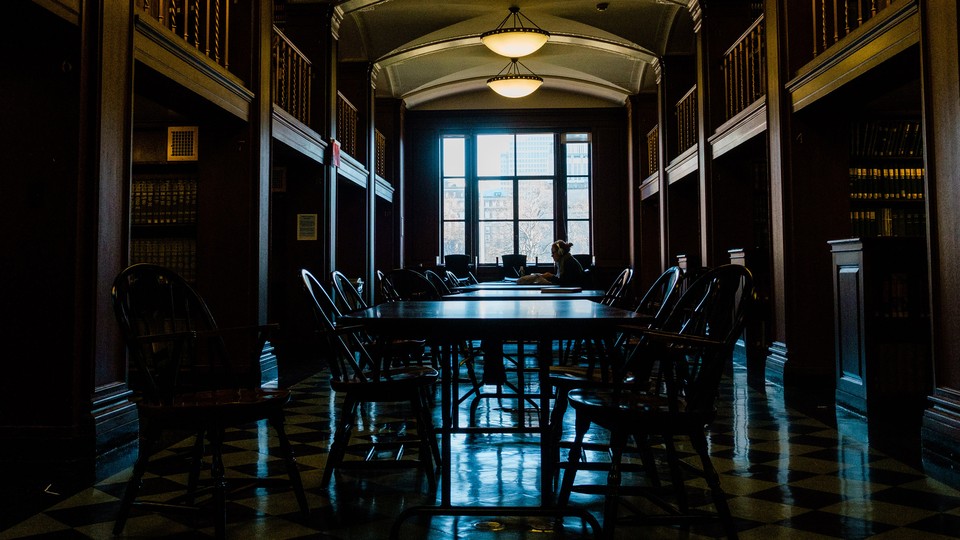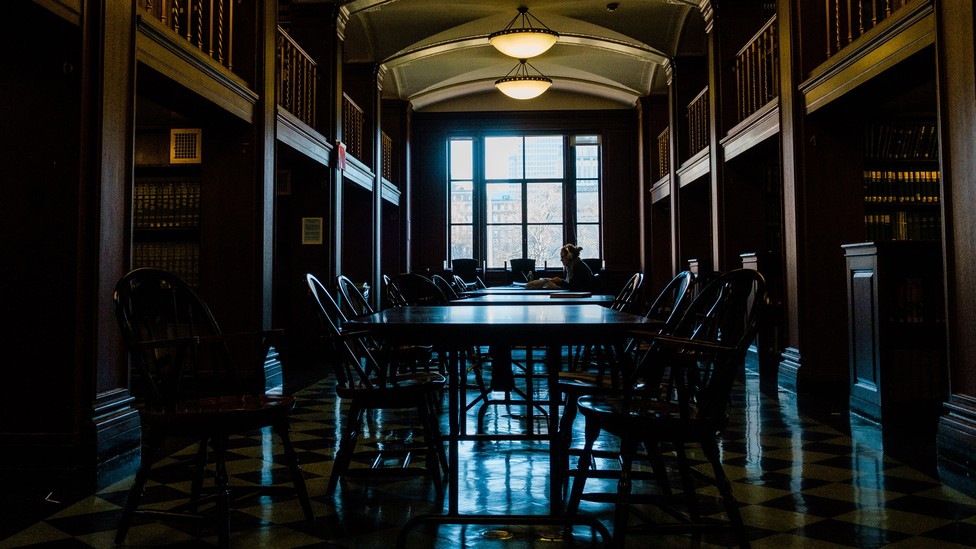 When some college students first got the news that their school was canceling in-person classes due to the coronavirus outbreak, they broke out into spontaneous dining-hall dance parties, joked about nabbing dirt-cheap flights to Italy, and plotted elaborate pranks to dupe their professors over video chat.
But for plenty of low-income students, the deluge of colleges that have shut their doors because of COVID-19, the disease caused by the coronavirus, hasn't led to revelry. "It's been really chaotic," Andrew Perez, a Harvard senior from Los Angeles, told me. "Being a first-generation student, it feels like a gut punch not having my parents see me walk across the stage."
Over the past week, institutions including Amherst College and Asnuntuck Community College have taken the unprecedented step of temporarily closing campus and shifting all classes online. Some colleges took it a step further, sending all their students home for the rest of the year.
It's quite possibly the single most disruptive event in American higher education in at least a half century—one that has left students scrambling to wrangle flights home and pack up their dorm room. When students at the University of Dayton were given just 24 hours to flee campus, they rioted, throwing bottles at police officers and jumping on top of cars. Even at Harvard, the richest university in the world, some students were left to crowdfund alternative housing and moving arrangements.
The coronavirus doesn't discriminate—poor students and rich students, exalted Ivy League institutions and middling commuter schools will all be forced to take harsh isolationist measures in the name of social distancing. Although for some colleges, shutting down a campus can be a mild nuisance for most students, at less-prestigious ones, a closure can amount to a five-alarm fire.
"The real story is not Harvard," says Sara Goldrick-Rab, a Temple University professor who runs the Hope Center for College, Community, and Justice. "It's at Bunker Hill Community College across town. It's what's going to happen to the Community College of Philadelphia."
Elite colleges are best positioned to ride out the tumult of a closure, because of the most simple economic equation around: They are stocked with the progeny of the über-rich. Thirty-eight elite colleges, including most of the Ivy League, enroll more students from the top 1 percent than the bottom 60 percent. But the typical American college student isn't clad in Canada Goose. She's barely getting by. When Goldrick-Rab and her colleagues surveyed nearly 167,000 college students at more than 200 institutions nationwide about their well-being last year, they found that nearly half of students suffered from housing instability, while nearly 40 percent had gone hungry in the past month. At community colleges, those rates were even higher. Harvard's largely wealthy student body may be prepared to deal with the financial and academic fallout of a pandemic-triggered school shutdown, but many students elsewhere aren't at all.
International students, who have no home in the United States besides their colleges, perhaps have the most to lose from the closures. Stephen Nwalorizi, a senior at Berea College in Kentucky, was panicked when his school announced that it would fully cancel the rest of the semester. Nwalorizi thought the move was "going to end my education," he told me, because he's a citizen of Nigeria, which was added to the Trump administration's travel-ban list last month. The school ultimately granted him an exemption to stay on campus, so his immigration status is, for now, secure.
Even low-income students who are U.S. citizens are at risk of leaving college for good. "There's a very real chance that students facing financial crises—which are about to get worse—will not be coming back to school," Goldrick-Rab says. "This is a disaster. You're putting the most disadvantaged students at a bigger educational disadvantage."
Students at some institutions may have nowhere else to go after their campus closes down, and yet the cruel irony is that the students most in need of help attend institutions that are least able to give it. Elite schools such as Davidson College and Princeton University helped their students with the cost of tickets home and doled out loaner laptops to those who need them—but that sort of safety net isn't an option at public colleges that were cash-starved even before the economy went south. (Harvard's $41 billion endowment is larger than the combined bank account of every single community college in America—and it's not even remotely close.)
"Most college students go to places that have much less not only in endowment sizes, but also in resources, to buffer the effects of closing a campus," says W. Carson Byrd, a sociologist of higher education at the University of Louisville. Less wealthy schools will have trouble with a host of processes, he says, "whether it's trying to promote online learning, or helping students figure out, How do you finish the semester? How do you graduate?"
Working-class students I spoke with outside the Ivy League were still processing the shock of school closures while they struggled to acclimate to a brave new world of online classes. "I don't have the most reliable internet access," said Mickey Arce, a senior at Bucknell University. "I don't want to pay a ton to get an online education." Debbie Miszak, a junior at Michigan State University studying journalism, also expressed concern about making online courses work. "A couple of my classes are not super suitable to being online," she told me.
The college closures are a reminder of who exactly will end up worse off when the dust from the coronavirus pandemic finally settles. Students at the tiny sliver of deep-pocketed colleges that command most of the media attention will largely be just fine. It's everyone else we have to worry about.