When Schools Try to Tweak Winter Break, Families Fight Back
Controversies over minor changes show how invested parents are in the end-of-year school calendar.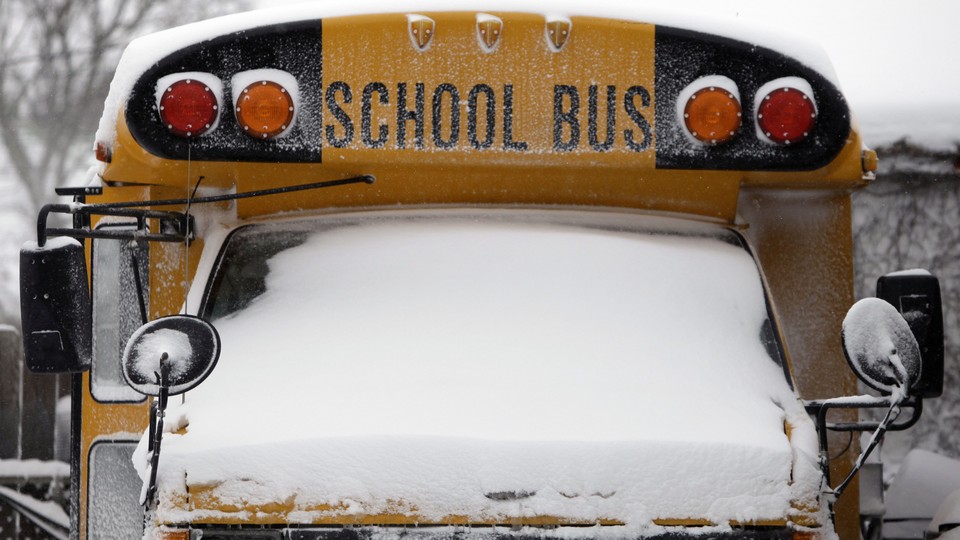 New York City's families started thinking about the winter holidays early this year, but they weren't exactly jolly about it. In May, just as classrooms were preparing to close for the summer, the city released its proposed K–12 calendar for the 2019–20 school year. The calendar included a tweak to the winter-break schedule that would delay its start by a day—classes would continue through December 23.
This did not sit well with many of those affected. "Educationally, it's completely unsound because the kids won't be into it at all," one New York City parent—a retired schoolteacher—told the outlet NY1 at the time. "The teachers don't want it. The principals don't want it. The parents don't want it."
Critics pointed out that many families use December 23 for travel—especially in years such as this one, when the date falls on a Monday. Kids accused the district of depriving them of holiday time. Tyler Leung, then a student and the class president at an elementary school in Queens, told NY1 in May: "I think it's kind of weird, because I think we all deserve to go somewhere, like a vacation off to maybe, like, Disney World for Christmas."
So, New York City's Department of Education walked back its plans, giving students December 23 off after all.
Other winter-recess controversies have erupted elsewhere in the country in recent years—from Chicago to Buffalo, New York; Brevard County, Florida, to Orange County, California. Chicago Public Schools' proposal in November to shave two days off the end of its original 2019–20 winter-recess schedule received immediate pushback from community members. There, critics argued that attendance would be low on those days no matter what, since families had likely already planned their travel. The local teachers' union opposed the move as well; educators would be penalized, it argued, because the district holds them accountable for attendance. Social-media posts and commentary cited in news articles indicate that logistical headaches are a common denominator in such debates.
Winter-break controversies may seem like small potatoes compared with bigger debates over school calendars, such as the one over "summer slide"—the theory that kids regress in their learning over the long vacation, particularly those who are low-income. But the practical frustrations of the end-of-year school schedule are compounded by emotions.
For many people, winter break is important family time, and not just because of the holidays contained therein. The several days leading up to Christmas—and often those immediately following New Year's—are their own de facto holiday for those in the K–12 world. Some parents may associate those days with rituals—a last-minute Christmas-shopping trip or quality time with extended relatives. Others may plan on the extra days off from school for holiday travel. Americans "have had [the traditional school] calendar for long enough that they've become invested in it," says Paul von Hippel, an education-policy professor and school-schedule researcher at the University of Texas at Austin.
Most states require schools to provide kids at least 180 days of instructional time a year, and anecdotal evidence suggests that around the country, winter break fairly consistently comprises about two weeks around Christmas and New Year's. But districts may dip into the winter recess when they need to compensate for unforeseen closures. (Chicago was looking to make up for lost classroom time due to the city's teachers' strikes in October.)
And such changes—compounded by larger issues surrounding the duration itself—can have huge implications for parents who can't afford child care, for kids with divorced parents who have multiple holiday celebrations, and for overworked teachers who rely on the time off to plan lessons and get doctor appointments out of the way (not to mention see their own families).
"The school calendar isn't designed in a way that supports modern families, working parents, single parents," says Jennifer Davis, an education researcher at Harvard. Some families may wish that winter break were shorter so that they didn't have to worry about child care. And kids with a hard home life may not look forward to the time off. Teachers often find themselves caught in the middle, having to navigate their own needs for a long break with those of the students they're charged with supporting.
Trevor Muir, a former teacher who now leads workshops on project-based learning, recalls noticing early in his career that some of his students would act differently around the holidays—acting out or shutting down. "As a young teacher, I would ask my students, 'What are you excited about for Christmas break?'" he says, and he'd notice some kids squirm. When he asked one of those students the question, the boy responded, "Man, I hate Christmas."
Sometimes it's a school's fault that its students' break is not restful. Some schools assign homework during the winter recess as a means of ensuring that kids stay on track academically; such obligations, however, can prevent them from taking their mind off of school and cut into family time.
Ultimately, no winter-break schedule would make everyone happy. And in the absence of consensus, it seems that schools tend to stick with what they've always done. Opponents to high-profile holiday-break changes have tended to emerge victorious, with districts often reneging on their plans. "Everyone seems to say they want change—but, when we've tried, it hasn't worked," wrote Thomas Ward, a high-school journalist in West Virginia, in a recent article for the Charleston Gazette-Mail's teen section, about local legislators' failed effort to implement year-round calendars. "It's another instance of something we see a lot—not being able to get away from traditions, no matter how much sense it makes."