How a Kids'-News Outlet Is Explaining Impeachment
When explosive political allegations arise, Time for Kids is there to translate them for young audiences.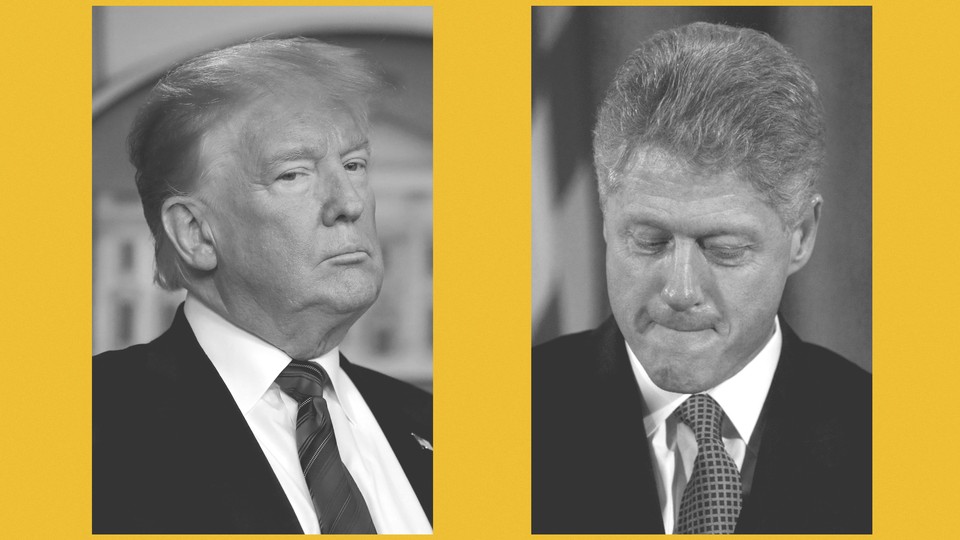 The last time a president faced impeachment proceedings, I was aware of the events that precipitated them only from the snippets I overheard from news broadcasts on my parents' TV. From what I could gather, President Bill Clinton had done something bad, a lady named Monica Lewinsky was involved, and people were mad at both of them about it.
I got some clarity on the matter one morning in my third-grade classroom, where we read and discussed that week's edition of Time magazine's Time for Kids. An article helpfully explained that the president was accused of having "a young girlfriend named Monica Lewinsky." Oh, I thought. The president has a wife—he's definitely not supposed to also have a girlfriend! So that was why people were mad.
With another president potentially en route to impeachment proceedings, kids today are probably curious again about why people are so mad. And TFK, as it's known, is still around to explain to them what's going on. When I recently spoke with Andrea Delbanco, the publication's editor in chief, I asked her what she thought would be easier to explain to young readers: Clinton's affair with Lewinsky or Trump's alleged exploitation of the office of the presidency for personal gain. The latter, she told me—"absolutely." She said she was glad she didn't have to figure out how to tailor coverage of a sex scandal to a grade-school audience.
In the late '90s, there were more children's-news outlets to cover an impeachment than there are now. Weekly Reader and Scholastic News covered the Clinton scandal, for example, but the former folded in 2012, and the latter, while still around, is geared toward grades one through six but covers political controversies less often than Time for Kids. Likewise, Nick News, a show whose coverage received acclaim during the Clinton scandal, went off the air in 2015. (The New York Times for Kids, a monthly insert, began publishing regularly in 2018, but its most recent issue, which was distributed this past Sunday, was finalized five days before the impeachment inquiry was announced.)
Which leaves TFK. Last Tuesday afternoon, after House Speaker Nancy Pelosi announced that the House of Representatives would open impeachment proceedings against the president, Delbanco and her team knew they would have to scrap their plans to publish an explainer on the General Motors workers' strike. (They did not, however, change their plans for this week's cover story, on the chef José Andrés and his charity work.)
"I think there's a sense that creating content for children is simple," Delbanco said. "I often find myself wanting to point out, like, 'We're not writing in crayon! This is still a journalistic endeavor!'" In some ways, it's harder than writing for adults: In addition to having to figure out what's relevant enough to be of interest to kids and how to explain things in age-appropriate language, children's-news outlets also have to remember that their primary audience is reading with little to no outside context. "While it's hard to write stories about a peace process in the Middle East for adults, when you're doing it for kids, you have to start with 'Where is the Middle East?' and show them the globe," Delbanco said.
Only a few short paragraphs of TFK's 400-word Q&A-format impeachment explainer—the one that appears in this week's fifth- and sixth-grade edition—deal directly with the question of why the House has opened an inquiry. As Time for Kids tells it, the House began impeachment proceedings because "an anonymous complaint [that] was filed in August says that Trump pushed the president of Ukraine to investigate former U.S. vice president Joe Biden and his son for wrongdoing."
It goes on to note that Biden is running for president and will compete against Trump in the 2020 presidential election if he wins the Democratic nomination, and adds, "Speaker of the House Nancy Pelosi said that asking a foreign power to investigate a political opponent and interfere in a U.S. election shows Trump's 'betrayal of his oath of office, betrayal of our national security, and betrayal of the integrity of our elections.'" (TFK's third- and fourth-grade edition also has a version of the article, with simplified sentences in a few spots. Its other editions, for kindergartners and first- and second-graders, focus much more on literacy and learning to read, with only some coverage of current events—and impeachment didn't make the cut this week.)
When Delbanco and a few of Time for Kids' other high-level editors gathered to write the piece, they debated how much detail to include about the allegations of wrongdoing against Joe Biden and his son. In their discussions, they also nixed an infographic format that would have framed the impeachment as a sort of flowchart or choose-your-own-adventure scenario. ("Too many confusing possibilities," Delbanco said.)
The part of the article that went through the most rewrites, Delbanco told me, was three paragraphs that describe what prompted the impeachment inquiry. "We are incredibly cautious to make sure that we are unbiased … I mean, everybody says that, obviously," she said. "But I will say, in a classroom setting, it really does feel like an absolute do-or-die, to make sure that we convey that in everything we do. We have to hear from many audiences: students, teachers, parents, district leaders and school superintendents, and principals." Time for Kids has received complaints from the aforementioned groups about coverage Delbanco herself found to be "benign"—such as articles that treat climate change and evolution as scientific facts. Time for Kids has lost readers over such statements, she told me.
Another important objective for editors of a children's publication is to find a way to be factually correct and age-appropriate without infantilizing readers. That means no unnecessary exclamation points and no dismissive, hand-wavey oversimplification, even on particularly hairy subjects. "One of the things we know absolutely is that if we talked down to our readers, we'd lose them. We are trying to gain their respect," Delbanco said, "by treating them like future citizens of the world."
Every major news story has a threshold at which Delbanco knows Time for Kids will have to cover it. Many stories never get there, but impeachment unavoidably did. "So much of what we're trying to do is demystify these things that kids might overhear or see something about on the news—at a restaurant when they're sitting below a TV, or wherever it might be," Delbanco said. "So we're always looking ahead. When is that moment—when is the critical mass going to shift?"
And the impeachment story line, she noted, could be a particularly confusing one for people who are just starting to understand how Congress and the presidency work: "We know that kids are going to immediately hear impeachment and think it means that in the next week, we're going to have to have a new president, and not totally understand."
While impeachment was difficult to cover, it's far from the hardest story Delbanco and her team have had to synthesize in recent memory. Time for Kids historically has not covered school shootings, but in 2018, it included an article about the shooting at Marjory Stoneman Douglas High School in Parkland, Florida. Delbanco said she thought the incident, and in particular the student-led movement for school safety that grew out of it, presented an opportunity to cover a grim story with a certain degree of hope. The resulting article focused on how the teenage survivors were meeting with legislators and forcing a broader conversation about school safety; an insert in the prior week's issue gave teachers a heads-up that the story was forthcoming.
When TFK has to relate a particularly complex story to kids, it often employs a question-and-answer format titled "TFK Explains," and this year, the publication has run Explains features on both the impeachment inquiry and the Mueller report. While the procedural details of these stories can get complicated, neither presents as big a challenge to Delbanco and her colleagues as the Clinton impeachment proceedings would. For one thing, she said, kids have an "innate sense of fairness and justice" from a young age, which would allow them to understand what might be wrong about cheating to win a nationwide election; they might not intuitively understand what's in and out of bounds in adult relationships.
Plus, while the Clinton scandal veered into territory no primary-school teacher would want to discuss in a classroom, a story line about the proper and improper uses of the power of the presidency, even at its most convoluted, provides an opportunity for a lesson in civics. "One thing you can rely on about children is that if you raise an issue, they'll have questions," Delbanco said. "So even if we're very cautiously taking the approach of only saying, like, 'inappropriate sexual relationship,' then it leaves the teacher in an awkward position of having kids ask, 'Well, what does that mean?'"
"I would like you to do us a favor"—that requires a lot less explanation.