Every Child Can Become a Lover of Books
Michelle Martin, a professor at the University of Washington, helps librarians create spaces that are welcoming to kids of all backgrounds.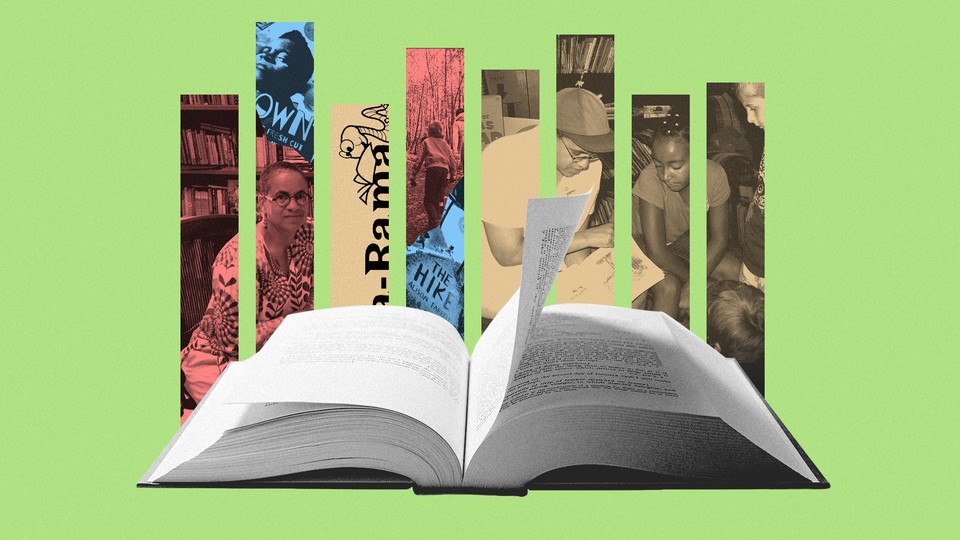 Editor's Note:
In 1988, a teacher most commonly had 15 years of experience. In recent years, that number is closer to just three years leading a classroom. The "On Teaching" series focuses on the wisdom of veteran teachers.
When Michelle Martin thinks back on her teaching career, she identifies its starting point as second grade—not when her students were second graders, but when she was. Earlier this year, sitting in her office full of children's books at the University of Washington, Martin told me that her first pupil was a classmate, a little girl whose family had moved into Martin's neighborhood in Columbia, South Carolina, and who "had had a turbulent childhood." Upon noting that her classmate was having trouble reading, Martin simply told their teacher not to worry—she'd take care of it. Martin remembers few specifics of the exact teaching strategy she used, but says her teacher later remarked to Martin's mother, "She taught that child to read!"
Decades later, as a professor who specializes in children's library services at the Information School at the University of Washington, Martin is still turning children into readers, and her mission has expanded to educating teachers and librarians about how to make students of all backgrounds eager to explore books.
Martin's day job is teaching graduate students, most of them future librarians, about children's and young-adult literature. (Her professorship is named for the librarian turned beloved children's-book author Beverly Cleary.) Martin's philosophy is that all children can become lovers of books, but that it's an educator's job to help them find the stories in which they can see or imagine themselves. In 2017, a study published by the American Library Association indicated that in the United States, some 87 percent of librarians were white. The pool of American teachers, meanwhile, is about 80 percent white, and children's literature as a genre is also overwhelmingly written by, and about, white people. Yet only half of American children are white—and Martin has taken note over the years of the ways in which the whiteness of school libraries and classroom book collections can alienate students of color, resulting in missed opportunities to foster a love of reading.
So Martin co-founded Camp Read-a-Rama, a summer program that started in South Carolina and then moved with her when she relocated to Washington. She's also a trusted resource for librarians, teaching them how to incorporate books by and about people of color into their libraries and story times.
Despite the ultimate shape of her career trajectory, Martin says she spent a good chunk of time resisting the idea of becoming an educator. Her parents and grandmother were teachers, and Martin was hesitant to do anything she felt might just be mindlessly falling in line. But she ended up teaching anyway: After graduating from college as an English major in 1988, she wanted a break from school before pursuing a Ph.D., and she found a job as an outdoor educator near California's Sequoia National Forest.
Upon accepting the role, "I had to do a little bit of PR work with my mother," Martin remembers. "She was like, 'Black people have been trying to get out of the woods for [generations]!'" But Martin fell in love with outdoor education. She taught kids about animal life cycles and the night sky, having them write haiku out on the trail and learn songs Martin herself had written about how to identify different kinds of animal poop. After two years, Martin left and got a master's in outdoor education. She spent the next two years working as a naturalist in South Carolina's Sesquicentennial State Park, 10 minutes from where she grew up.
Martin returned to school to earn her Ph.D. in children's literature in 1993. She began her classroom teaching career four years later and eventually ended up at Clemson University, a move she welcomed because it meant living in her home state of South Carolina. (Martin taught at Clemson for 12 years before taking on her current role at the University of Washington in 2016.) At Clemson, she told Rachelle D. Washington, an education professor she'd befriended, "about this idea I had of taking my [outdoor education] passion and my children's-lit passion and putting them together," Martin told me. "And she said, 'Let's do it.'" In 2009, they launched Camp Read-a-Rama.
Camp Read-a-Rama has been held in libraries, churches, schools, and affordable-housing complexes for formerly homeless families; Martin aims to "find the kids who really need to be there, and make sure that they can afford camp." Kids who attend also get books to take home, as research has demonstrated how important it is to childhood literacy to have a home library.
Often, local teachers who hear about the program reach out to Martin to recommend particular students who could benefit from attending. But kids who need the extra help, she added, are everywhere. Several years ago, when the camp was still in South Carolina, she pulled into her driveway on a 100-degree day while some workers were repairing her roof. "I heard, 'Papa, Papa! Can I get out of the truck?'" Martin remembered. A little boy was waiting in the car, and when Martin approached, he told her his grandpa was on the roof. "Papa and Grandma were raising him, Dad was in jail, and they couldn't afford child care. So Papa had to take him to work." Martin had him at Camp Read-a-Rama the following Monday.
Martin emphasized that what she and her staff teach at Camp Read-a-Rama is less reading and more the enjoyment of reading. In Martin's experience, reading becomes a more appealing prospect to kids when "you put them in an immersive environment where they're surrounded by books that they like," she said. "You've got a book that all of a sudden becomes an activity: You read about the wet dog, and then you're acting it out on the stage, or you're outside splashing around just like the wet dog did, for example." Martin refers to this approach as "reducing the distance between books and life."
Lauren Rizzuto, a former student and research assistant of Martin's at Clemson, worked with Camp Read-a-Rama in its early stages, an experience that informs how she teaches now as an adjunct professor of children's literature at Simmons University in Boston. "I kept a lot of that hands-on experience in mind when I was designing my course so that it wouldn't be purely reading books in a vacuum," she said.
In addition to teaching children and graduate students, Martin routinely advises librarians who want their libraries to better serve children and families of color. She has seen firsthand what she considers to be an ideal library setup: On a recent visit to Australia, she visited a library and was greeted by "rows and rows and rows of [books in] all the languages of the people who would be visiting that library—videos, magazines, from all these different countries," as well as in the indigenous languages of the aboriginal people of the area. "What a welcome, you know?" she recalled. "Structurally, it's already saying, You belong here."
But Martin thinks it's important not just to have books that feature people who look and sound like their young readers, but to teach those books, too. To make this point, she is fond of reading books to librarians, such as Derrick Barnes and Gordon C. James's Crown: An Ode to the Fresh Cut, a children's book about the power of an artful barbershop haircut to boost self-esteem, with illustrations that star young black boys. She tells the librarians, "You might not know from experience [what some of the haircuts are], and some of the kids might not know, but you can do your homework and find out." It's okay, Martin adds in her workshops, for white educators to admit to kids that they're not familiar with certain things that might come up in books for diverse readers. "You can learn from kids," she said, "and they can teach you a lot of stuff, if you're willing to listen."
Martin says participants in these workshops often tell her afterward that she got them thinking for the first time about how certain books might resonate differently, or fail to resonate at all, with kids of various backgrounds. Rizzuto, too, counts this among the key lessons she's learned from Martin: "She showed me that childhood doesn't look the same across cultures, classes, or races."
When Martin isn't teaching in a classroom (or writing children's-book reviews in her office), she's often swimming, biking, or hiking. She continues to mentor kids from diverse backgrounds in the outdoors, leading a troop of Girl Scouts (most of whom are girls of color) and doing "Girl Scout stuff" such as hiking and camping with her own daughter, who's 16 and extending a matrilineal line of Scouts into its fourth generation.
The field of nature conservation—like the fields of librarianship and children's literature—is overwhelmingly white. "Michelle was one of the first black people I met who understood what I was doing and what my passion was," said J. Drew Lanham, an ornithologist at Clemson who is black and a friend of Martin's. Lanham spoke highly of Martin's career-long passion for exposing kids of color to the outdoors, noting that this exposure is good for environmentalism, too, since it can foster a lasting love of nature and win over more converts to the cause.
What Lanham has seen Martin do outdoors is what many of her colleagues and students have seen her do at Camp Read-a-Rama and in her classrooms and workshops: enable kids to venture into any space—be it a library or a classroom or a mountain preserve—and feel empowered to explore.
---
This article is part of our project "On Teaching," which is supported by grants from the William and Flora Hewlett Foundation, the Spencer Foundation, the Bill & Melinda Gates Foundation, and the Panta Rhea Foundation.