How to Keep Teachers From Leaving the Profession
After 38 years in education, Judith Harper thinks what teachers are missing is more time to learn from one another.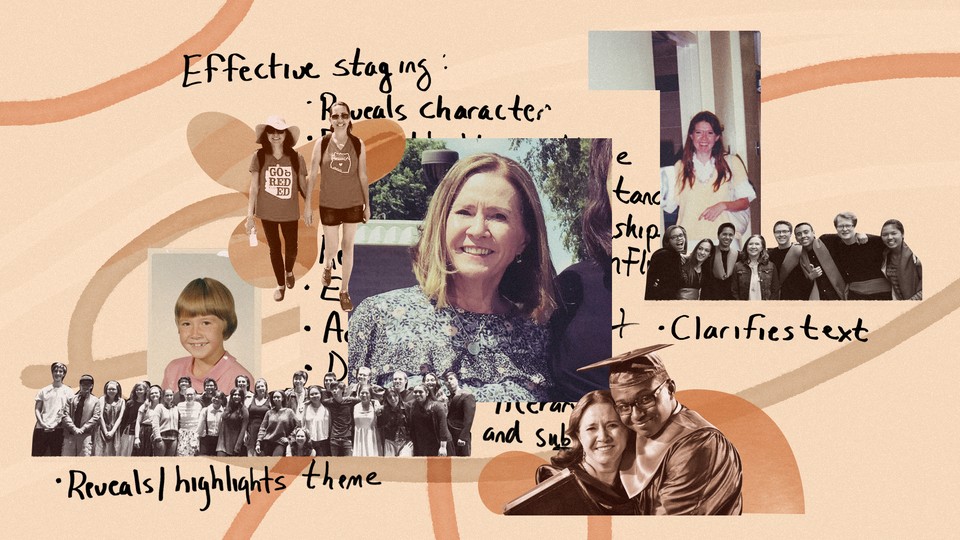 Editor's Note:
In 1988, a teacher most commonly had 15 years of experience. In recent years, that number is closer to just three years leading a classroom. The "On Teaching" series focuses on the wisdom of veteran teachers.
When Judith Harper was graduating from Arizona State University in May 1981, she felt fully prepared to take on five classrooms on her own that fall. After all, Harper had majored in English education, and the program was highly regarded. Plus, during her senior year, she had gotten to work in a real classroom, as an apprentice to a veteran educator.
But a few months later, as Harper finished her first week of work at Westwood High School in Mesa, Arizona—a diverse, sprawling suburb near Phoenix—she realized how much she struggled even with the basics, such as keeping 22 teens paying attention to her lesson for 15 minutes, much less an entire hour. "On the first day, I had a student who refused to work, a student who was interrupting the work of his friends, several students using inappropriate language with each other and me," Harper recalled. "As a novice teacher, you have no idea what you should be responding to and what you can ignore. Every day I felt like a failure."
By the time she finished her first year of teaching, Harper, who has a thin, small frame to begin with, had lost 20 pounds. She routinely worked 12-hour days and spent her weekends preparing for the classes ahead.
Like many graduates of teaching programs, Harper had strong content knowledge of the subject she was going to teach, but she lacked the skills and practical experience that would enable her to effectively impart this information to her students. When she worked with a veteran teacher in college, her mentor gave her high-quality curricula and tests and quizzes she could use, but Harper struggled to translate these materials into learning activities that would sustain her students' engagement. In every class, some students were fine, but some were always struggling. Harper didn't know how to break down the material in a way that made sense to everyone.
Harper decided to spend time observing some of the most highly respected teachers at her school. "The most helpful thing you can do in the first year is watch successful veterans working with students and constantly ask them, 'How did you do that? How did you make that work?'"
The first change Harper made, she recalled, was her affect in the classroom. Harper had always thought of herself as a warm and positive person, but some students told her she often seemed "in a bad mood." Later that year, a veteran colleague helped Harper understand what she now calls her "classroom persona." "I learned that I had to be really consistent in my positive feedback and energy every day," Harper told me. "If I frown or use a negative tone, it gets amplified in students' minds a hundred times, in part because teachers have so much power over students. The students need to feel that I like teaching them. This creates a different feeling, and helps build stronger relationships with students—the most important foundation for teaching."
Today, Harper is a 38-year teaching veteran, and those early lessons in how to be a good teacher are second nature. But her path to that sort of knowledge was a trying one, and what Harper understands now is that the system she entered into when she was 25 was not one that set her up for success, much less sustained it.
And for the most part, in her view, the system has gotten worse, not better. After nearly three decades of funding cuts to schools, growing class sizes, and declining pay, Harper said she feels that her profession is at a breaking point: Arizona was 48th in spending per student in 2017, according to the most recently available data, and seventh from the bottom for average teacher salary. The state now has widespread teacher shortages, and the number of students enrolling in teacher-training programs has been declining.
Last year, after 50,000 educators—including Harper and her daughter, Serenity Gielau, also a teacher—staged a six-day walkout in April, the Republican-controlled legislature approved new funding for the first time in a decade, including a pay raise of 20 percent for teachers by 2020. But despite the 13.5 percent increase in pay for Mesa teachers last year, too many educators are still taking on additional, part-time jobs to make ends meet, Harper told me. One of Harper's colleagues, who is in her late 40s, drives for Lyft. Another veteran educator, who is raising three children, works a second job as a waitress.
Harper wants to see teaching become a healthier, better supported, and more effective profession, and is glad about the recent Arizona changes. She has been to the state capitol more than a dozen times since the walkouts to demand increased funding for public schools and higher pay. But while putting more money into teacher salaries and basic necessities—such as textbooks, functioning air conditioners, desks, and chairs—is key, Harper argues, the funding needs to go way beyond compensation and facilities. Bringing high-quality education to all students will require radically more resources for teacher training and support. Without it, teachers will continue to struggle and fail.
"Better pay matters a great deal, but it isn't the main reason why so many teachers leave," Harper told me in her classroom at Westwood High, a diverse, majority-Latino school, where she has taught for 26 years. "Most teachers leave because they are pushed to reduce what they do into mentally convenient numbers and easy-to-digest language rather than focus on learning how to help human beings become their best selves and navigate a complex world."
---
Harper spent the first few years struggling. But as she learned from her colleagues, and attended a variety of trainings every year, she felt more successful bit by bit, and that helped her stick with her job.
In 1987, in her sixth year of teaching, Harper took on a part-time "coaching" position, as a way to keep learning on the job. Because some of the most effective teachers don't want to leave their classrooms, the Mesa school district had a program for teaching coaches to take on just three classes a week—instead of the typical workload of five—and spend the rest of the time mentoring teachers and organizing training sessions. In the mid-1980s, the district had a coaching position like that in every school, according to Harper.
Over seven years as a coach, Harper organized a variety of learning activities for teachers. They primarily included one-on-one coaching by Harper, occasional workshops, and chances to observe successful peers. But what helped Harper and her colleagues improve most was collaborative work in pairs, in which teachers planned classroom activities together and then analyzed jointly the work students produced. As educators looked closely at specific pieces of writing, quizzes, or projects—and reflected on students' engagement with their assignments during class—they learned how to detect what didn't work in their instruction and, more important, what did work, and how to build on those strengths to help students who struggled, Harper explained.
Decades of research in the United States and abroad show that effective teaching is not an innate skill, but a complex craft that requires a great deal of on-the-job training, including participation in peer networks such as the one Harper coached in. That's why many high-achieving countries, such as Japan, Singapore, China, and Finland, provide ample weekly hours for this type of professional development. According to the Organization for Economic Cooperation and Development, junior-high-school teachers in Singapore spend about 18 hours a week teaching, and in Finland, about 21 hours, using many of their remaining paid hours to work with peers and improve their methods. By contrast, junior-high-school teachers in the U.S. spend about 28 hours a week teaching students directly. After planning and grading students' work, there isn't time left for much else.
For those teachers who are able to stay in the profession and become more effective, the benefits to students are enormous. Many of Harper's students I spoke with described her classroom as one of the toughest and most intellectually demanding at Westwood, but also one in which students developed long-lasting relationships with their classmates through collaborative projects and, as a result, felt safe to show their vulnerabilities as they took risks and often failed. Dulce Martinez Alarcon, who took Harper's class a year ago, said it stood out as the class with the most variation in the types of challenging activities students engaged in—from games and warm-up exercises to writing assignments and group projects—and one in which students had frequent opportunities to reflect on how the different texts they were studying connected to present challenges in their lives and future aspirations. Like many other students, Martinez Alarcon described Harper's class as the most engaging in her high-school experience.
Engagement of students is a key ingredient for raising student achievement, but in a 2016 Gallup poll, only about one-third of high-school students reported feeling engaged at school. To increase the engagement of their students, Harper argues, teachers need to learn how to detect qualitative signals in their classrooms, such as a student's body language that might indicate boredom or confusion—expressionless faces, heads on desks, headphones on—or engagement, such as sustained effort with a challenging writing task or a spontaneous discussion about the assignment. When teachers have opportunities to reflect with their peers on the classroom work and their interactions with their students, they learn how to gather key evidence of teaching, adjust their practice, and are able to refine their professional judgment continually.
Being a great teacher is not a matter of following a list of top-10, evidence-based strategies, Harper explained, but being able to navigate what is a dynamic, three-dimensional jigsaw puzzle, with the different parts operating together, reinforcing one another, and changing based on students' engagement and the quality of their work. The value of any one strategy—grammar exercises, creative freewrites, individual or group work—depends on the needs of students in a specific moment in time. "Effective teaching for me is about looking at every student, every day, and asking, 'What's here today? How are they sitting, feeling, and working today? What do they need to progress today?'" Harper explained.
"What helps teachers bring out the best in their students," Harper added, "is the ongoing development of a teacher's ability to see and hear all of her students, translate that information into data, often on the fly, and refine lessons based on that."
Harper firmly believes that of all the professional activities she has been a part of in the past 38 years, it was her collaborative work with colleagues—veteran mentors and peers—that helped her grow the most. The other award-winning veterans interviewed so far for the On Teaching series made the same observation, often describing the process as a highlight of their career.
Renee Moore, an English teacher at the all-black Broad Street High School in Shelby, a small, rural town in the Mississippi Delta, worked with her colleagues in the late '90s to improve their students' writing and public-speaking skills—something that parents and students identified in surveys as among their top learning goals. Around the same time, Rebecca Palacios, an early-childhood educator in Corpus Christi, Texas, collaborated with her peers to create a program that coached the Latino parents of her 4-year-old students on how to help their children develop strong reading skills at home. Meanwhile, Deborah Cornelison, a high-school physical-science teacher in Ada, Oklahoma, began to experiment with her colleagues on ways to implement more project-based learning in their classrooms, as a way to engage more girls and Native American students in the STEM fields.
In each case, educators were mindful of the state requirements and standardized data aimed at capturing those goals, and they were avid readers of the latest research in their teaching domains. But they used most of their time to design intellectually challenging classroom activities in collaboration with their peers—and create a consistent feedback loop to measure the successes and weaknesses in their teaching by using a variety of data, such as student work and effort, student and parent surveys, grades, and standardized tests.
In this model of professional development, peer networks became the main mechanism for transferring collective wisdom and acquiring tacit knowledge that can't be learned by reading a book or listening to a lecture—skills such as designing a strong lesson plan with precise pacing, rhythm, and clear focus, for instance, or building positive relationships among students. When teachers plan classroom activities together, educators have a chance to implement improvements as a cohesive effort across the building, develop a shared vision and common language around learning goals, and learn how to detect outcomes using a broad range of data, including markers for key skills, such as resilience or collaboration, that can't be captured using standardized test scores. Teachers learn to detect the unique needs in their classrooms, the school building, and the community they serve, and to respond thoughtfully. And just like Harper's students, who report greater engagement and a willingness to take risks in their learning in classrooms with a strong sense of community, peer networks help educators develop a sense of camaraderie and agency—a key factor that helps educators feel more successful and stay longer in the profession, researchers who study teacher attrition have found.
Despite growing evidence that such peer networks are key for teachers' growth, educator surveys find that most of the professional development they receive today still comes typically in the form of a long lecture. While the dissemination of the latest research or state mandates is important, it's unlikely to translate into effective changes in day-to-day lesson plans, teachers told me, without sufficient time and peer support. As Chuck Yarborough, a history teacher from Columbus, Mississippi, told me last year, "Professional development has become this dirty word among teachers, because it typically means a session on how to enter new data in the computer, or some large lecture on the social issue of the day. It's rarely about the craft of teaching anymore, and how to work with students individually."
But just as some districts, like Mesa, began to implement more job-embedded, peer networks as a form of professional development in the mid-'80s, state lawmakers across the nation began to cut funding to education—and this sort of professional development cannot exist without sufficient school funding. In Arizona, legislators started to cut taxes in the '90s, and by the time the Great Recession set in, its schools were already among some of the most poorly funded. Then, from 2008 to 2014, Arizona cut even more, reducing funding per student by 36.6 percent—more than any other state in the nation, according to a study by the Center on Budget and Policy Priorities. By the time Harper's daughter, Serenity Gielau, began teaching in 2000, the average teacher salary in Arizona had started to decrease every year: from $52,894 in 1999 to $47,403 by 2016. After 19 years in the classroom, Gielau still owes $20,000 in student loans she amassed while getting her master's degree in teaching.
But the problem wasn't apparent only in teachers' take-home pay. Budget cuts also created larger workloads and reduced time for teachers to learn on the job. Class sizes have grown from about 22 students when Gielau began teaching to as many as 40 in some classes, with numbers between 28 and 36 more commonplace. Many of the support positions, such as school-based coaches, reading specialists, counselors, nurses, and librarians, have been cut. After teachers finish their daily grading of a larger stack of student papers, meet with more parents, perform other duties (such as counseling) that used to be performed by support staff, and fill out the extra paperwork associated with increased state and federal mandates, there is very little time left to work with—and thus learn from—peers. When asked in a 2013 survey from the National Center for Literacy Education to identify the most effective form of professional learning, many educators picked collaboration as their top choice, but only one-third of respondents said they had time to plan lessons with peers, and a mere fifth said they had time to reflect on student work with their colleagues.
Unsurprisingly, this makes teaching an incredibly grueling profession, and many leave. As a result, Arizona has been struggling to staff its classrooms and attract new people to the field. Nationally, half of teachers reported that they considered quitting in the past few years, according to this year's PDK survey. Low salaries are the top reason, but the lack of support, mentorship, and voice over curriculum and school-wide policies are also significant factors.
Gielau and Harper both described the Mesa public-school district as extremely supportive of teachers. From their perspective, the district is doing its best within a system of chronic budget cuts and increasing state and federal mandates. As a way to help more new teachers stay in the profession, the Mesa public-school district has launched a coaching program. Gielau has been one of the trainers for six years now, working with anywhere from 30 to 48 beginners in different schools each year to help them improve their effectiveness with students. If state funding increased sufficiently, Gielau told me, she would love to see some of it invested in school-based coaches—rather than district coaches like her, who are not able to see teachers in the classroom on a weekly basis, can't model lessons in their own classrooms, don't know the student body and families intimately, and can't facilitate sustained teacher collaboration and learning.
Harper's large classroom at Westwood High School is lined with books her students read throughout the year, including Shakespeare; John Gardner's novel, Grendel; and short stories by Edwidge Danticat. For the past six years, Harper has been teaching a two-year-long "Literature and Performance" class in which students write college-level literary-analysis essays about the fiction, plays, and poetry they have read, and then write original scripts based on those texts that they stage and perform.
For more than three decades, Harper has been developing her curriculum and teaching methods, and reflecting on their effectiveness, with her colleagues. Early on at Westwood, for instance, Harper and her peers investigated what kinds of practices helped their students write strong introductions and conclusions for their essays, and discussed how to provide constructive feedback that facilitated growth in their skills—instead of just focusing on what students were doing wrong, a common tendency among teachers of writing. In the past six years, Harper and her partners focused on researching best practices for growing their students' leadership, public-speaking, and performance skills, including resilience and collaborative problem-solving.
Martinez Alarcon played Rosencrantz in a scene from Hamlet last year. While she improved her analysis and writing skills, Martinez Alarcon told me, she is most grateful for how she developed the confidence and public-speaking skills she needs in her pursuit of a law degree.
Martinez Alarcon recalls her high-school years as one of the toughest phases of her life, she told me. She often felt crushed by the academic demands at Westwood and the daily presence of self-doubt as a daughter of immigrant parents who themselves hadn't had a chance to pursue higher education. The chronic stress affected her mental and physical health.
But Harper's years of learning how to notice and build on her students' most subtle wishes, yearnings, interests, and intellectual contributions have meant that she was able to provide the support that Martinez Alarcon needed. "Mrs. Harper really helped me to see my strengths at a time when I only saw my weaknesses," Martinez Alarcon, now a sophomore at the University of Rochester, told me. "She teaches novels and poetry in a way that helped me understand myself better, where I come from, what drives me, and be more thankful for the people in my life."
---
This article is part of our project "On Teaching," which is supported by grants from the William and Flora Hewlett Foundation, the Spencer Foundation, the Bill & Melinda Gates Foundation, and the Panta Rhea Foundation.