Colleges Face Growing International Student-Visa Issues
Amid tightening immigration restrictions, higher-education institutions find themselves swamped with paperwork.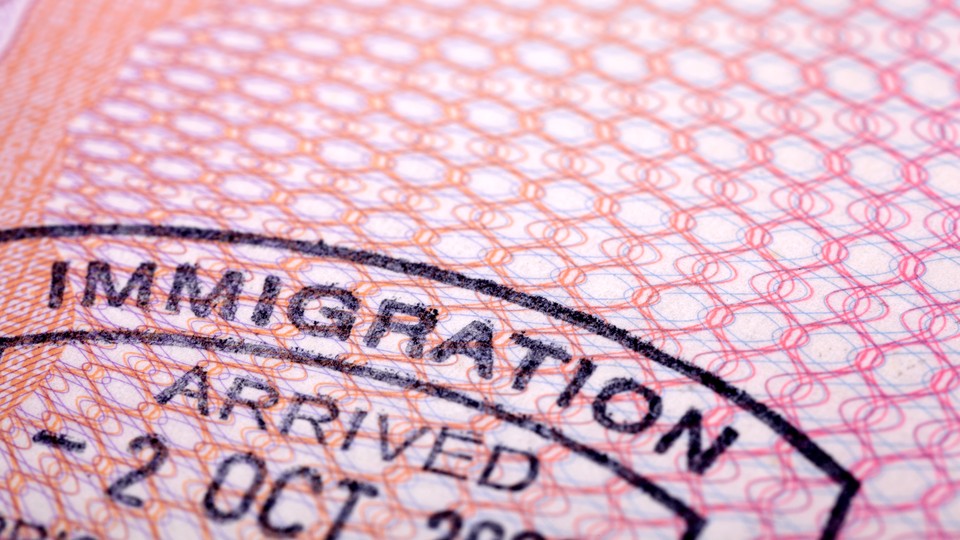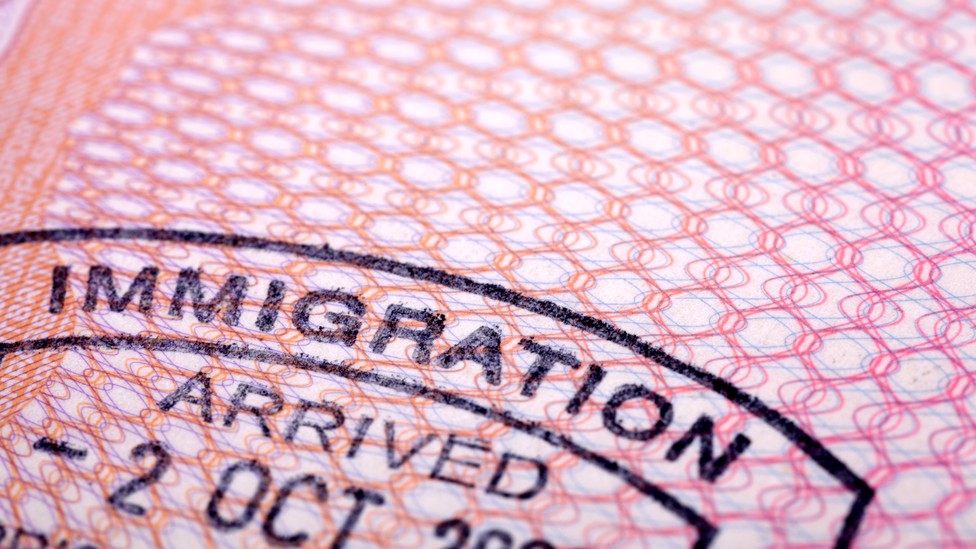 The Trump administration's immigration policies are beginning to be felt acutely by universities, as international students struggle to get the visas they need to study in the United States. Representatives from 10 schools recently told The Atlantic that they are facing an increasing workload as they try to help students navigate bureaucracy and advocate on their behalf—a sentiment echoed by various college presidents at a dinner with reporters last night. Several of those presidents said some enrolled international students never made it onto campus for the start of the current semester.
After steadily climbing for more than a decade, the number of new international students enrolled at U.S. colleges has declined in recent years. According to survey data collected by the Institute of International Education during the 2016–17 school year, enrollment of these students fell by 3 percent from the previous year. Results from the institute's 2017–18 survey, the most recent data available, show that it fell again—this time by close to 7 percent.
"I think that both [the Trump administration's] immigration policy and the messaging of the day are literally turning [international] students away … and making them less inclined to want to study in the United States," said Brian Rosenberg, the president of Macalester College, a liberal-arts institution in St. Paul, Minnesota, at the dinner. (The dinner, held at the National Press Club in Washington, D.C., was hosted by the Pennsylvania college Bucknell University and convened the heads of several schools, mostly liberal-arts colleges, to discuss challenges facing higher education.)
A major source of this international-student trend appears to be something over which campus administrators have little control. The majority of institutions—83 percent—that participated in the Institute of International Education's 2017–18 survey cited the delay or denial of student visas as a factor contributing to the decline.
Another president at the dinner, Philip A. Glotzbach of Skidmore College, said that while his liberal-arts school in Saratoga Springs, New York, hasn't yet experienced a decline in international students, it has had to "work a lot harder" to recruit and retain them. Barbara K. Altmann, the president of Franklin & Marshall College, said that the "latest diplomatic skirmish about visas"—combined with political tensions abroad—has compelled her school, too, to "take extraordinary measures … so international students know [they're welcome here]." One in five students at the Lancaster, Pennsylvania, liberal-arts institution comes from outside the U.S.—most of them from China. So over the summer, Franklin & Marshall "activated a network" of Chinese nationals affiliated with the college, including upperclassmen, asking them to send reassuring messages to incoming students and their families via social media and other platforms.
Many of these visa obstacles, according to NAFSA: Association of International Educators, in part trace back to a memorandum issued in 2017 by President Donald Trump that called for the "heightened screening and vetting of applications for visas and other immigration benefits" as well as new or updated requirements for visa holders studying or working at U.S. colleges. For instance, changes implemented by the Trump administration last year made it more difficult for recent graduates with student visas to continue living in the country legally. Since then, international students' visa issues have created unprecedented workloads for many institutions, whose international-services offices traditionally focused on supporting students with, say, workshops about setting up American bank accounts, English-tutoring services, and basic visa-application guidance.
Before the presidents' dinner, The Atlantic reached out to numerous schools—including several members of the Ivy League and an assortment of colleges with large populations of non-Americans—to learn what it's like behind the scenes of their international-students offices. How, if at all, have these offices' responsibilities evolved in recent years? The 10 that responded described an increase in visa holdups for their international students since the Trump administration issued its directives, and a corresponding increase in work for schools.
"I've been in the field for almost 20 years," Kristy Magner, who oversees Tulane University's Office of International Students and Scholars, said in an email, "and the amount of immigration changes during the last three years has been exponential." (Non-Americans make up 6 percent of incoming freshmen this fall at Tulane, a highly selective research university in New Orleans.)
A recent high-profile example of the sort of issues students are facing was the fiasco involving Ismail B. Ajjawi, a Palestinian refugee and incoming freshman at Harvard who, upon landing in Boston late last month, was allegedly detained and interrogated by a U.S. Customs and Border Patrol officer for hours.
In a letter sent to Harvard's student newspaper The Crimson shortly after the alleged incident, Ajjawi said that the agent found "people posting political points of view that oppose the U.S. on my friend list" and used this as grounds to cancel his visa. Being detained at an international airport spares a person from being officially deported, the CBP spokesman Michael McCarthy told The Atlantic in a phone interview, meaning Ajjawi could immediately reapply for a visa rather than remain blacklisted from travel to the U.S. for years. Still, once the CBP had deemed him "inadmissible" to the U.S., Ajjawi had to return home and face the daunting task of convincing the U.S. government to change its mind. After a "difficult and anxiety filled 10 days," Ajjawi managed to make it back to Boston, according to a statement released on behalf of his family.
While the situation Ajjawi allegedly faced is extreme, it offers a peek into the kinds of headaches immigration can cause not only for students but also for colleges like Harvard—which, by sponsoring students' (and visiting scholars') visas, are on the hook for ensuring that those visa holders fulfill their paperwork requirements.
The priorities of colleges' international-services offices shift in response to policy developments—from legislation targeting undocumented immigrants in the mid-1990s to the flood of homeland-security restrictions following 9/11—according to William Stock, an immigration lawyer who works with universities. But he says colleges have never before contended with the kinds of demands with which they're currently grappling: the growing suite of clerical requirements for the alphabet soup of visas and related authorizations ( F-1s, J-1s, OPTs, H-1Bs) their students and scholars hold; the varying degrees of scrutiny of international visas that can evolve with the changing winds of White House immigration policy and rhetoric.
Several college administrators said students are experiencing lengthier processing times for visa applications in recent years than they have in the past; Josh Taylor, who oversees global programs for NYU, said in an email that in the past couple of school years he has seen more students denied travel in advance of their trips.
Stock, who formerly presided over the American Immigration Lawyers Association, described in a phone interview the Trump administration's approach to immigration as a "cramped view on the world." By deterring international students from attending U.S. colleges, the administration's stance, Stock argued, is hindering schools' ability to build diverse student bodies—and depleting their budgets. International students, who typically pay full tuition, bring significant revenue to colleges.
In a June 2019 letter to Secretary of State Mike Pompeo and Kevin McAleenan, the acting secretary of homeland security, Harvard President Larry Bacow described his institution as a "vibrant, free, and open community that develops talent, produces leaders, and creates new knowledge." He conveyed his "deep concern over growing uncertainty and anxiety around issues involving international students and scholars," and pleaded for policy makers to help streamline the student-immigration process on behalf of higher education as a whole.
Some schools are being especially proactive in their efforts to assist international students. In January 2017, just days after Trump's inauguration, NYU created (in partnership with its law school)—the Immigrant Defense Initiative, which offers "free, confidential advice and representation" to students and staff who may be at risk for deportation.
Other schools, including Columbia University, the California State University system, and George Washington University, have also established free immigration-related legal services for students. In the aftermath of the Trump administration's executive order in 2017 barring travel for individuals coming from certain countries, 30 colleges and universities signed an amicus brief urging the Supreme Court to overturn the legislation, taking particular issue with the ban's focus on six Muslim-majority countries. The executive order, they wrote, would "threaten [their] ability to attract persons not only from the specified countries, but from around the world."
The advocacy, however, has done little to offset the uncertainty and anxiety that permeates colleges' international-services offices these days. Much of the feedback The Atlantic received from college administrators was tinged with apprehension—and, a sense of fatigue: These staff members not only help students and scholars navigate paperwork headaches; they also provide those individuals emotional support as they juggle bureaucracy with the everyday stressors of college life.
Joann Ng Hartmann, who oversees NAFSA: Association of International Educators' work on international-student enrollment, attributed the visa triage taking place on campuses to the Trump administration's posture of treating all immigrants as "guilty until proven innocent." The "complicated visa applications and adjudications and misunderstandings," she argued in an email, almost always trace back to the administration's new stipulations. A feeling of helplessness can be inevitable, she suggested; a visa process can, as Ajjawi's case demonstrated, go awry at the very last minute, and "it is very difficult for school officials to assist when problems arise."
Still, schools hope these challenges are only temporary. "The openness of [the U.S.] higher-education system has traditionally generated enormous good will around the world," NYU's Taylor said. "Hopefully we, as a nation, have stored up enough of it to make it through what has clearly been a reputational rough patch."
---
Morgan Ome contributed reporting to this article.