Betsy DeVos's Extraordinary Crackdown on Michigan State
The Education Department's record-high fine against MSU underscores the extent to which the university botched its handling of various sexual-abuse scandals.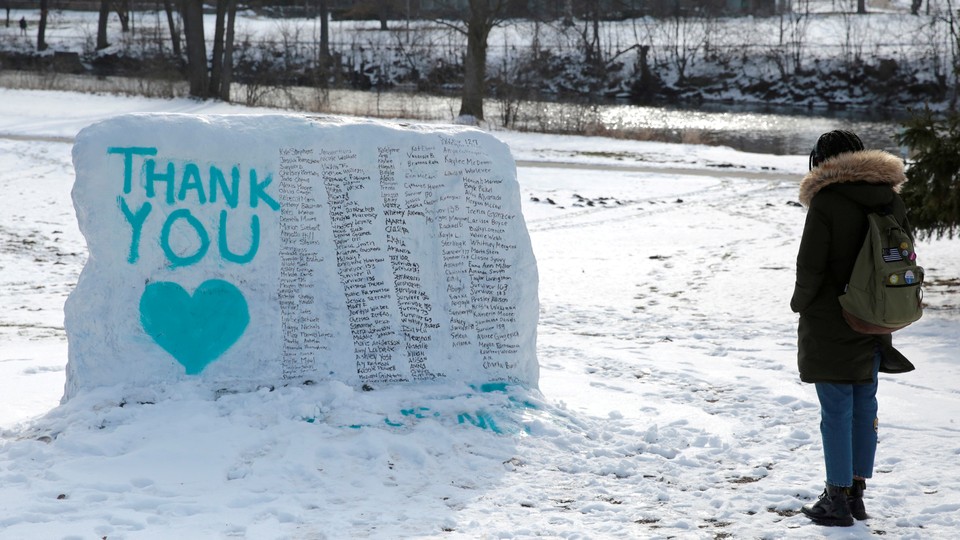 The $4.5 million fine for Michigan State University that Education Secretary Betsy DeVos announced last week is clear confirmation of one thing: The problems at MSU were not small and they were not the result of bad actors left to their own devices. The fine penalizes the university for failing to adequately protect students from sexual predators on staff and thus violating federal law. The punishment confirms, at least in the government's view, that the abuse at MSU was the result of systemic failures—massive ones.
The fine is the result of an investigation DeVos opened into the public institution last February, just after Larry Nassar, a former sports doctor for MSU and USA Gymnastics, pleaded guilty to molesting more than 150 young women. The fine marks the largest financial penalty the department has ever levied on a college over a failure to comply with requirements to keep students safe, according to federal data; the second largest, of nearly $2.4 million, was against Pennsylvania State University a little less than a decade ago over its failure to properly address the former football coach Jerry Sandusky's child abuse. In addition to the fine, the Department also found that the school had failed to uphold Title IX, which protects students from discrimination, including sexual misconduct.
Nassar assaulted his victims over the course of two-plus decades starting in the mid-1990s, much of the abuse taking place in his examination room in a campus building brimming with university staff. Nassar's victims, many of them student athletes or professional gymnasts, described the former associate professor groping their genitalia for extended amounts of time. Nassar was eventually sentenced to between 40 and 175 years in prison.
Numerous attempts to report Nassar were allegedly ignored or otherwise mishandled, including by MSU coaches and other administrators, according to lawsuits and victims' testimony. After conducting its own Title IX investigation into a complaint filed by a student in 2014 detailing Nassar's alleged abuse, the school concluded in a report provided to the accuser that he had simply provided "medically appropriate" treatments and hadn't engaged in misconduct, records show. Findings distributed internally, on the other hand, censured Nassar's actions, concluding that he had inflicted "unnecessary trauma" on his students, according to reporting by The Detroit News in January 2018. The investigation was spearheaded by an attorney employed by MSU full-time as its Title IX coordinator; that employee was subsequently tapped as the university's assistant general counsel, a position she holds to this day, according to the school's website.
However, as bad as the Nassar situation was, it was just part of the infractions that led to the Education Department's fines. Just after Nassar's sentencing last spring, a separate investigation—this one conducted by law-enforcement officials—uncovered evidence that William Strampel, then the dean of the College of Osteopathic Medicine, had himself propositioned and molested students. Strampel, who resigned as dean in late 2017, was eventually charged with criminal sexual misconduct and willful neglect of duty. He was recently sentenced to a year of prison time, for both his own misdeeds and, additionally, his failure to protect students from Nassar, who worked beneath him.
In a statement, the Education Department described MSU's "systemic failure to protect students from sexual abuse." Specifically, the university "failed to take appropriate interim measures to protect its students while complaints against Nassar and Strampel were pending, and failed to take prompt and effective steps to end any harassment, eliminate the hostile environment, and prevent any further harassment from recurring," the department stated. The department's investigation found that the university violated four federal-policy requirements, including crime-reporting duties and a commitment to issue timely warnings on campus.
"What transpired at Michigan State was abhorrent, inexcusable, and a total and complete failure to follow the law and protect students," DeVos said in a call with reporters. "I want to thank each of the survivors who came forward and shared their stories. Doing so took an incredible amount of courage. Never again should incidents of sexual misconduct on campuses—or anywhere—be swept under the rug."
The investigation into MSU is unusual not only because proactive probes are generally rare for the Office of Civil Rights, but also because DeVos has generally erred on the side of being hands-off with regard to enforcement of Title IX, the federal policy that bans schools from discriminating by gender but in recent years has been used to address campus sexual assault and served as one law that informed the department's findings. DeVos has sought to repeal many regulations implemented during Barack Obama's presidency, such as student-discipline rules in K–12 schools and gainful-employment guidelines for colleges, on the grounds that they created unnecessary burdens for schools and added bureaucratic layers that undermined the Education Department's ability to fulfill its duties effectively.
Last August, the education secretary outlined her plan for rolling back Title IX rules. Her iteration of Title IX legally exempts colleges from investigating certain sexual-assault complaints and increases the burden of proof on students who allege that they were sexually assaulted on campus.
The nearly $5 million fine pertains exclusively to MSU's violations of the Clery Act, a straightforward, federal consumer-protection law that requires every college to be transparent about its campus-security policies and regularly publicize its campus-crime statistics. Title IX, meanwhile, is a contentious and subjective federal civil-rights law, its scope contracting and expanding depending on the ideological stance of whoever's in the White House at the time. By limiting the sanctions attached to its Title IX investigation to qualitative, relatively open-ended stipulations—"address the campus climate around issues of sexual harassment and sexual violence," for example, and "take remedial actions to address the impact of the sexual misconduct" on the campus community—the Education Department acknowledges that this is a civil-rights matter but retains its posture of deregulation.
Still, DeVos's overall message is clear: MSU's failings were egregious and undeniable. As part of its required reforms, MSU will have to hire an officer to ensure that the institution fulfills federal campus-safety laws and convene a committee of various MSU administrators to focus on supporting compliance efforts.
The department is also stipulating that the university develop a system of measures that will promote proper crime reporting and protect student athletes as well as children participating in MSU-affiliated programs. The school will remain under probation for five years. The $4.5 million will go to the Treasury Department, according to an Education Department spokesperson, and "MSU will have to decide internally how it will fund the necessary corrective actions."
Since Nassar's sentencing, and especially after the revelations regarding Strampel's own wrongdoing, MSU has regularly voiced regret over its mishandling of its employees' harassment and emphasized its efforts to address the institutional oversight that had allowed the abuse to fester.
Former President Lou Anna Simon, who when announcing her resignation last January distanced herself from the scandal and instead pointed to the public outcry, acknowledged the university's malfeasance a few months after leaving the school, at a congressional hearing about abuse in athletics. "To the survivors of Nassar's abuse," she testified, "I can never say enough that I am so sorry that a trusted, renowned physician turned out to be an evil predator, and I am sorry that we did not discover his crimes and remove him from our community sooner."
Asked by The Atlantic for comment, an MSU spokesperson pointed to a statement released by MSU's president, Samuel L. Stanley Jr., affirming the Education Department's findings and emphasized the university's commitment to making good on the directives, outlining specific steps it's already taking to safeguard against future wrongdoing. He lamented the actions of past MSU leaders, including Simon, who failed to hold Nassar accountable.
"OCR's letter of findings is very clear that the provost and former president failed to take appropriate action on behalf of the university to address reports of inappropriate behavior and conduct, specifically related to former Dean William Strampel," Stanley said. "In my effort to build a safe and caring campus, we must have a culture of accountability."