How They (Online Graduate Programs) Get You
Eager to attract students to new online graduate programs, selective universities have adopted surprisingly aggressive telemarketing practices.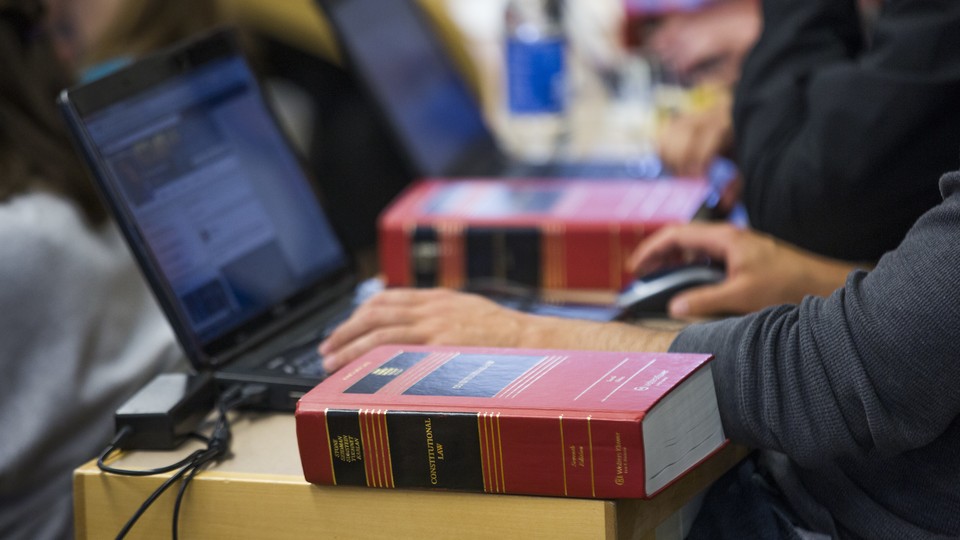 Many online graduate programs from the nation's top universities promise an experience that's nearly indistinguishable from studying on campus. They offer live seminars taught by tenured professors, close collaboration with talented classmates, and degrees identical to those granted by traditional programs. But in one area, even the best online programs differ drastically from their in-person counterparts: the intensity of the recruitment. Prospective students—many of whom are busy professionals unfamiliar with online education and apt to rely on brand names as heuristics—must often navigate slick, insistent marketing operations run by for-profit third-party companies.
I personally experienced this higher-education hard sell last year when, eager to return to school but tethered to home and family, I began researching education degrees I could pursue online. I immediately found several intriguing programs run by prestigious nonprofit universities. There was the doctoral program at Vanderbilt University's Peabody College: Leadership and Learning in Organizations. There were doctor of education programs at the University of Southern California and Baylor University, also focused on organizational learning and leadership. There was the master's in counseling at Northwestern, or the master's in school counseling at NYU.
The program websites looked eerily identical—just a school logo and text dropped into a common template. They listed tuition figures comparable to those for on-campus degrees (many exceeding $100,000 for two- or three-year programs), alongside tempting sketches of each program that promised the investment would be worth it. These descriptions were invariably short on detail: For instance, Vanderbilt's program, the first I investigated, promised a curriculum "designed for current and aspiring leaders [that] bridges the divide between theory and practice, equipping students with relevant skills to lead organizational change." To learn more, I'd need to provide my contact information. So I filled out a half-dozen forms and waited for my materials to arrive.
Instead of the written brochures I expected, I received six almost simultaneous phone calls from a spectrum of area codes. In chipper tones, recruitment agents delivered polished pitches. They all referred to themselves as my personal "admissions counselor" or "enrollment adviser." They didn't have answers to detailed questions about professors or academics, but still confidently encouraged me to start my application. And, over the following days and weeks, they supplemented their calls with a steady stream of emails featuring subject lines like "Reduced Application Fee" and "Apply Now!"
This rigorous recruitment process looked nothing like what I had experienced while applying for an on-campus master's program just a few years earlier. Back then, I'd been the one making phone calls, reaching out to admissions officers and program managers who were polite and helpful but largely unconcerned with whether I applied. Now, from my vantage point as a prospective student, universities' efforts to reel me in threw the programs' value into question; how good could they be if they were so desperate for my application? And yet, this approach has been widely adopted by top-tier universities, particularly those whose online programs are run by for-profit partners known as online program managers, or OPMs. Over the past decade, dozens of the nation's most selective institutions have turned to OPMs to launch a wide variety of online programs—M.B.A.s, nursing degrees, master's degrees in education and social work, even select doctoral degrees. (To date, online bachelor's degrees have not been a focus for a variety of reasons, ranging from exponentially greater operational complexity to the concern that the on-campus experience is integral for undergraduate students.)
Most universities and their OPM partners readily acknowledge the differences between the recruitment strategies for their online programs and traditional enrollment management. After all, in marketing their online offerings, these organizations are tasked with finding brand-new types of students for brand-new programs; by necessity, they need to sell themselves a bit harder. Online programs, some of which have yet to graduate their first class of students, have not had the opportunity to develop strong reputations of their own. And many prospective students—working adults far removed from the world of higher education—are unfamiliar with the options available.
As elite universities work to reach these prospects, they are de-emphasizing exclusivity, the typical selling point of their undergraduate programs, and instead focusing on accessibility. "Exclusivity is not the brand differentiator that it used to be," says Michael Feldstein, publisher of the e-Literate blog, which covers digital learning, and owner of an educational consulting firm that, among other services, works with universities to help them choose OPM partners. "The top-tier schools don't need to be exclusive anymore to maintain their reputation."
Patrick Mullane, who oversees Harvard Business School's online offerings, shared a similar perspective. He explained to me that at Harvard, as at many top schools, "exclusivity came about simply because of the constraints of a physical campus … It wasn't the intent to be exclusive." Online education, in contrast, provides the opportunity to reach large numbers of new students—an opportunity that dovetails with universities' stated mission of spreading knowledge. "Given that we're a mission-driven organization … with most of our programs, we want to reach more people rather than fewer," Mullane said.
In this context, OPMs and universities argue that proactive, personalized outreach is exactly what prospective students are seeking. Lee Bradshaw, the executive vice president of the New York–based OPM company Noodle Partners, told me, "The worst thing that can happen on the recruitment side is you do a great job of explaining the program, you build a beautiful website, you have a lead form that takes just enough information to make people comfortable giving their information … and then no one calls them for five days. In a world where I'm expecting everything here and now ... the notion that I should wait five days to get more information is kind of silly." Several university administrators and OPM executives shared this view, contending that their recruitment operations simply give potential students what they want.
But my journey through the recruitment machine largely extinguished my enthusiasm for pursuing an online degree. Three aspects of my interactions with universities seemed particularly problematic.
First and foremost, the phone calls. They came first thing in the morning, or in the middle of the workday, or as I was rushing to pick up my daughter from school. Regardless of the timing, they felt intrusive. Each time, I struggled to respond in a way that made it clear I was interested in the degree, but not the telemarketing.
Howard Lurie, the principal analyst of online and continuing education at the research and advisory firm Eduventures, confirmed that I am not alone in this reaction. "By and large, [prospective students] are really reluctant to get on the phone with enrollment advisers," he told me. "What [they] tend to rely upon are the publication websites, recommendations from co-workers or employers, and word of mouth."
Millennials are famous for their aversion to speaking on the phone. And it's hard to believe that even older applicants, particularly the busy mid-career professionals many online programs target, want to receive phone calls in the middle of the workday rather than, say, an email inviting them to call a counselor at their convenience.
That said, flooding a prospect's email can also be off-putting. For instance, after I signed up to receive information about one Ivy League program, I received eight promotional emails in seven days. I found the messages not only annoying, but also confusing to navigate: Each provided snippets of information I later struggled to locate in my inbox.
Finally, there are the recruiters themselves. Titles such as "admissions counselor" or "enrollment adviser" imply that these individuals' primary role is to guide potential students through a major life decision. Indeed, Feldstein told me that working adults typically spend a year or more deliberating on whether to return to school. At first glance, personalized support through this complex process seems like an excellent idea. However, it's not clear that recruiters, who are typically employed by the OPM rather than the university, are qualified—or encouraged—to provide guidance with the prospective students' interests at heart.
For one online program I was looking at, my admissions counselor's background was largely sales-focused, according to her LinkedIn profile. And, while she introduced herself as an informational resource and adviser, LinkedIn told a different story. In her profile, she listed responsibilities like reaching a "goal of at least 400 outbound calls per week to convert [an] average [of] 10 students per week"—an emphasis on selling that would seem to run counter to offering guidance for such a big choice.
Another enrollment counselor who reached out to me had spent most of his career at a controversial for-profit university that has been the subject of multiple court cases and investigations. His background alone left me hesitant to get on the phone.
I did connect with several advisers with less suspect backgrounds—nonprofit management, psychology—who were polite and not overly pushy. But even they seemed limited to a set of superficial talking points, unable to fully answer my questions about the finer details of a program's academic foundation and its fit for my specific interests.
As I fielded phone calls and emails from a half-dozen universities, I wondered about the deeper reasons behind why I was receiving them. The imperative to develop new programs and find new students in order to increase access to a world-class education seems laudable. But the recruitment strategies suggest that other, less noble motives might be at play. Why do universities bombard prospects with the constant pressure to start an application? Are they motivated to find the right students, those who will really benefit from their programs, or are they happy to fill their ranks with anyone who will join?
One of the more charitable explanations I considered was oversight: Were OPMs and universities simply failing to pay sufficient attention to the negative repercussions of aggressive recruitment efforts? But this almost certainly isn't the case. Both university administrators and their OPM counterparts assured me that protecting brands cultivated over hundreds of years is a major priority. Financially, no one benefits if prospective students are scared away in the short term or a brand's prestige declines in the long term. As Noodle's Lee Bradshaw explained, "The OPMs are brand stewards. We're not doing anything to change those brands. And anything we're doing … is done in tandem and collaboration with universities."
Universities, for their part, also want to ensure that their forays into online programs are consistent with their reputations. Peter Rodriguez, dean of the Jesse H. Jones Graduate School of Business at Rice University, told me of Rice's online M.B.A., "This is the first online degree at Rice University, [so branding] is a big concern. You want to handle it well as you march into this new territory."
Rodriguez's words suggest one potential explanation for problems in online programs' recruitment processes: Most top universities are new to online education. "Whether you're reaching students in the other parts of the globe or reaching nontraditional students in the United States," Feldstein explained, "universities are not wired to do that yet. They've never had to ... Chances are pretty good that they are not doing it the best way possible yet. They're just experimenting."
Both university and OPM representatives echoed this idea, noting that they actively try out different recruitment tactics and collect feedback from students to determine what works best. For instance, Harvard's Mullane explained, "It's really a matter of iterations. We find that some things work for some programs, and some things don't work for some programs. So we're constantly changing what we do." Rodriguez said that his team surveys current M.B.A. students about their enrollment experience to find ways to improve.
Obviously, lack of experience in a new market is a temporary problem, which should resolve over time as institutions learn what works best. But my conversations revealed more fundamental reasons behind the prevalence of overenthusiastic student recruitment: challenging market dynamics and the basic structure of the university-OPM partnership model.
As they communicate with prospective students, universities must contend with an ever more crowded market. Eduventures' Howard Lurie explained: "Enrollment trends are flattening among graduate populations due to economics and demographics … You have more institutions fighting for more or less the same number of graduate students, while unemployment is dropping." (Unemployment typically pushes some people to reenter school.) Nearly every university administrator and OPM executive I spoke with alluded to the challenge of breaking through the noise in a hypercompetitive market.
The initial model most universities chose to enter this market with involved signing a long-term revenue-share contract with an OPM. In this kind of contract, the company fronts the substantial investment to launch the program, manages noncore program functions, and takes a cut of revenue in return (60 percent of tuition is standard, according to Eduventures). 2U, the company behind many of the programs I'd considered, developed this model, forging relationships with many of the most prestigious universities seeking to carve out a niche in the online-education space.
2U-powered programs typically cost as much as their on-campus counterparts, a pricing strategy that has proved controversial. Critics say that online degrees' lower costs should translate into lower tuition charges, increasing access to higher education. Instead, tuition dollars fund extravagant marketing expenditures (all those phone calls and emails, along with ad campaigns on social media and search engines), or become profits for universities and OPMs.
OPMs' and universities' usual responses to such criticism invoke the high cost of designing and launching a high-quality online program—an investment that can take years to recoup. Further, universities point out that surplus dollars from a profitable online program subsidize many less profitable degrees and departments that otherwise could not exist. But while the reasoning behind program-pricing decisions is undoubtedly complex, it's hard to argue that the revenue-share model doesn't play a role.
Because they're paid a cut of tuition dollars, OPMs like 2U have an interest in developing more expensive programs. From a recruitment perspective, selling programs with six-figure price tags may well be impossible without legions of counselors enticing prospects through each step of the enrollment process. Further, because OPMs are responsible for ongoing marketing and recruitment expenses, they're encouraged to minimize the cost of acquiring a student, possibly by adopting questionable recruitment practices.
Thus, intensive recruiting may be an inevitable by-product of selling a premium-price product in a competitive market. But is this approach sustainable? 2U's recent financial results and the subsequent plunge in its stock price suggest that the company is already encountering challenges. In the company's Q1 2019 earnings call, CEO Chip Paucek said that despite connecting with many qualified prospects, 2U has seen fewer of them completing applications, and universities, in turn, are accepting fewer of those applicants. More broadly, 2U is pivoting from its focus on online graduate programs, implying that the company is aware of the limitations inherent in this market.
As the constraints of the OPM partnership model become more apparent, other options for launching online programs have emerged. In the past few years, newer OPMs have begun experimenting with a fee-for-service model, which provides potential partners with a menu of offerings (such as recruitment, instructional design, and student support) and clearly identifies their costs. Universities can choose which aspects of their online programs they'd like to outsource to the OPM and how much they'd like to spend on each. This stands in contrast to the typical OPM contract, in which universities must sign up for a bundle of services in exchange for 60 percent of tuition dollars.
Noodle Partners pioneered the fee-for-service approach, which Bradshaw said helps keep universities and OPMs on the same page by making costs transparent. "I'm incentivized to do whatever the school wants me to do, because it's their money," Bradshaw explained. A number of well-known institutions have embraced Noodle's approach, including Boston College, Tulane University, the University of Michigan, and the University of Virginia.
But while the fee-for-service model certainly makes sense for universities, it does not seem to result in less aggressive marketing to students. A Noodle-powered program I looked into used a phone-and-email-heavy approach similar to that of its 2U counterparts (including 13 phone calls from my recruitment counselor).
Massive open online course, or MOOC, providers such as Coursera (for-profit) and edX (nonprofit) offer another promising alternative. Shifting from their initial focus on stand-alone free or low-cost online courses, many of these organizations have started partnering with universities to help them bring full degree programs online.
Like OPMs, MOOCs charge universities to develop, market, and run online degree programs. But unlike OPMs, they can offer prospective students the option to take a course before enrolling. According to Kim Caldbeck, Coursera's chief marketing officer, the "try before you buy" tactic is a powerful recruitment vehicle—one that 60 percent of students in Coursera's degree programs take advantage of.
While Coursera also relies on traditional email marketing and, in some cases, phone calls to prospective students, Caldbeck told me that access to detailed data on millions of learners allows her company to pursue a more thoughtful approach to recruitment. "For each learner on Coursera, we're really able to understand their potential interest in a particular degree program, which allows us to be very targeted in how we reach out," she said.
The final trait shared by nearly all online degrees developed in partnership with MOOC providers is a significantly lower cost, which can act as a major draw and therefore decrease the need for enrollment counselors and other similar marketing strategies. Perhaps the most well-known such degree, Georgia Tech's master of science in computer science program, was created with Udacity and AT&T, and charged a tuition of just $6,630 when it launched several years ago. On Georgia Tech's website, I couldn't find the option to request a phone call at all.
Finally, some schools are opting out of OPM partnerships altogether, instead choosing to develop online programs themselves. The University of Pennsylvania's first fully online master's degree, in health-care innovation, was created in-house. A small internal team manages all aspects of the program, including experimenting with outreach strategies ranging from information sessions to digital marketing. "We want to manage the content and the interactions ... so that [the program] is up to the Penn standards," Heather Rosenbloom, the senior marketing manager at Penn's Department of Medical Ethics and Health Policy, told me.
Rosenbloom's enthusiasm for delivering a high-quality student experience was apparent. "We're really passionate about the program, and we believe in what we're doing," she said. "We want to show that an online master's can be as good as an on-campus program." And as a prospective student, I noticed a major difference between Penn's outreach and the phone calls I'd received from 2U's programs, with interactions that seemed genuine, informational rather than salesy, and consistent with Penn's reputation.
Ultimately, whether working with traditional OPMs, choosing more innovative partnership models, or going it alone, top-tier universities are still figuring out online education. Rice's Peter Rodriguez said, "I think we're all doing our best to learn how to expand our programs into these markets, and we're doing it in a way that fits our brands and our reputations. It is tricky; there's no doubt about it."