Higher Education Has Become a Partisan Issue
And university budgets are suffering as a result.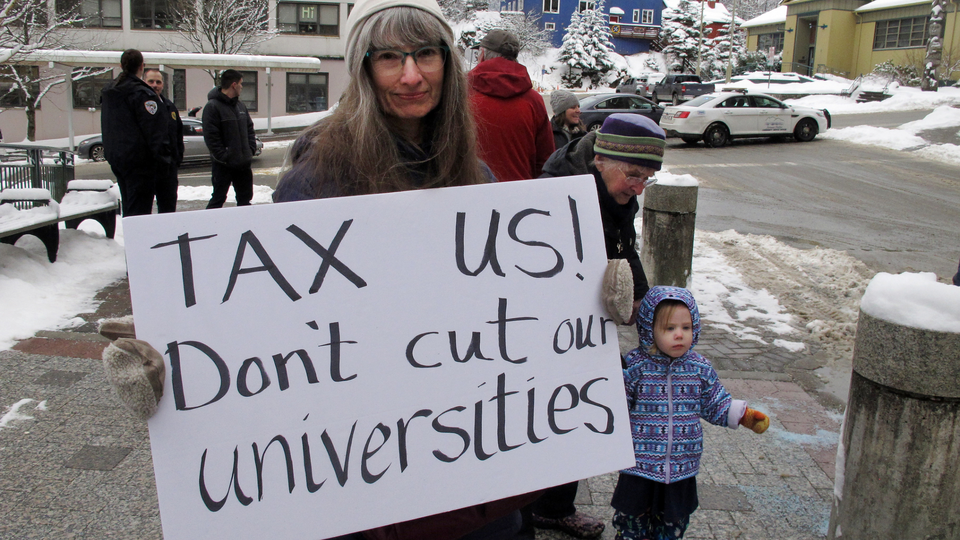 James Johnsen's letter to the University of Alaska system went out like a flare. "It is with grave concern for the future of our university and our state that I share with you devastating news of the budget Gov. Mike Dunleavy released this morning," Johnsen, the president of the system, wrote in the June 28 note to members of the university. The governor planned to cut $130 million from the school's budget. Combined with a previous $5 million cut, that made for 41 percent of the system's budget gone in one year.
Johnsen implored the Alaskan legislature to override the veto. (The legislature, for its part, has struggled even to agree on a meeting location to vote on the override.) He wanted students, faculty, and staff to make the university's case as well: to laud its programs, and emphasize its contributions to Alaska's economy. But in the meantime, Johnsen wrote, he needed to immediately implement furlough plans, and he needed to prepare a plan for financial exigency—which would allow the university to begin the process of removing tenured faculty. Roughly 1,300 faculty and staff jobs could be lost as a result of the funding cut.
The scramble playing out in Alaska represents the worst-case scenario for public colleges. It has not been uncommon to see significant cuts by states to higher-education funding—particularly during economic slowdowns—but "it is uncommon to do it in one fell swoop," Nick Hillman, an associate professor of higher education at the University of Wisconsin at Madison, told me. Alaska had a deficit, and the governor had promised not to raise taxes to deal with it, so he chose a favored punching bag to take the hit instead: higher education.
Over the past 25 years, since Newt Gingrich helped Republicans reclaim the gavel in the House of Representatives, Americans have become more politically polarized. Not only do members of one party view the other party as wrong, but they more frequently view them as a "threat to the nation's well-being." Americans don't trust the other side, and more and more they mistrust institutions too, including the media and higher education.
Polls have shown that confidence in higher education, overall, has decreased in the past few years. A Pew Research Center survey found that 61 percent of Americans are worried about the path America's colleges and universities are on. Democrats think that the cost of tuition is too high and, to a much lesser extent, that students are not getting the skills they need for the workplace. But Republicans overwhelmingly hold negative views of the sector; 73 percent  thought higher education was going in the wrong direction, as opposed to 52 percent of Democrats. A 2018 Gallup poll found that only 39 percent of Republicans expressed a "great deal" or "quite a lot" of confidence in the sector, down 17 percentage points from 2015.
For many Republicans, mistrust of Democrats and mistrust of institutions collide when it comes to higher education, because they see colleges and universities as having a liberal bent. They point to surveys showing that college leadership leans liberal, and that liberal professors outnumber conservative ones on campuses.
The latest corroboration for some conservatives was Harvard's decision to rescind admission to Kyle Kashuv, a Parkland survivor and conservative activist, because of racist messages he sent via Google Docs while in high school. For some, this drove home the message that liberals, and universities, practice selective forgiveness, allowing for the former sins of liberal institutions and people (see: Harvard University's own past) but not doing the same for conservatives.
It's been an open question for some time whether this partisan mistrust would translate into tangible, monetary penalties for higher education. One answer came last fall, when voters in Montana took to the polls to decide whether they would continue to tax themselves to support higher education. The tax, known as the six-mill levy, has been voted on once every decade since 1948, and this vote was seen as a bellwether for public sentiment on higher education. Though the measure had been passing narrowly in preceding years, voters in 2018 again decided to continue taxing themselves to support their state universities. The support was likely the result of an interesting phenomenon that occurs when the conversation is not about "higher education" as a monolith but about people's local colleges. Even though people may feel dubious about higher education more broadly, they can see the good that their local schools do and often feel favorably toward them as a result.
But what happens when the fate of local colleges is not up to the public decision but to a single politician? In Alaska at least, it has meant the decimation of the state's higher-education budget. Dunleavy, for his part, repeatedly declared on the campaign trail that he would not cut the state university budgets, but has done so nonetheless.
The trend is not universal. Some Republican-run states have invested in higher-education programs—including Tennessee, which now has tuition-free community college—for economic reasons. But, that said, the costs make higher education an easy target. It is also easier to cut than health care or K–12 funding. Higher education "is not constitutionally mandated," Andrew Koricich, an associate professor at Appalachian State University, told me, "so states always use it to balance a budget." Even when state leaders say they want a "strong public higher-education system," the cost of making it so—and thus the taxes needed to pay for it—are a tough sell.
In rural states, where many residents lack easy access to colleges and universities, those cuts can hit especially hard. The elimination of state funding, the Alaska system's president lamented, could result in the closure of one of its campuses. The students who rely on that university would be left in the lurch, needing to travel farther to get to one of the school's remaining campuses. The task of getting an education, for those in rural communities where a college degree is already hard to come by, would become a little harder.
"There's this political idea that we shouldn't be raising taxes for things that benefit us individually," Koricich told me, "not recognizing that everyone benefits from teachers and doctors and lawyers" and all of the other jobs that require a college education.
In 2018, Johnsen offered a sober assessment of the University of Alaska system. The system had seen $145 million in cumulative state funding cuts over the previous four years. The new, single cut from the governor's veto would nearly match that four-year decline in funding. Alaska may be an extreme case, but it shows one possible fate for public colleges in an age of mistrust: wounded by a thousand small cuts, and then a machete.