The Financial Calamity That Is the Teaching Profession
Teachers are suing the government over debt relief that never came—but their financial problems go much deeper than student loans.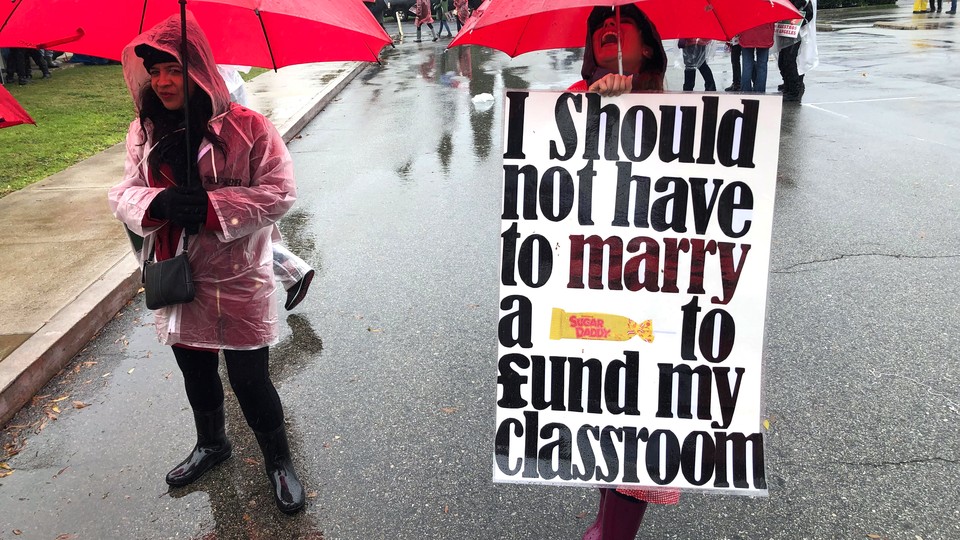 America needs teachers: A majority of the country's most experienced K–12 educators are expected to retire in the next few years, while research suggests that thousands of others will likely leave the profession prematurely, citing job dissatisfaction. How to get more people to join the profession? A little more than a decade ago, policy makers came up with one idea they thought would help: Give teachers some extra support in paying off their student loans. So, in 2007, Congress tasked the U.S. Department of Education, which administers federal financial aid, with offering student-debt relief to recent graduates in public-service careers: Essentially, make your minimum monthly payments for 10 years and your loans will be erased.
Thousands of public-service workers—including teachers, nurses, and firefighters—have applied for forgiveness since 2017, when the relief went into effect, to no avail. Just 1 percent of applicants who say they meet the program's ostensibly basic criteria have actually been approved, according to federal data, with the rest blaming misleading bureaucratic requirements that enable the Education Department's contracted loan servicers to deny them the benefits. Now, teachers across the United States are suing the Education Department, alleging that its failure to make good on the loan forgiveness violates both their constitutional right to due process and administrative-procedure laws. (Liz Hill, the Education Department's press secretary, declined to comment on the suit because it's pending litigation, but noted in an email that the agency "is faithfully administering the complex program Congress passed.")
The complaint—which was filed in federal court in Washington, D.C., late last week by the American Federation of Teachers and a handful of individual public-school educators—is a capstone to the financial exasperation that, some advocates argue, has plagued K–12 teachers for more than a decade. They had counted on that loan forgiveness, they say, and planned their lives around it; its failure to materialize, the complaint's supports allege, falls on households whose finances are already strained. Teaching, the complaint implies, is a financially calamitous path, and without loan forgiveness, teachers' families face a lifetime of hardship.
Teachers have never been particularly well paid, but in recent decades their financial situation has gotten remarkably worse, mostly for two major reasons. The first is that pay has not grown, concludes a recent analysis by the Economic Policy Institute, a left-leaning think tank, which finds that relative teacher wages "have been eroding for over half a century." When adjusted for inflation, teachers' average weekly pay has decreased by $21 from 1996 to 2018, according to the report, while that for other college graduates rose by $323. Data from the 2016-17 school year, the most recent for which federal statistics are available, show that K–12 teachers on average earned about $58,000 a year. In states such as Oklahoma and West Virginia—whose teaching forces each staged massive, high-profile strikes last year—the average pay is less than $46,000. In many places, educators are earning less in real terms than they did in 2009.
And the second pressure is the costs: In those same years that teacher pay has stagnated, common costs for a teacher's household—housing, child care, higher education—have gotten much more expensive. That's especially true in certain metro areas—San Francisco, Denver, and Seattle—where housing costs have exploded. Though these places see their real-estate markets driven by entrepreneurs, tech workers, bankers, and so on, they still need teachers, of course. In some of these places, officials have considered establishing affordable-housing communities that would be earmarked for teachers. On top of this, it's become more common in the years since the recession for teachers to spend their own money on school supplies: Almost all public-school educators these days report shelling out personal cash for classroom products, allocating close to $500 a year on average, according to federal data.
Obviously, this financial picture becomes all the tighter when someone is also paying down student loans. Most bachelor's-degree graduates—65 percent—have student debt, the average amount surpassing $28,000, according to the Institute for College Access and Success, a nonprofit that seeks to make higher education more affordable and available for Americans. But as of the 2015-16 school year, a little more than half of all K–12 educators also had postbaccalaureate qualifications like master's degrees, which means they carry even more debt. A 2014 study found that people who'd earned a master's in education had an average debt amount of roughly $51,000. (Those with an MBA, on the other hand, graduated with $42,000 in debt, on average.) For K–12 educators with a master's degree, the average student-debt amount more than doubled between 2000 and 2012, according to one Education Next analysis.
The fiscal burden of debt, moreover, is compounded by what the Education Next analysis describes as "a patchwork of overlapping programs, contradictory regulations, and expensive subsidies" pertaining to the loan programs and policies—in other words, the stress and time of just dealing with the debt.
Given these financial pressures, many teachers struggle to save for retirement, a situation made all the more difficult by the retirement options teachers are offered, says Andrew Katz-Moses, a financial coach in Washington, D.C., who previously taught eighth-grade math in the city's school district. Having gone into teaching immediately upon graduating from college, Katz-Moses says that he himself struggled to navigate the confusing hodgepodge of retirement-plan options offered via third-party vendors contracted by the D.C. school district, and ended up selecting a vendor that charged him a sizable percentage of his income in "hidden fees"; those charges, he discovered, amounted to 20 or even 30 times those offered by the lower-cost alternatives.
Absent clarity from the district on the pros and cons of each vendor's plan, minus brief informational sessions during open-enrollment season, Katz-Moses started hosting informal get-togethers where he and his colleagues could exchange advice not only on retirement plans but also on financial planning in general. Before long, hordes of his district colleagues were participating in his ad hoc sessions, most of them teachers he hadn't even met. "That's when I was like, Okay, there's a real need for this," Katz-Moses told me—this being better financial support for teachers' future, present, and past. "I started seeing how much of a burden student loans are for teachers, and how much confusion and worry there is among instructors when it comes to public-service loan forgiveness, because these are not small differences in how people are approaching their decisions."
Among teachers, these burdens fall more heavily on those who carry more debt, and whose families, including their spouses, are less wealthy. Black teachers, for example, tend to shoulder significantly greater student debt than do their white counterparts—a disparity that a recent Center for American Progress report suggests could in part explain why eight in 10 classroom teachers are white.
The unpredictability "is totally discouraging," Katz-Moses says. "I see so many teachers completely overwhelmed by all the pressures." Against this backdrop, it's not surprising that so many public-school teachers—close to one in five of them, according to 2016 data—take up part-time jobs, often moonlighting as, say, Uber drivers or Airbnb hosts: A K–12 educator is, Vox has reported, about five times more likely than the average full-time worker to also have a part-time job.
The lawsuit may help teachers get the loan relief they were counting on, but the big financial picture for teachers will remain a rough one. Following the wave of teachers' strikes around the country that hit last year, some policy makers have sought to rectify the hardship. The Democratic senator and presidential candidate Kamala Harris, for example, wants to raise the average teacher's salary by $13,500, while Senators Elizabeth Warren and Amy Klobuchar, also Democrats running for president, have advocated for giving teachers' unions more negotiating power and matching state-level salary increases with federal dollars, respectively. Barring those bigger changes, the financial difficulties will continue.