What If Teachers Didn't Focus So Much on Individual Achievement?
Renee Moore has been working at nearly all-black high schools in the Mississippi Delta for the past two decades for a reason: to raise up the whole community.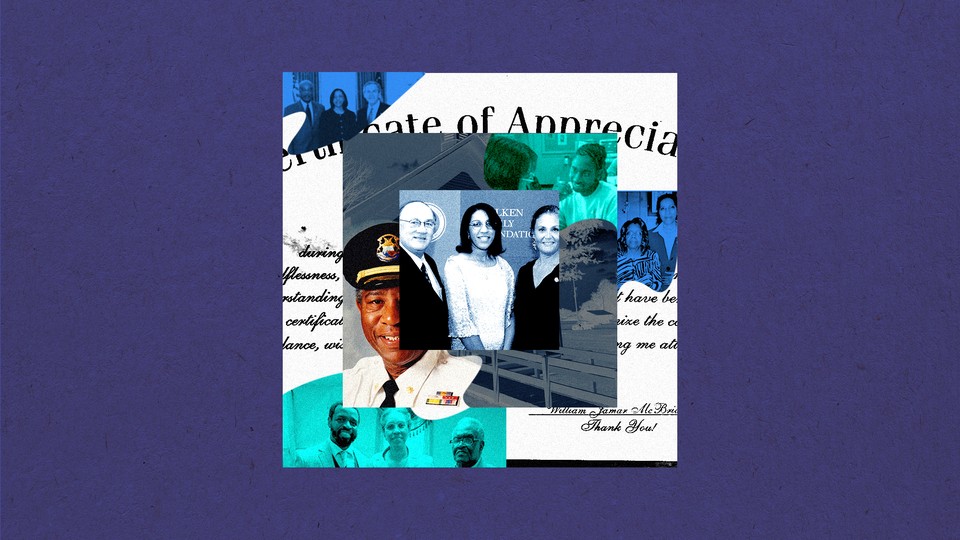 Editor's Note:
In 1988, a teacher most commonly had 15 years of experience. In recent years, that number is closer to just three years leading a classroom. The "On Teaching" series focuses on the wisdom of veteran teachers.
One late-summer afternoon in 1994, Renee Moore—an English teacher at the nearly all-black East Side High School in Cleveland, Mississippi—received a phone call. On the other line was a friend: "Renee, you need to get over here right away," she said in a hushed tone. "We are throwing away books."
Moore's friend worked at Cleveland High, a historically white school with a majority-white teaching staff, located about a mile away from East Side High. Teachers there had just received brand-new textbooks, Moore's friend explained, and were getting rid of the old ones. Even though the discarded texts were published only four years earlier, they no longer aligned with the latest state standards. Since East Side High teachers, who were majority black, were still working with English textbooks published in the '70s and '80s, Moore got in her car, and 15 minutes later was loading the trunk with what she had found in the trash bins.
Cleveland—a small, rural town of about 12,000 residents in the Mississippi Delta—is divided by railroad tracks that separate east from west and its black residents from its white ones. Back in 1994, when Moore was in her fourth year of teaching, the city was embroiled in a high-profile school-desegregation court case—one that began in 1965 and wasn't resolved until 2017. In the mid-1990s, the district implemented a "freedom of choice" plan, arguing that it would achieve full integration. The plan included a variety of magnet programs, with exclusive offerings at East Side High, such as AP calculus and trigonometry. Two decades later, none of the choice-based integration attempts worked. By 2014, 48 students from Cleveland High were busing to East Side High to take some classes, but no white students enrolled there full-time—resulting in a federal ruling that ordered both high schools to consolidate into one.
Moore's husband, Clernest, a Mississippi Delta native and a pastor at the Living Faith Full Gospel Baptist Church in Cleveland, had warned his wife that life would be separate and unequal in the heart of cotton-and-blues country, before Moore followed her husband there from Detroit in 1987. Back then, locals advised Moore to avoid certain parts of Cleveland where, they said, black people were not welcome. Moore's undergraduate adviser, an older white professor at Delta State University's teacher-training program, told Moore she shouldn't work at schools on the east side of town. The schools were dangerous, he told her, and kids weren't motivated to learn.
Moore ignored his advice and spent the next eight years working at East Side High, before she left in 1998 to teach English at the all-black Broad Street High School in Shelby, a small, rural town about 15 miles from Cleveland. Meanwhile, she sent all of her and her husband's 11 children—four biological and seven adopted—to schools on the east side of Cleveland. The schools were always short on books and supplies. When her two daughters attended East Side High in the '90s, they never had a chance to work with their own science-lab equipment. Their teacher bought one science kit with her own money, and students gathered around her as she performed the experiments.
Whenever a sense of hopelessness kept Moore up at night, she thought of her mentors at the two high schools where she worked from 1998 to 2005—mentors such as Dorothy Grenell, who taught at East Side High for 40 years before she retired in 1990. Black teachers in the South like Grenell spent their entire careers working in classroom conditions that were much worse than what Moore had experienced: Some years, there were no textbooks at all; some buildings didn't have heat in the winter; and, until the '60s, it was perfectly legal to pay black teachers less than white ones, or prohibit them from teaching white students.
Such policies, rooted in a long history of racism, contributed to a view by the broader society that black teachers were less competent, writes Michele Foster, a University of Louisville education professor. This belief persisted even though black educators often had more advanced degrees than white teachers did—as was the case at East Side High, where many teachers held master's degrees, according to Moore and court documents filed during the desegregation lawsuit in Cleveland. As a result, Moore—along with many other scholars, including Lisa Delpit, Vanessa Siddle Walker, and Gloria Ladson-Billings—argues that education programs and policy makers still rarely look at black veterans who chose to work in segregated, high-poverty schools as a valuable source of wisdom in teaching.
But this might be changing, thanks to a handful of large-scale studies from the past five years that have concluded that black teachers are associated with positive educational outcomes. A 2016 study showed that black students are 66 percent less likely as white students to be put on "gifted" tracks, even when they have comparable test scores—but the disparity was largely erased when black students were evaluated by black teachers. Other studies have shown that black students are less likely to be suspended or expelled or drop out when they have a black teacher. One recent study suggests that black teachers make a difference for students from other racial groups as well: A 2016 survey that looked at students' attitudes toward their teachers found that all students, including white children, had more positive perceptions of black teachers than white teachers on key measures. Students told researchers that African American teachers held them to higher expectations, explained the content better, and provided more useful feedback on their work, among other things.
Last year Foster, along with Melanie M. Acosta, an assistant professor at the University of Alabama, and Diedre F. Houchen, a postdoctoral associate at the University of Florida Levin College of Law, synthesized a large body of research stretching back to the 1920s on the practices developed by effective black educators. They identified distinct teaching practices in the earlier studies, including high expectations, the use of culturally affirming content, and a special focus on the development of their students' identity as capable citizens—through skills such as leadership and collaboration.
Their study also described a distinct philosophy among black teachers that emerged as part of African American resistance to slavery and Jim Crow. They argue that, more than any specific methodology, the practices of successful black educators were animated by distinct values they brought to their classrooms, including a conviction that schools should serve as microcosms of democratic governance and be used as a public good to expand citizenship, equity, and collective responsibility. In the late 19th and early 20th centuries, this philosophy of education was institutionalized in black segregated schools as a response to the country's retreat from democracy with the rise of lynching, voting restrictions, and anti-integration movements.
This philosophy is different from the mainstream American ideology of education, which views the purpose of public education primarily as an engine for individual social mobility. As the Stanford education professor David F. Labaree writes in his intellectual history of American education, Someone Has to Fail, by the 20th century, public schools had largely abandoned their civic mission in favor of market-driven values: the preparation of a skilled workforce and the advancements of individuals' social standing. At the classroom level, this has meant, Labaree writes, that the values of competition, efficiency, and sorting of students into advanced and remedial tracks often dominate, crowding out the civic values of collaboration, diversity, mutual understanding, and consensus building.
In the black segregated schools that Moore attended, as in many all-black schools at the time, there was no grouping of students by perceived ability into advanced or remedial tracks, as is common in public schools today. Moore recalls her majority-black schools in Detroit in the '50s and '60s as places that promoted communal activities and collective responsibility. Students who advanced were expected to help their classmates and in the process solidify their own comprehension and learn valuable skills, such as respect and patience. No sorting based on perceived ability meant something else, Moore says: "Teachers treated us like we were all capable of learning and leading. They didn't view education as a zero-sum commodity used for competition for diplomas and jobs. All children deserved high-quality education, because it was a path to freedom, citizenship, and the ability to improve your community and the nation."
It was this sense of collective responsibility that Moore remembers more than anything else she learned from black veterans who were her mentors in the Mississippi Delta schools where she worked. She credits these women with inspiring her to become one of the most decorated teachers in the country, whose honors include the Mississippi Teacher of the Year Award and the prestigious Milken Educator Award. ("I am not the best or the brightest," Moore says. "I am a reflection of the accumulated wisdom these teachers passed on to me.") At a time when support for democratic institutions among Americans is declining, and competition for individual advantages for children among the elites is increasing, Moore believes that black veteran educators in the South have important lessons to share on the role public education can play to promote not a zero-sum understanding of the world, but one in which the nation's well-being improves when people view schools as a project to bring opportunities to other people's children—in addition to their own.
---
It was only years after Moore and her family had moved to the Mississippi Delta region that she realized how much her values of collective responsibility and education as a path to freedom had come directly from her childhood and the teachers she had growing up. The oldest of four children in a close-knit family, Moore was born in 1955 in Detroit, a few miles from the legendary Motown Records studio. Moore's mother worked as a nurse. Moore's father was one of the first black officers in the slowly integrating Detroit Police Department. A Korean War veteran, he raised the American flag on the front porch of his four-bedroom brick house each morning.
After school, the Motown sound and jazz often played in the background while Moore read the newspaper aloud to her grandfather, who was semiliterate, and a chapter of the Bible to her grandmother before bed. Both grandparents grew up in Georgia at the turn of the 20th century and had to interrupt their education early to help their parents make ends meet. In the evenings, Moore typed her father's handwritten college papers; he worked the midnight shift and took college courses at Wayne State University during the day.
Throughout Moore's childhood, any discussion about the possibility of a summer visit to the South, as was a common practice among many of Moore's friends, was off-limits. Moore's father never provided any details behind this stance, revealing only that when he was in training for the Army at Fort Benning, Georgia, in the late '40s, something horrific had happened. Years later, Moore learned that black soldiers, including World War II veterans, weren't welcome in restaurants in states such as Georgia and Mississippi, though these establishments served German and Italian prisoners of the war. In some towns, black soldiers were jailed. Some were lynched. But she never learned what, specifically, had happened to her dad that made him want to stay away.
Instead of summers in the South, Moore spent her vacations just over the Canadian border, about an hour away by car, in the small town of North Buxton, Ontario—the birthplace of her mother. North Buxton was founded in 1849 by formerly enslaved African Americans, including Moore's ancestors, who came north via the Underground Railroad. Developed with the support of an Irish American Presbyterian minister, William King, the settlement was organized to be a model of what formerly enslaved refugees from the South and their descendants could achieve when they received a high-quality education and full citizenship rights, including fair access to loans so they could purchase their own land. In his 1864 report to Congress, which debated the terms of emancipation, Samuel G. Howe, an official in Abraham Lincoln's administration, called North Buxton "a perfect success," with its thriving black-owned factories, lumber mills, and brickyards.
Mission School—the all-grades school that Moore's mother eventually attended—was the very first institution that the settlers founded in North Buxton a year after they arrived. The quality of the school became so legendary that white parents in the area enrolled their children there, and eventually closed their own school. In 1967, North Buxton opened a museum dedicated to preserving the legacy of the settlement, including the central role that education played in the history of African Americans and their descendants.
Prior to emancipation, enslaved black Americans were the only group in the U.S. prohibited by law from learning how to read and write. Despite these restrictions, slave narratives "uniformly" recount the intensity with which African Americans pursued education, as Theresa Perry, a Simmons University professor of education and Africana studies, has documented. For enslaved black Americans, Perry writes, literacy affirmed their humanity and served as the strongest weapon against the ideology of white supremacy, which justified slavery by perpetuating the myth of black people's intellectual inferiority.
Early on, the values of literacy and collective responsibility were deeply intertwined, as Perry documents: As soon as Frederick Douglass learned to read and write, he became a teacher to other enslaved adults and children, who could then use their literacy to forge passes and escape. The ability to read and write allowed Douglass and other enslaved African Americans to write their own stories exposing the brutality of slavery, and arguing for its abolition. It was this commitment to collective responsibility that eventually decreased the size of North Buxton, as nearly 2,000 of its residents, including some of Moore's relatives, left Canada and moved to the Deep South to build churches, hospitals, and schools after emancipation.
From that period on, education remained central to black community leaders' vision for an empowered, participatory, and free black community. In the post–Civil War era, African American activism centered on the development of schools as key institutions to promote freedom and full citizenship—with the majority of America's black teachers working in the South at the time. The first national black teachers' union was founded in 1904. In its first decades, it emerged as a key organization that not only recorded and promoted state-of-the-art teaching methodologies, but also familiarized novice educators with the history and philosophy of African American pedagogy as a tool for achieving their communal aspirations, according to Foster, Acosta, and Houchen in their 2018 study.
At the classroom level, these ideas meant that schools aimed to serve as models of democratic governance, empowering teachers to research challenges in their schools and propose site-specific solutions, and creating opportunities for students to practice their citizenship skills—for instance, by voting for a class leader. Many civil-rights leaders—from Martin Luther King Jr. to Medgar Evers—were educated by black teachers trained in these methods, as the Emory University professor Vanessa Siddle Walker documents in her latest book, The Lost Education of Horace Tate: Uncovering the Hidden Heroes Who Fought for Justice in Schools.
In the South, the integration of black and white schools that began following the Brown v. Board ruling meant that white school boards and superintendents got more power over staffing decisions than black principals did, and typically hired more white teachers. As a result, at least 15,000 black teachers (close to a third of the nation's African American teaching force) lost their jobs from 1964 to 1972. Some of these displaced teachers moved up north, and many of Moore's teachers in Detroit in the '60s were such southern transplants.
Moore recalls her schools in Detroit as uplifting places that encouraged the development of students' identities as literate citizens and intellectuals. In elementary school, Moore's principal would often sit on the stage of the school auditorium and read historical accounts of black individuals such as Frederick Douglass and Harriet Tubman. "These stories inspired us to stay motivated despite all of the barriers," Moore recalled. "Our teachers explicitly highlighted what African Americans were willing to risk to become literate, and how they used their education to make community better for others."
Today that translates into Moore's work at Mississippi Delta Community College, where she has been an English instructor since 2005. In addition to college students, she still frequently teaches high-school students. One late afternoon in April, a group of African American high-school seniors slowly trickled into a classroom at the college's campus in Greenville. All the students had traveled there from two nearby high schools because they had failed their high-school exit tests in English, and a passing grade in Moore's class can be used as a substitute for these tests, one of several requirements for receiving a high-school diploma.
At the start of each semester, Moore begins by surveying her students, in a collaborative process that involves their parents and mentors, about what they hope to learn. And one thing she hears a lot is that they want better public-speaking skills. For many of Moore's students, these are highly prized skills for promoting achievement and citizenship and for building community, and they have deep cultural roots going back to speakers such as Martin Luther King Jr. and iconic lawyers such as Thurgood Marshall.
"The whole community would come out to see what you learned: that you could speak well, show evidence of your knowledge, and handle yourself in public," Moore says, recalling presentations as a student in Detroit and during her work as a high-school teacher in the Delta. "It was a big source of celebration and joy in the community, and a powerful motivator for students to work hard."
Additionally, Moore has focused her curriculum on looking at the rhetorical strategies used to fight for freedom. In one of Moore's units, her students analyze the Declaration of Independence and King's "Letter From Birmingham Jail." They then write papers on how Thomas Jefferson and King defined freedom, study the centrality of southern civil-rights organizers in pushing the United States to live up to its democratic ideals, and debate the effectiveness of various writing elements that authors used to build their arguments.
"'How do you convince an audience that does not agree with you? What does it mean to have freedom in a country where others do not?' Students really enjoy discussing and reflecting on these questions," Moore says, explaining why she's returned to these two texts for nearly three decades.
Kierre Rimmer was in Moore's class in 1990 and in the church youth-leadership program Moore and her husband ran from 1987 to 2012. Rimmer still recalls frequent classroom discussions he had with Moore and his classmates about King and local leaders such as Fannie Lou Hamer or Medgar Evers, who organized people in the Mississippi Delta. In his own community volunteering work, he's also relied heavily on the public-speaking and consensus-building skills he practiced as a student at East Side High. Two years ago, after the court ruling that merged his former high school and Cleveland High, Rimmer volunteered on a committee that worked with parents and students to ensure that the needs of both schools were represented during an emotionally charged transition.
In 2013, following a spike in gun violence in Cleveland, Rimmer, who has a day job at a local museum, founded an after-school program, the Fly Zone, in which about 30 teenagers meet weekly to do homework, build relationships with prominent local leaders, and talk about the importance of education, voting, and community building. "Teachers are overwhelmed with testing and don't teach life and citizenship skills anymore," Rimmer says. "We are trying to bring that back."
With the passage in 2002 of No Child Left Behind, which used standardized tests to measure students' mastery of knowledge and skills, opportunities for other assessments, such oral exams and presentations, shrank dramatically, Moore observes. From 2002 to 2005, Moore says, she and her colleagues received several requests from district officials asking teachers to stop assigning research papers to English seniors, reduce the number of public presentations, and use that time instead to help students prepare for tests. As a college instructor, Moore has noticed that students are increasingly asking questions such as "Will this be on the test?" and "How can I gain extra points?" as opposed to "What should I be learning, and why?"
Around this time, Moore and her colleagues, like their predecessors a generation ago, advocated for the preservation of skills and assessments that carry high value in the community—and that they felt empowered their students as community members and citizens. Teachers at Broad Street High School got together and designed their own "quality-enhancement plan," as the national black teachers' union had encouraged its members to do almost 100 years ago. As part of their research, educators used a variety of data—student work, oral assessments, video recordings from classrooms, student and parent surveys, teachers' self-reflections, grades, and standardized tests—to research challenges in their classrooms and design solutions with input from the community. Teachers read about the best practices developed by African American educators in the past—and contemporary research—and worked to adapt this knowledge to their local needs.
Within a few years, standardized test scores, graduation rates, and the outcomes on written and oral assessments that teachers had collaboratively designed improved. Moore calls this work "culturally engaged instruction," or, put differently, a model for a formal relationship in which educators and district officials are committed to engaging in a democratic process among a school and the community it serves to meet state and national requirements.
One of the many lessons in democratic governance from effective black veterans in the South is that students learn important values and skills by participating in communal activities, and by observing interactions among adults and peers in the school building—just as much as they do by listening to lectures, taking notes, and passing tests individually. When states or districts impose curriculum without input from teachers, students, and the parents they serve, research shows that children lose opportunities to practice civic skills such as collaboration, consensus building, and leadership in the community.
Moore—like her teachers, mentors, and now many of her students—views public education as the most important institution for sustaining the democratic experiment. As Americans grapple with the decline of democratic values and institutions, Moore believes that the history of black teachers in the South can serve as a model for how to organize schools that will make better citizens—ones who care about their whole community, not just their narrow self-interest.
"Individuals can't be full citizens without social mobility," says Moore. "But when we strip collective responsibility from individual achievement, the default culture becomes rugged individualism, which promotes distrust, fear, and fracturing of communal bonds. Schools should be places where students learn that collectively, people can accomplish more than individuals fending for themselves."
---
This article is part of our project "On Teaching," which is supported by grants from the William and Flora Hewlett Foundation, the Spencer Foundation, the Bill & Melinda Gates Foundation, and the Panta Rhea Foundation.