Harvard's Drastic Decision
The college has rescinded an admissions offer to Kyle Kashuv, a Parkland survivor and conservative activist.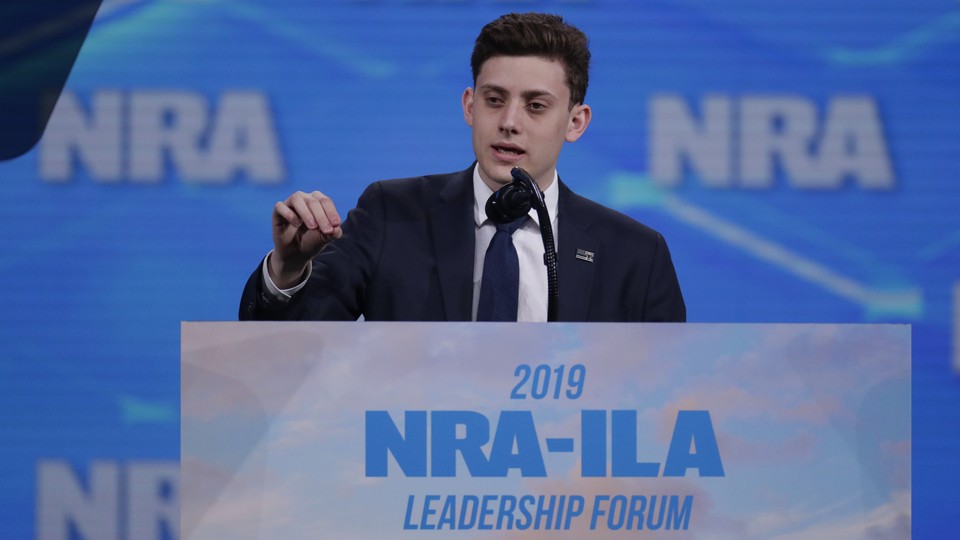 In March, Kyle Kashuv got the news he'd been waiting for: He'd been admitted to Harvard. The Parkland-shooting survivor, who had become a conservative rising star, had spent his senior year as a school-safety and gun-rights activist, traveling the country as the high-school outreach director for the right-wing group Turning Point USA. He planned to take a gap year before enrolling in the fall of 2020. But today Kashuv tweeted that Harvard had rescinded its offer, in an apparent response to racist messages he had written years earlier.
The first sign of trouble came in mid-May, when Kashuv announced that he would be leaving Turning Point USA. Hours later, screenshots began to surface on Twitter. In text messages and Google Docs from when he was 16, Kashuv allegedly used the word nigger repeatedly, made crass remarks about women, and used other racist and anti-Semitic language. A week after the messages first became public, he posted an apology on Twitter in regard to "callous" remarks he had made earlier in his high-school career. (An attempt to reach Kashuv for comment on Twitter did not elicit a response.)
The fallout from Kashuv's remarks ultimately led Harvard to write to Kashuv on June 3, "After careful consideration the Committee voted to rescind your admission." In a thread posted to Twitter on Monday morning, Kashuv explained the back-and-forth that transpired between him and the college in the weeks leading up to the rescission. Two days after Kashuv posted a public apology, on May 22, stating, "We were 16-year-olds making idiotic comments, using callous and inflammatory language in an effort to be as extreme and shocking as possible," the college's admissions dean, William R. Fitzsimmons, sent him a letter, according to a screenshot posted as part of Kashuv's Twitter thread.
"Harvard reserves the right to withdraw an offer of admission under various conditions," Fitzsimmons wrote to Kashuv, "including 'if you engage or have engaged in behavior that brings into question your honesty, maturity, or moral character,'" per the school's admissions policy. The reports of the messages had brought each of these qualities into question, but the college wanted to offer Kashuv a chance to explain himself. He had until May 28.
In his response to Harvard, Kashuv was contrite. "I understand Harvard's concern over these offensive statements from my past, and I further understand that Harvard has been contacted about them by people expressing concern about them," he wrote. "While I will forever bear incredible shame for typing them, I especially feel remorse now that they have been made public knowing that they have caused terrible pain to people I care about." He similarly emailed the Office of Diversity and Inclusion at Harvard to offer an apology, and pledged that during his gap year, he would "supplement my activism to include reaching out to minority communities."
But it was too late to salvage his Harvard acceptance. In a letter dated June 3, Fitzsimmons wrote to Kashuv that the committee appreciated the "candor and expressions of regret" in his letter, but "the Committee takes seriously the qualities of maturity and moral character. After careful consideration the Committee voted to rescind your admission to Harvard College." Kashuv attempted to meet with the committee in person, but it declined his request. In an email, Rachael Dane, a spokeswoman for the college, told me, "We do not comment publicly on the admissions status of individual applicants."
The admissions policy at Harvard, and most other colleges, stipulates that the college can withdraw an offer of admission in certain cases, and there are several situations that might lead a college—and, indeed, have led colleges in the past—to pull an admissions offer. Students are required to send updated transcripts after their senior year, so if there is evidence that a student tanked during his last semester, that can be reason enough. This was the case when the University of North Carolina at Chapel Hill rescinded an offer of admission to a student in 2003. Sometimes the reasons are more institutional than individual: In 2017, UC Irvine withdrew admissions offers to more than 100 students because, well, more students had accepted offers than the school had expected, and it could not accommodate everyone.
There have also been situations in which bad behavior, including prior bad behavior (as in Kashuv's situation), has resulted in an offer being revoked. In 2017, Harvard rescinded admissions offers to 10 students who were members of a meme group on Facebook and shared messages that were often anti-Semitic and sexist. It's impossible to know how often these rescissions happen, because admissions offices tend to keep a tight lid on their affairs—the ones that are known typically come as a result of the students voluntarily making the information public or lawsuits where they are revealed. But the overall picture suggests that they are fairly rare.
The way the colleges see it, these sorts of late-to-the-game revelations are nevertheless relevant to their decisions, even if a decision has already been made. "Everything a kid does, starting in ninth grade, matters for admissions purposes," Anna Ivey, the founder of Ivey Consulting, an admissions-counseling company and former admissions dean at the University of Chicago Law School, told me. "That's sometimes a tough thing to hear, especially if it happened earlier in one's high-school years. But that's the reality for applicants."
College admissions officers are not typically sitting around trolling the internet for evidence of bad behavior by their prospective students, Ivey said, but when that information comes to light, they have a responsibility to take it seriously, and typically they will give the student an opportunity to explain the situation. A college's post-admissions decision depends largely on the details of each specific case, but the additional processing that colleges employ to evaluate student conduct is a sign of a different standard of evaluating information before and after an offer has been made.
That, of course, raises the question, How much regret is enough? "There are all types of mea culpas that happen, and schools consider them," Ivey said. "This wouldn't have been a required disclosure, but that's the hazard of living in the internet age and being a digital native. Here's a case of screenshots coming back to bite you." But at a certain point, even the most repentant prospect may not get to stay in, especially at hyper-selective private colleges that can fill their seats dozens of times over with qualified applicants. Sinners can repent, but that does not mean they will not sin again, and that's a risk some colleges are not willing to take.
A college can rescind an offer of admission at any time up to the student's actual enrollment, Ivey says. The dynamics do change once a prospective student becomes an enrolled student, though at that point the student may well be brought in front of a university ethics board to answer for prior misdeeds. Still, "when you're dealing with a place like Harvard, they don't have to take a risk like [admitting a given student] unless they really feel like it," Ivey said. "That is tough, but welcome to the world of highly selective college admissions."