The School Shooting America Forgot
In the year since 10 people were killed at a Texas high school, the press mostly stayed away. That's what community members wanted.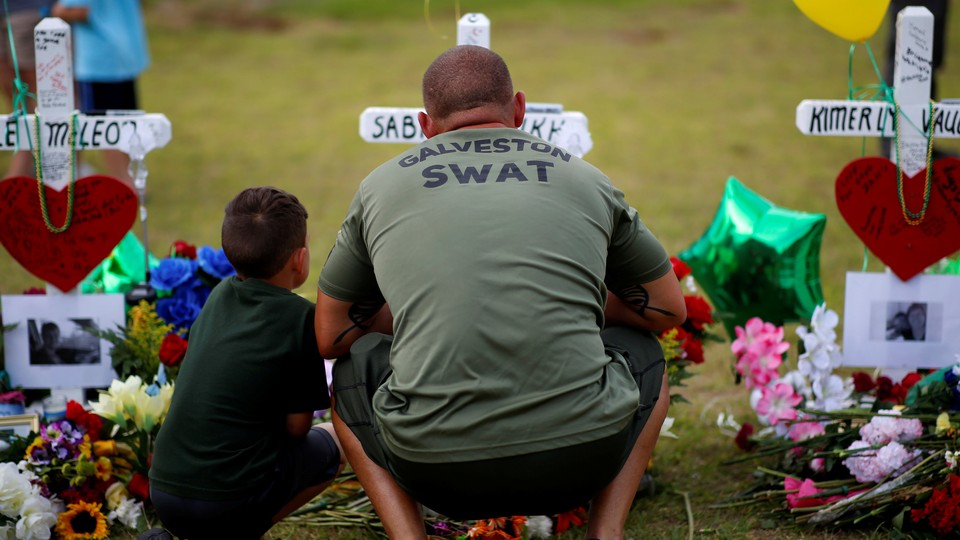 Jason Tabor, the mayor of Santa Fe, Texas, wants you to know that his town cares about school prayer. When he attended Santa Fe High School, back in the late 1990s, the school district "took on the Supreme Court to keep prayer in school." It lost. But "we fought for it," Tabor told me, and this is how he wants to see Santa Fe remembered in history books some day.
Being the mayor of a small town like Santa Fe should, in most cases, be a relatively uneventful gig. But Tabor's term began last May, six days after a 17-year-old student, armed with a revolver and a shotgun, entered the high school and shot 23 people. Ten died. Santa Fe, of school-prayer fame, was now the recipient of a new, unwelcome kind of attention: the kind that follows a school shooting.
Reporters from across the country made their way to the town of 13,000, which sits midway between downtown Houston and the beach in Galveston—"the perfect location," according to Tabor. They set up outside the wooden crosses at the memorial on the school's lawn to watch students and family members gather together and cry. Just three months earlier, reporters had done much the same outside Marjory Stoneman Douglas High School, in Parkland, Florida.
But where some activists in Parkland embraced the media attention and even seized on it to advocate for gun reform, Santa Fe wanted the journalists and camera crews gone. "How are they gonna help us heal? No one here wants that attention," Tabor said when we spoke by phone earlier this month. The nation was prepared to amend its ever-expanding list of mass-shooting sites—Columbine, Sandy Hook, Parkland—but many in Santa Fe didn't want to be known for that, and didn't want the media attention. After the shock wore off, the reporters mostly stayed away, even as they continued to focus on Parkland.
The town preferred to take care of itself. People turned to prayer and reflection to think seriously about how to protect their community from another tragedy. "It's not a group to cry out, like, 'Oh, why me, someone come,'" Shelby Webb, an education reporter at the Houston Chronicle who has covered the Santa Fe shooting and its aftermath throughout the past year, told me. "It's, 'Alright, this is the card we've been dealt … Let's take care of our own and try to figure this out on our own.'"
Many people I spoke with said the town's attitude after the shooting reminded them of how people felt after Hurricane Harvey, the August 2017 storm that devastated Galveston County, and Hurricane Ike, which did much the same in 2008. These storms had hardened the residents of Santa Fe and nearby towns. For those whose homes had been destroyed by Ike, FEMA administrators had come down and promised them money to help rebuild. Some people are waiting on those checks even now, 11 years later. Many more continue to struggle with the effects of Harvey. "You had people still with their houses flooded dealing with the shooting," Tabor said. A Houston Chronicle investigation found that nearly 20 percent of students in the Santa Fe Independent School District had been severely affected by Harvey, meaning they either had to relocate after the storm or lacked basic resources for a significant period of time afterward.
Following the shooting, as with the storms, many residents felt that they only had one another to count on, that to expect help from afar was a pointless exercise. "I hate to relate the two together, but it's kind of the same, because Texas steps up and does what it has to do," Joe Giusti, a Galveston County commissioner who lives in Santa Fe, told me. "Feds said, 'Ah, y'all can take care of it, go ahead,'" Giusti said, describing what happened after Harvey. "A lot of people, they pulled up their boots, they went to work … neighbors were helping neighbors with it. And so they didn't wait around for the federal response." The same attitude, he said, characterized the town in the wake of the shooting.
Moreover, Santa Fe was, in contrast with Parkland, decidedly not going to be a site of outspoken gun-regulation advocacy. Many people thought the shooting warranted, at most, a community-wide accounting of what went wrong and how Santa Fe might do better in the future. Solutions included upgrades to the school's security and a public focus on students' mental health. Students now pass through metal detectors to enter the high school. Giusti, who has worked in law enforcement for 41 years, told me about new equipment that local officers must carry to be prepared for another mass-casualty event. Tabor said people are paying a lot more attention now to kids suffering from depression and anxiety. "We're pushing really big about suicide-prevention awareness and mental-health aspects," he explained.
Exactly one parent who lost a child in Santa Fe publicly advocated for major changes to gun policy. It didn't go well. Rhonda Hart's 14-year-old daughter was killed in the shooting; Hart told me she knew, from the moment she learned Kimberly was gone, that "this is a policy failure." She explained: "This was not just [the] city of Santa Fe or Santa Fe High School. This is a system-wide failure." She reached out to March for Our Lives organizers and joined them in loudly advocating for gun-violence-prevention measures. The backlash came quickly, and it got so bad that she and her son, Tyler, moved to nearby Dickinson, where Hart ran for and lost a school-board race.
"When I first started talking about this, everyone was like, 'Oh my gosh, she's some gun-grabbing liberal,'" Hart said. It didn't help that she's not from Galveston County, or even Texas. Hart grew up in Alaska, where she lived in 2008, when she got so fed up with Sarah Palin's candidacy for vice president that she officially changed her party registration from independent to Democrat. Donald Trump's election in 2016 drove her toward activism. "I started to program the phone numbers for my senators into my phone … 'Hey Siri, call Ted Cruz, because we need to talk about health care,'" Hart recalled, laughing.
Then Kimberly was shot. Hart started talking about gun reform almost immediately. But people in Santa Fe didn't see the shooting as a gun issue. It was a "toxic environment," Hart thought, so she left.
For some survivors of the attack, the prevalence of guns in Santa Fe has made it difficult to heal. "You have people who were target-practicing in their backyards, but then their neighbors might have a kid who was in the band hallway or the art hallway"—the parts of the school where the shooting happened—"and can smell it now whenever they hear gunfire," Webb said.
When I got in touch with Tabor, he said he would only talk with me if I agreed not to bring up guns. (When I tried asking him anyway, he responded by talking about other issues not directly related to guns.) Giusti pointed out that the shooter in Santa Fe didn't use an AR-15, so unlike in Florida, there were no calls to ban semiautomatic rifles. "The fact [is] that he did use a pistol and a shotgun, I think, which most households around here have," Giusti explained. He said measures like the metal detectors are a start, "but there's always a trade-off"—and, he added, "you can't prevent everything." When kids line up outside the school to go through a metal detector, "what keeps somebody from jumping the curb with a truck sometimes and running over everybody standing there waiting to get in?" In this way, Santa Fe seems to have accepted its grim new reality.
On May 18, the anniversary of the attack, a community-wide vigil will take place at the county fairgrounds. School will be optional the day before (because the anniversary itself falls on a Saturday), and those who do attend can partake in art therapy or visit the school's resiliency center to speak with a counselor. It will all be very Santa Fe: neighbors taking care of neighbors, praying together, hugging, hoping. Not waiting for someone else to come and save them. "I know after the one-year [anniversary] people will forget about Santa Fe, until our five-year, and until our 10-year, and then they'll kind of come around again," Tabor said. "That's why we're helping ourselves … trying to heal us personally."
Before Tabor and I hung up, he walked me through the reasons to visit Santa Fe: Barbecue. Rodeos. The beach. School prayer. The knowledge that if your car breaks down, someone will stop and help you, because that's the kind of community Santa Fe is.
I wished him luck in dealing with the difficult weeks ahead. "It'll be all right," Tabor said. "We'll do what we have to do."