The Reasoning Behind the SAT's New 'Disadvantage' Score
The CEO and vice president explain what they're hoping to accomplish by factoring adversity into the standardized test.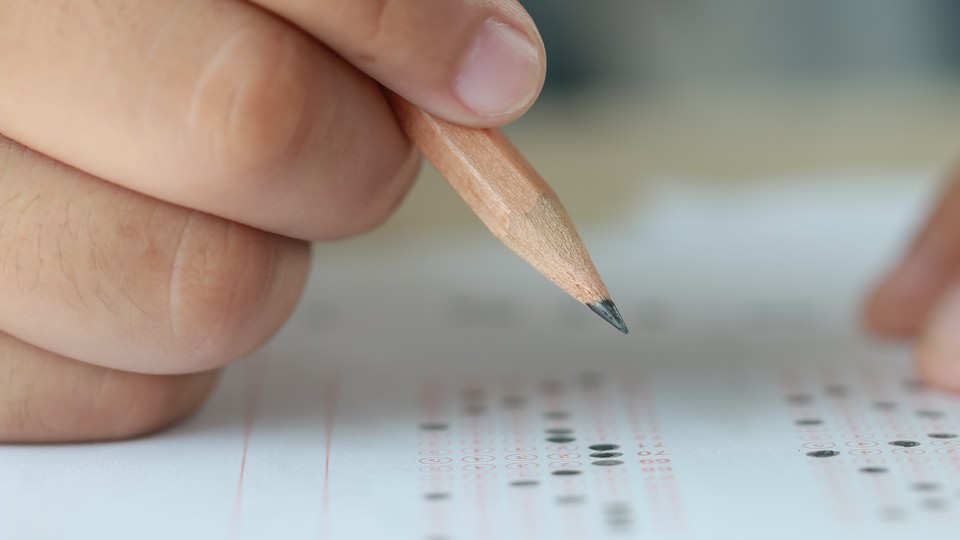 Updated at 3:52 p.m. ET on May 17, 2019.
Most students' paths to higher education are shaped by numbers: grade-point averages, class rankings, and infamously, standardized-test scores. Now students taking the College Board's SAT will have another number thrown into the mix: a "disadvantage level."
This fall, 150 colleges will start using this new metric, designed to capture students' socioeconomic status and give context to test scores, according to The Wall Street Journal. The College Board is using a number of environmental factors that influence a student's home and school life—including neighborhood crime rates, housing values and vacancies, the community's average educational attainment, and poverty levels—to calculate this disadvantage level, which is scaled from 0 to 100 and is based on census data from each student's neighborhood. Scores above 50 points indicate that the student has had to navigate more obstacles than average to get an education or have access to college, while scores below 50 signify students who have enjoyed more advantages than most of their peers. While students don't see or know their score, admissions officers will be able to see an "environmental context dashboard," which breaks down all the factors that go into the score.
This system has been in development for the past three to four years, according to Connie Betterton, a College Board vice president who led the team in creating the score. A number of college-admissions offices have been involved in the process, telling the College Board what information would be most helpful for them to have. From there, 50 colleges, including Yale and Florida State University, participated in a pilot program to test out how to incorporate the new score into their existing application-review protocol and actually used it to make admissions decisions last year. The team developing the score found that colleges were most concerned about the talent they weren't seeing, the applicants who might thrive on their campus but who have weaker transcripts due to disadvantage, the College Board CEO David Coleman told me.
"What these years were spent on was examining if the data [on poverty and disadvantage] was looked at together in a really clear way with the SAT, could it help admissions officers find kids they wouldn't have seen? And do those students go on to flourish?" Coleman said. "And the evidence is that they do succeed, that they are resourceful."
The addition of this new number marks a shift in how the College Board wants admissions offices to think about SAT scores, which have been criticized as a proxy for wealth and privilege, not intellect or college readiness. Higher test scores correlate with higher family income and education levels, and white and Asian students generally tend to score higher than their Latino or black peers. While one additional metric alone can't fix these inequities, the inclusion of the disadvantage level is a step in the right direction, Anthony Abraham Jack, a Harvard professor and the author of The Privileged Poor: How Elite Colleges Are Failing Disadvantaged Students, told me.
"It is giving us a look at how poverty and inequality directly affect students' college destinations, as it relates to [test scores]" Jack said. "When students sit down [to take] the SAT, that doesn't mean that everybody's at the same starting line."
Factoring in the influence of students' environments has not been done before in such a systematic way, Jeff Selingo, the author of There Is Life After College and an Atlantic contributor, told me. Many admissions offices that do "holistic admissions" will already look at a high school's profile, a description of the student body and curricular offerings that is provided by the high school and accompanies a student's application, to get a sense of how a student stacks up against local peers, Selingo said. For example, if a student's SAT scores fall in a low percentile nationwide, but she is a high-performing outlier at a school with generally low test scores, admissions officers will take that into account. But school profiles don't include information about students' home neighborhoods, and thus don't capture students who commute into wealthier areas to attend well-resourced schools but who live in neighborhoods with high crime, eviction, and home-vacancy rates.
Knowing the constellation of home- and family-related factors shaping a student's transcript would make admissions more truly holistic, Jack said. He knows this firsthand, as a black scholar who became a first-generation college student after getting a scholarship to attend an elite private high school. Even if students attend high-performing high schools, he said, conditions such as housing instability and family turmoil can influence their lives in profound ways.
"I've worked with students who were homeless, who did not know when they left school whether they would have a place to sleep for the night. They had to somehow compartmentalize that kind of insecurity at home, but still focus on what's going on at school," Jack said. Of students who have grown up surrounded by gun violence, he asked: "Can you concentrate in the same way in your literature class when you heard three gunshots ring outside your door the night before?"
One of the most notable aspects of the disadvantage-level score is that there's no explicit mention of race—the scoring system is mainly focused on capturing students' economic reality. (Though, considering that poverty rates and property values have often been affected by racist policies, the score will likely capture some of the economic disadvantages that fall hardest on people of color.) The omission of race from the score is particularly significant, given that the racial-discrimination suit brought against Harvard by Students for Fair Admissions (SFFA) is ongoing; Selingo said that admissions departments have been bracing themselves for the case to move to the Supreme Court, where a conservative majority could potentially ban the consideration of race in admissions altogether. "I'm feeling that this whole effort, and the reason that [the] College Board has this product, is if there is a day in the future when race can't be used in admissions," Selingo said. "This could be used as a tool in the admissions process in a post–affirmative action world."
This race-blind system was not an accident, Betterton told me, but it wasn't necessarily a result of the current anti–affirmative action movement. Because states such as California and Florida have banned racial preferences in public-college admissions, the College Board wanted to make sure that all admissions officers and College Board–member schools would be able to use this score.
The new metric has gained a fan in one man fighting against race-conscious admissions. Adam Mortara, the lead trial counsel for SFFA, told me that he thinks this additional score is a much better tool for capturing what he called "true diversity" in students, without factoring in race in a way that SFFA believes disadvantages Asian students. If SFFA is able to bring its case to the Supreme Court and win, he thinks this tool could help schools with less well-resourced admissions offices make holistic, non-race-based admissions decisions less labor-intensive by providing a pre-calculated number.
"No one is better placed than the College Board to do something like this, because the College Board has so much information about the applicant," Mortara said. And as some colleges have started making standardized tests optional for admission, he also sees the move as an attempt to get people back on board. "It's just a good marketplace response to say no, [you should] continue to use the SAT to get more information."
In the end, the College Board is in the business of selling things: the SAT, the SAT subject tests, and test-prep books. The college-preparation agency Top Tier Admissions says that it is "not convinced the College Board has anything besides its own business interests in mind." David Coleman is aware of this skepticism, but he said that he's heartened by the actual outcomes. He noted that Yale, one of the pilot-program participants, reported that it was able to admit more Pell Grant–eligible students than in past years.
"Those kind of results to me are what really matters in all of this. We are beginning to help admissions officers find talent that was previously unseen to them, because that was the originating mission of the College Board," Coleman said. "And I think the College Board is trying to take seriously the claim that SAT scores alone don't do that. But seen in context, they could be powerful."
This piece has been updated to clarify the source of the data that go into the disadvantage level.