Elizabeth Warren Wants College to Be Free
The Democratic presidential hopeful has proposed canceling outstanding loans and making public college tuition-free—and she has an idea for how to pay for it.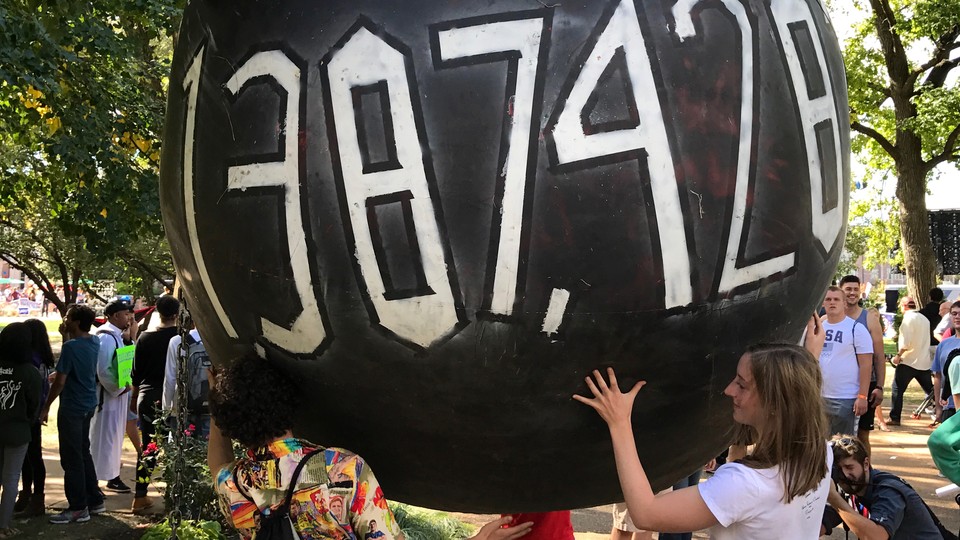 Student debt is a crisis, for students and for graduates living with debt. There's near-universal bipartisan agreement that reform is desperately needed, but almost as much disagreement about what, exactly, to do about it. On Monday, Senator Elizabeth Warren, one of the Democratic hopefuls vying for the White House in 2020, released a comprehensive college-affordability plan that she believes could fix a fundamentally flawed system of paying for college.
In a Medium post, Warren criticized the government's hands-off approach as affordable access to America's universities declined. "Rather than stepping in to hold states accountable, or to pick up more of the tab and keep costs reasonable, the federal government went with a third option: pushing families that can't afford to pay the outrageous costs of higher education towards taking out loans," she wrote in the post. To remedy this, she is calling for a series of ambitious proposals, including the cancellation of student debt, universal free public college, and greater support for minority and low-income students. Of course, Warren is not the first politician to call for any of these policies specifically, but the details of her plan separate her reform package from the pack; she plans to pay for it with her "ultra-millionaire tax"—an annual 2 percent tax on families with $50 million or more in wealth. Critics of a wealth tax argue that it would be difficult to implement—accounting for assets such as antiques or land poses considerable difficulties—and that it would lead to more aggressive tax avoidance.
Warren's plan would cancel student debt up to $50,000 for borrowers who make less than $100,000 a year. For every $3 a borrower earns yearly over that $100,000, the amount of debt forgiven would decline by $1 . "So, for example, a person with a household income of $130,000 gets $40,000 in cancellation, while a person with household income of $160,000 gets $30,000 in cancellation," she wrote. Those who earn more than $250,000 a year would not be eligible for any debt cancellation, and the cancellation for borrowers who do receive it would not be treated as taxable income.
Lindsey Burke, the director of the Center for Education Policy at the Heritage Foundation, a conservative think tank, worries about the effects of a debt-cancellation policy on tuition. "Universities will continue to do what they've been able to do for decades, and that's increase tuition, because they [will] know there are policies like debt-cancellation and loan forgiveness," she says. "They enable universities to be as profligate as they always have been."
What about those borrowers who have already paid off their loans? Warren's plan, like other debt-cancellation plans that have been floated in recent years, is targeted to help those who need it most, and that's a good start to addressing the debt that borrowers have already amassed, Tiffany Jones, the director of higher-education policy at the Education Trust, a nonprofit focused on education equity, told me. One potential weak point, however, is that the proposal focuses on income rather than wealth. When the racial-wealth gap is accounted for, targeting would need to be more specific than in Warren's proposed policy in order to help those who truly need debt cancellation the most. That's why, she added, it is heartening to see this proposal coupled with one that targets aid to historically black colleges and other minority-serving institutions.
Research has shown that student debt has devastating effects on black students in particular, and Democratic candidates have discussed that outsize debt burden as they've focused on historically black colleges and universities this election cycle in the hope of ginning up support among black voters. But Warren's plan offers one thing that has yet to be promised to the black colleges in a significant way: money.
"For decades, Black Americans were kept out of higher education by virtue of overtly discriminatory policies," Warren wrote. "Even as the civil rights movement rolled back racially discriminatory admissions policies, the stratification of our higher education system kept students of color concentrated in under-resourced institutions and left them vulnerable to predatory actors." She hopes to create a fund of at least $50 billion to help HBCUs, which have historically been underfunded, as well as other minority-serving institutions—such as Hispanic-serving institutions and tribal colleges—spend as much money on each of their students as predominantly white institutions do.
The glue that holds Warren's plan together for the future, however, is her universal debt-free-college proposal. It has been a part of her higher-education platform for the past several years, and as I wrote in February, a free-college proposal—or an explanation for why they do not have one—is practically an entry fee for the 2020 election for Democratic candidates. Warren proposes that the federal government commit to investing in higher education at a level that, coupled with state spending, would make public two- and four-year colleges tuition-free. She would also expand the Pell Grant program to address additional living expenses associated with college.
Randi Weingarten, the president of the American Federation of Teachers, said Warren's package of proposals would be "as consequential as the GI Bill," and more equitably distributed. But it will be difficult to gin up the type of support necessary for this legislation to pass without the House, Senate, and White House all being in Democratic control. Even then, there may be disagreements about exactly how the proposal is targeted. Though a lot would have to happen in order for these policies to ever take effect, Warren is, so far, setting the bar for the most radical reimagining of higher education among the Democrats in the 2020 race.