Trump's Redundant Executive Order on Campus Speech
The president's much-anticipated directive doesn't do much.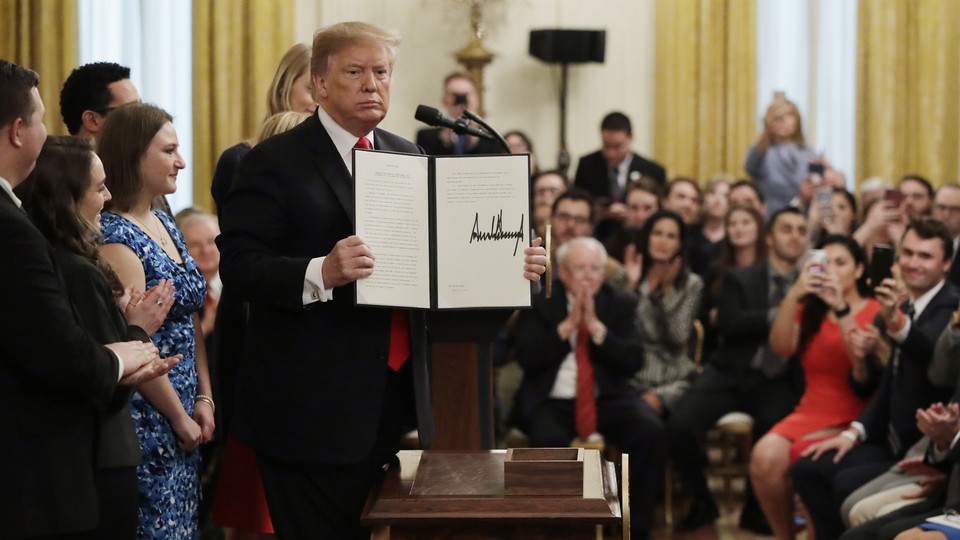 President Donald Trump had not yet been in office for one month when he took to Twitter to scold a college. "If U.C. Berkeley does not allow free speech and practices violence on innocent people with a different point of view," he wrote, "NO FEDERAL FUNDS?" The tweet was in response to protests at the institution, and it worried college leaders—not least because as a candidate, Trump was rather reserved in higher-education-policy specifics.
On Thursday, Trump took action along the lines he set out in that early tweet, signing an executive order directing federal agencies to "take appropriate steps" to make sure that colleges receiving research funding from the federal government are promoting "free inquiry." But the order essentially asks colleges to do what they're already required by law to do, and it is still unclear whether there will be any enhanced policing of colleges by federal agencies as a result. The order does not have any impact on federal student-aid programs.
"Taxpayer dollars should not subsidize anti–First Amendment institutions," President Trump said Thursday afternoon during a signing ceremony in the East Room of the White House. "Universities that want taxpayer dollars should promote free speech, not silence free speech," he said, adding that "if a college or university does not let you speak, we will not give them money." The president's speech was a restatement of what has become a common Republican criticism of higher education. And in that way, more than being a significant policy change, the order is red meat for Trump's base.
In many ways, the administration has been taking direct action on campus speech for a long time. Since Jeff Sessions was attorney general, the administration has intervened in several campus-speech cases, at Georgia Gwinnett College, the University of Michigan, and others. And members of the Justice Department have, time and again, decried the "heckler's veto" when speakers have been shouted down or disinvited due to protest.
But most of what the executive order does is reinforce what colleges and universities are already doing, Jacqueline Pfeffer Merrill, the director of the Campus Free Expression Project at the Bipartisan Policy Center, told me before the signing. "Colleges and universities are really the best stewards of free expression and academic exchange," she said. And hopefully, if anything, this is a moment for colleges and universities to reaffirm that commitment to free speech.
At least one portion of the order is likely to see bipartisan praise: The order has colleges reporting outcome data—earnings averages, student-loan debt, default rates, etc.—for specific programs. The Department of Education will publish that data in the College Scorecard, a government site that allows students and parents to compare the cost and value of colleges. Last week, members of Congress reintroduced the College Transparency Act, which would establish a system that would report more robust information on college-completion outcomes, student earnings, and debt.
The Department of Education had previously suggested that it would consider publishing some of this information in the College Scorecard, but the executive order reinforces that commitment, Amy Laitinen, the director of higher-education policy at New America, told me. Still, she said, "the president can push the agency to commit to the College Scorecard, but there's not much it can do to make colleges report new information." That would likely require legislation.
In a statement, Senator Lamar Alexander, a Republican from Tennessee and the chair of the Senate Committee on Health, Education, Labor, and Pensions, applauded most of Trump's executive order, but, as a former college president, he added a note of caution. "I don't want to see Congress or the president or the department of anything creating speech codes to define what you can say on campus," he said. He agreed that colleges should stop "coddling students to protect them from disagreeable views," but added that "conservatives don't like it when judges try to write laws, and conservatives should not like it when legislators and agencies try to rewrite the Constitution."