4 Myths Fueling the Fight Over NYC's Exclusive High Schools
Year after year, Stuyvesant High has abysmal enrollment rates for black and Latino students. But the debate over admissions reform is brimming with misunderstandings.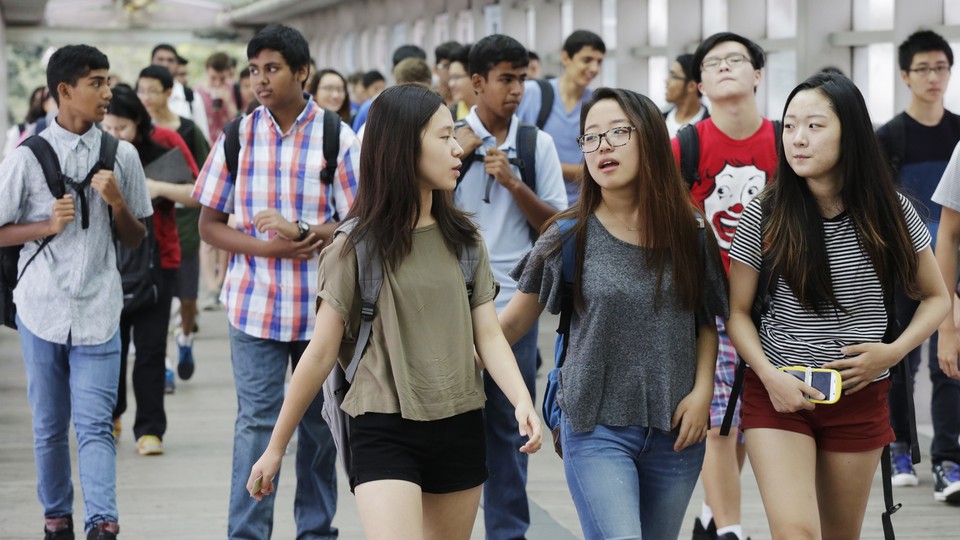 On Monday, another admissions scandal injected a new dose of disillusionment into the already disillusioned world of elite education. This time the revelations concern not higher education, but Stuyvesant High and New York City's other elite public high schools. Of the 895 current eighth graders who secured a spot in next year's Stuyvesant freshman class, just seven identify as African American.
Every year, reports show abysmally low numbers of black or Latino students at all eight of the city's elite specialized high schools whose admissions rely solely on a standardized exam. City officials including Mayor Bill de Blasio have led an ongoing, multifaceted effort to solve the problem through recruitment initiatives and a summer enrichment program designed to shepherd low-income youth into the rigorous institutions, but enrollment numbers remain disappointing.
De Blasio and his relatively new schools chancellor, Richard Carranza, last year proposed a plan that would set aside a percentage of specialized-school seats to disadvantaged students who participate in the summer enrichment course but who score just below the cutoff on the entrance exam. It's hard to say how it will play out, however, because of a lawsuit spearheaded by a cadre of largely Chinese American activists that accuses the city of racial discrimination. The complaint alleges that the plan, if implemented, would reduce the proportion of Asian American students who attend these schools, depriving highly qualified, disadvantaged kids of the opportunity to live up to their potential. The issue of diversity at NYC's elite schools is full of disagreement over the merits of the current system, the sources of the disparities, and what effective solutions might be—but it is also full of misunderstandings. Accurately describing the problem requires dispelling several myths.
---
Myth 1: Opposition to the specialized-school reforms is part of an Asian American crusade to crack down on race-conscious admissions.
As is the case at most elite colleges in the United States, Asian American students are substantially overrepresented at most of the elite public high schools in New York City. Roughly three in four students currently enrolled at Stuyvesant High School identify as Asian American, for example, dramatically eclipsing all other racial groups; their African American and Latino peers account for an almost nonexistent slice of the school's population. What's especially striking is how acutely the racial distributions at elite institutions such as Stuyvesant or Harvard University clash with their surrounding communities—even when considering the soaring numbers of Asian Americans across the country. In 2017, 22 percent of Harvard's admitted class identified as Asian American, compared with 5 percent of the country at large; in New York City, residents who are identified with this racial group make up a larger but still modest 15 percent of residents.
A pending lawsuit accusing Harvard's admissions process of discriminating against Asian American students has created a national platform for a network of predominantly Chinese American activists who are against affirmative action, many of whom are also involved in the suit against the specialized high schools. With the allegation that race-conscious admissions practices are hurting a minority group they were designed to serve, the group has gained traction among the mainstream public. But polling data and court filings indicate that many if not most Asian Americans support race-conscious admissions policies.
Yet this opposition to affirmative-action policies in college and high-school admissions is often portrayed by activists, politicians, and the media as a social-justice battle endorsed by or on behalf of all Asian Americans, rather than a niche faction. This portrayal treats Asian Americans as a monolith, and feeds into stereotypes that they are the "model minority." Notably, surveying Americans of Asian descent, a 2012 Pew poll found that just one in five respondents most often describe themselves as "Asian American" or "Asian"; a majority, meanwhile, said they typically reference themselves using their country of origin—"Mongolian American," for example, or "Pakistani."
The population referred to sweepingly as "Asian American" comprises more than 30 nationalities and ethnic groups: from Chinese and Cambodian to Burmese and Bangladeshi. The immigration experiences, political ideologies, and amounts of social capital are just as diverse—both among the various groups and within them. For instance, Chinese Americans whose ancestors immigrated to the U.S. in the 1800s as manual laborers tend to have very different stories and values than Chinese Americans who immigrated to the country in the 1980s and '90s to fill white-collar jobs. These nuances help explain why some Asian American groups boast superlative levels of educational attainment while others amount to some of the country's lowest performers. Close to three-fourths of Indian Americans ages 25 or older had a bachelor's degree in 2015, according to Pew data; meanwhile, the same was true for fewer than one in 10 of their Bhutanese American counterparts.
New York City—which in the past few decades has witnessed a rising share of majority-Asian neighborhoods, whose residents tend to be foreign-born—is an object lesson in this variation. An analysis of 2010 census data by an NYU-based urban-policy think tank found that the city's majority-Asian neighborhoods are more economically depressed than those of most other racial distributions: Their average household income of less than $52,000, for example, was less than that of majority-black neighborhoods. That same report found that fewer than a quarter of the adults (25 years or older) living in the majority-Asian neighborhoods at the time had a bachelor's degree or higher.
Myth 2: Reforming the high-school admissions process will solve the diversity problem.
The bare-bones admissions policy for the city's eight exam-based, elite public high schools has hardly changed in a half century: A student's score on a standardized test is the single deciding factor for whether she's accepted; each school has its own confidential cutoff score, though Stuyvesant is widely thought to be the most selective. Neither a student's grades nor her previous teachers' recommendations have a bearing on the decision.
The city has experimented with a string of work-arounds, such as programs that provide exam prep to low-income students and ensure ample test-taking opportunities at underrepresented middle schools. One of de Blasio and Carranza's latest proposals would basically earmark admission to low-income students who meet a set of rigorous criteria; another would eliminate the test altogether. Opponents argue that in guaranteeing objectivity, the status quo is the only admissions system that protects everyone's civil rights.
In a court filing responding to the complaint, the city maintains that the model it proposes would have a negligible impact on Asian American representation at the eight schools. Instead, the city argues that by proactively promoting socioeconomic diversity, its plan would elevate the prospects of students of all races—benefiting low-income Asian students just as much as their similarly disadvantaged black and Latino peers. Most of the Asian American students enrolled in the specialized schools are low-income, according to Doug Cohen, a district spokesperson; an earlier district report also indicates that the schools' Asian American populations tend to be poorer than their classmates of most other racial groups.
"Opponents who seek continued reliance on standardized tests are out of step with the growing body of evidence that confirms that these tests are infected with racial bias and poor predictors of a student's academic potential," said Kristen Clarke of the Lawyers' Committee for Civil Rights Under Law, in a press release Tuesday.
But research has shown that measures to expand high-school admissions criteria beyond standardized tests, to include metrics such as grades or attendance records, would hardly ameliorate the diversity problem. A 2015 study co-authored by the education economist Sean Corcoran, for example, found that an admissions system based on expanded criteria would do very little to enhance minority representation at the schools. Elite high schools' limited diversity seems to stem from the earliest stages of children's education—and even from their experiences predating kindergarten. The study describes, for instance, the often biased decisions in elementary and middle school around whom to sort into gifted-and-talented programs or relegate to special-needs classrooms. Reforming high-school admissions can only do so much if they don't tackle the myriad factors that play into a child's success before that child applies to high school.
Myth 3: The ultimate goal is making NYC's specialized schools representative of the city's racial balance.
Even if Stuyvesant, Queens High School for the Sciences, and Staten Island Technical High—the latter of which has a single black student in its most recent admitted class—transformed into bastions of educational egalitarianism, one major problem would remain: These elite campuses serve just 6 percent of NYC's public-high-school population.
The tiered public-school system isn't inherently unjust because it creates a hierarchy, argued Pawan Dhingra, a sociologist and American-studies professor at Amherst College, in an email. Rather, a hierarchical system is unjust if each school's quality correlates in some way with the background of students who attend it—their race, their class, their gender, their immigration status, their cognitive abilities. Every student should have access to both high-caliber instruction and specialized curricula, said Dhingra, who has researched the tendency to conflate Asian Americans with white Americans when it comes to education and economic mobility.
In New York City, the non-elite public schools vary greatly in quality; few students are guaranteed customized learning opportunities. Thanks mostly to its largest metropolis, New York State is home to the most segregated school system in the United States, as my colleague Adam Harris has reported. This is the result of historically entrenched biases, gentrification, zoning laws, and school policies that disproportionately slot kids from privileged backgrounds into gifted-and-talented programs and their disadvantaged peers into special-needs classes.
New York City is thus a case study in the unfortunate truth that in the United States, one's zip code is often her destiny. Nineteenth-century policymakers had various reasons for establishing a national network of public schools. But scholars tend to agree that the American educational system was in large part designed—and is today explicitly tasked— with the goal of promoting a healthy democracy by ensuring color- and class-blind opportunity. All too often, the opposite is true.
Myth 4: Specialized schools are causing inequality.
For all the trouble with the specialized schools, eliminating them wouldn't do much to make education in NYC more egalitarian. A ban on selective public high schools wouldn't eradicate the legacy of racism; it wouldn't address housing segregation; it wouldn't fix the sorting system that filters through earlier grade levels.
Stuyvensant's abysmal enrollment numbers of black and Latino youth are evidence that its admissions process is broken. But it is far from the only school where such problems occur. Elite university admissions are similarly disintegrating. And the students fighting for admission in these dysfunctional systems are often at a disadvantage because of opportunity gaps that started long before they set foot in a school for the first time.