Not That Kind of Girl
In her influential 1959 Atlantic article, "Sex and the College Girl," Nora Johnson predicted that young, educated women pursuing expansive new opportunities would likely end up disappointed. She spent the rest of her life finding out what could happen instead.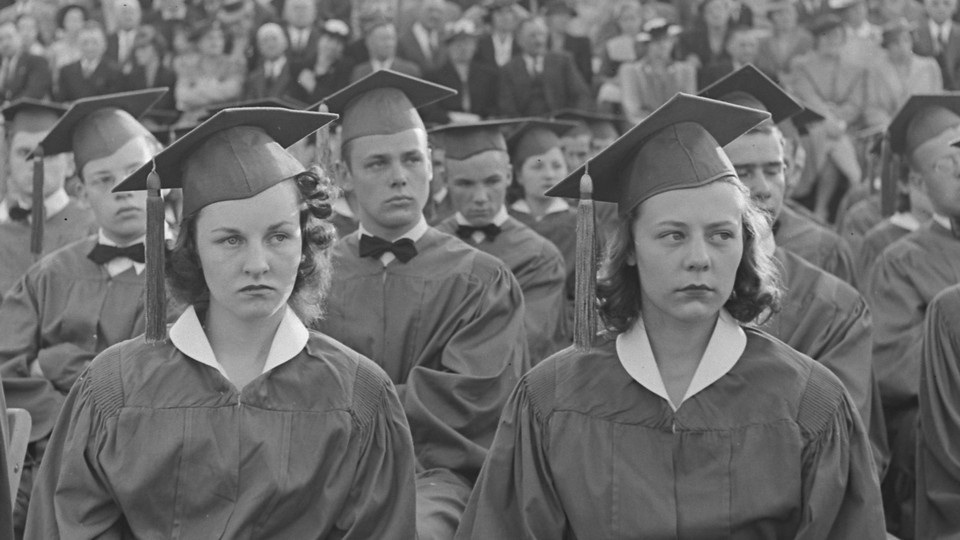 Every few years, new concerns bloom about the changing ways young people are approaching relationships, from the stigmatized early years of online dating in the 1990s and 2000s to the panic over campus hookup culture in the early 2010s to the dawning concern that rather than having too much sex, Millennials aren't having enough. Many young people are now experiencing a sex recession, my colleague Kate Julian wrote for the cover of this magazine in December.
But long before Tinder or Match.com were founded, and even before most universities went coed, the seeds of these ideas were planted in another Atlantic article: Nora Johnson's influential "Sex and the College Girl." Written in 1959, the article captured a snapshot of college romance on the lip of the sexual revolution and the second-wave feminist movement: Young women were pulling back from romantic commitment and domestic life to explore their options; young men were left bewildered and resentful as their relationships shifted in turn.
Johnson framed the moment not as one of ecstatic liberation, but rather as an uncertain and sometimes overwhelming introduction of possibility for female students. She observed educated women navigating a convoluted path of desire, respect, security, and shame in pursuit of the dream of a full life: "a husband, a career, community work, children, and the rest." Only an exceptional few could achieve that life without sacrificing personal or professional goals along the way, she predicted. For many of the rest of them, this pursuit would end in "an ulcer, a divorce, a psychiatrist, or deep disappointment"; and for some of them, those who were put off by the apparent futility of trying to balance all the expansive possibilities, "the most confining kind of domestic life." Without the "moral generalizations" of her grandmother's era, Johnson's college girl was left to forge ahead toward those difficult choices with more subjective, and personal, judgment—carrying "her belief in herself," or what she calls the "modern version" of herself, forward into the unknown.
Johnson wrote "Sex and the College Girl" when she was 26, just five years after graduating from Smith. Though young, she was already beginning to establish herself as an author. She'd grown up as the daughter of a Hollywood filmmaker, surrounded by "an encampment of storytellers," as she later recalled, and had published her first and ultimately most successful novel, The World of Henry Orient, a year earlier. Like "Sex and the College Girl," the book drew on her own experiences as a student, fictionalizing the crush she and a friend had nursed for an actor-musician while they were in high school.
As Johnson grew older, the subjects of her writing generally did too, maturing as the decades wore on from students navigating the college dating scene to married couples to divorcées to aging lovers. But though the characters changed, the sense of uncertain possibility she described in "Sex and the College Girl" remained—sometimes joyful, sometimes dutiful, sometimes onerous, but never entirely gone. Johnson's love stories, told in an era of expanding female choices, were weighted with the consciousness of them.
In "Sex and the College Girl," the choices were myriad, novel, and full of potentially far-reaching consequences. Female students faced decisions about who to date, what to offer physically and emotionally, and how much to hold in reserve for how long. Beyond that immediate horizon stretched a broader array of opportunities and potential pitfalls: children, careers, and all of the self-betterment and intellectual rigor their educations were preparing them for. Commitment and marriage, in a sense, presented an out—a sense of certainty, a solid support system. "Joe has a future," Johnson wrote. "He knows exactly what he is going to do after graduation … The decision about [the college girl's] life keeps her awake at night, but when she is with Joe things make more sense."
Two years later, in "The Captivity of Marriage," Johnson described the constrained choices of the women who stuck with their Joes. Now juggling the responsibilities of raising children, keeping a house, and engaging in "community or P.T.A. work of some kind," married women "feel … like a pie with not enough pieces to go around," Johnson wrote. But the new responsibilities and family and community ties did not put the "undefined dreams" of their younger years to rest; instead, the wife and mother "vaguely feels that she is frittering away her days and that a half-defined but important part of her ability is lying about unused." That feeling of dissatisfaction, Johnson observed, was coupled with the lingering "quality of excitement that comes from strangeness and the idealization of still-unknown experience" that made the concept of sex with an unfamiliar partner attractive. But those choices, which would take women away from their husbands and children, were now taboo. In their place were new choices, more limited but still unfamiliar and consequential. "Choosing a house and everything that goes into it, and a school, and a competent doctor are decisions that the young mother makes without adequate knowledge," Johnson wrote, "and she can ill afford mistakes."
She described the fallout from one error in judgment a year later in "A Marriage on the Rocks," an article published in the July 1962 issue of The Atlantic. "The moment when it first becomes apparent that one's marriage was a mistake," she opened the piece, "is the beginning of probably the longest, darkest period in the human lifetime." She chronicled the slow fracturing of a union that, to the college girl, had carried a promise of lifelong certainty in an otherwise unknown future. Unhappiness settled in and grew unbearable as the relationship devolved into "the endless opening of wounds … capitulating one's beliefs … [and] adjusting oneself to the dismal and baneful workable compromise." But choosing to break free of  that unhappiness meant exchanging it for a new, unknown one, defined by a sudden and "terrible feeling of having no one around on whom to blame everything."
Johnson expressed the frustration of seeing a marriage fail while knowing that, with the newly available options for women to marry for love and to define more aspects of their life and work, "all of us ... have the potential to become the greatest lovers on earth." She wondered: "All this freedom and opportunity are breathtaking. Do we deserve them, and can we possibly live up to their obligations?"
Divorce loomed large in Johnson's life. Her parents' marriage ended when she was 6 years old, and they moved to separate coasts, leaving Johnson to shuttle back and forth between her mother's New York home and her father's star-studded Hollywood life for much of her childhood and adolescence. "My heart begins to tear, a long ragged rent which I have spent my life trying to mend," she reflected in her 1982 memoir You Can Go Home Again, looking back on the dissolution of her family. She recalled how her mother's attempts to become "an elegant divorced lady in a lovely house in the most exciting city in the world" transitioned into a second marriage to a possessive man who resented Nora when she returned home for a time as an adult after her own first marriage failed.
By the time she turned 32 in 1965, Johnson had already been married, divorced, and married a second time herself. In The Atlantic's June 1961 issue, in which "The Captivity of Marriage" was published, she was introduced to readers as "happily married and the mother of two daughters." When "A Marriage on the Rocks" was printed in the July 1962 issue,those details were omitted from her introduction. By the time she published You Can Go Home Again at the age of 59, her second marriage had also ended in divorce. In that sense, she fulfilled the melancholy predictions of "Sex and the College Girl" twice over.
But she had also built a successful career as a writer of novels, memoirs, articles, and, once, in collaboration her father, a movie based on The World of Henry Orient. Decades later, in an essay for The New York Times, she wrote about something she hadn't predicted: finding love again. Johnson "was a long-divorced 71"; George was 83 and "recently widowed." He became her third husband. "What astonished us," she wrote, "was that the electricity we generated was as strong and compelling as love had been 50 years before, that it scrambled the brain every bit as much. Yet more surprising was that we had a rousing and delightful sex life."
They still faced daunting choices and disappointments. At first they lived together in Florida, but they grew bored and moved to New York, only to grow bored there too, and be cold, and miss Florida. They dealt with natural disasters and health problems. They had difficult conversations. And then, seven years after they met, George died.
All Johnson's stories resist the neat closure of the happily ever after. The security that Joe seems to present in "Sex and the College Girl" proves illusory; love degrades, fractures apart, or abruptly ends. "Marriage, entered upon maturely, is the only life for most women," Johnson wrote in 1961. "But it is a way of life, not a magic bag of goodies at the end of the road." Even old age, retirement, and George, who she said "brought joy and magic to my life," don't put the uncertain possibility of other paths to rest or stave off the sting of disappointment.
But her stories also resist the closure of a final failure. The college girl grows up, gets married, gets divorced, gets married again. She makes the wrong choices and then gets to make new ones. "This, then, is what the result is for a girl who has been brought up in a world where the only real value is self-betterment," Johnson concluded in 1959. "She has had to create her own right and wrong, by trial and error and endless discussion."
This is the story that Johnson wrote again and again, for several decades, until she died in 2017: There's no happily ever after, or any ever after at all, but there's happiness. Heartbreak. Regret. Magic. Surprise. Her extraordinary work was also a life lived, and recorded in pieces, over decades of love stories.