What It's Like to Go Back to School After a Shooting
Dave Cullen's new book about the 2018 massacre in Parkland, Florida, vividly portrays the challenges of starting class again while recovering from trauma.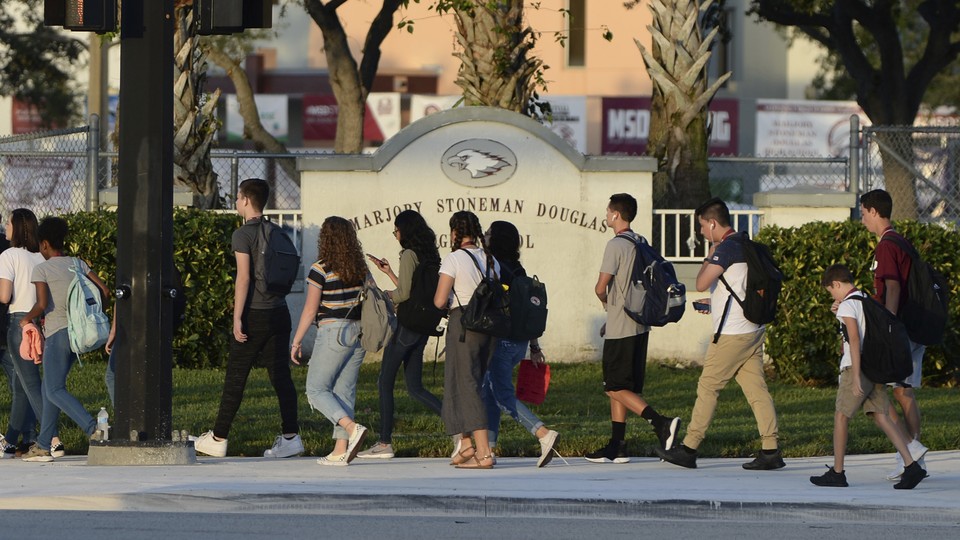 The ways in which schools and students think about the possibility of mass violence on campus changed a lot between the 1999 massacre at Columbine High School and the 2018 one at Marjory Stoneman Douglas High School. Dave Cullen's last book, 2009's acclaimed nonfiction work Columbine, chronicled the public and private lives of high-school students who survived the 1999 Columbine massacre as they grappled with the question of why this unthinkable horror had happened at their school. Cullen's newest book, Parkland—about the activism of the survivors of the February 14, 2018, attack that killed 17 students in Parkland, Florida—follows a group of students determined to not let the world forget that of course this horror had happened at their school. Why wouldn't it have? It was happening everywhere else. These students, unlike those who survived the tragedy at Columbine, grew up under the ever-looming threat of school gun violence, and then it materialized. Still, the Parkland kids' back-to-school experience looked a lot like the Columbine kids'. They missed their dead classmates; they feared more violence in their classrooms; they had to fight through post-traumatic–stress symptoms to get to calculus on time.
There's a developing set of protocols for how to handle the process of reintroducing kids to school after a shooting takes place on campus. As I reported last year, there are now "best practices" for how to reopen a school after a shooting, and that's partly because many administrators at schools where a mass shooting has taken place call the administrators of the school that had the last mass shooting to ask for advice on how to ease kids back into the school setting. It's one thing to hear about post-shooting protocols from experts, though, and quite another to see them in action through students' eyes. Parkland, reported over the course of the 10 months after the shooting, mainly focuses on the gun-reform movement that took shape after the Douglas shooting, but it also paints a vivid portrait of what going back to school after a shooting is really like for students.
Douglas students returned to class two weeks after the shooting, on February 28, but on the Sunday prior, the school held an open house. In one of the book's more heartbreaking scenes, Cullen notes how painful and scary the first reunion between students and their terrorized school can be. The high school that Sunday still felt, in some ways, like a crime scene: Helicopters hovered, capturing video of the school for TV news, and the sound of the chopper triggered anxiety and panic for some of the students who had heard the motors over their school the day of the shooting. One student notes that walking around that day, he and his friends heard a car engine go pop pop pop, "and we all started hyperventilating."
When classes did resume, though, Cullen describes a school transformed into something more like a rehab center. Classes weren't really classes at first: "So much Play-Doh, so many comfort dogs," one student, Daniel Duff, says. (The Play-Doh he found somewhat ridiculous; the comfort dogs he found wonderful.) Another student, Lauren Hogg, describes coming back to school to find "therapists literally everywhere," even in the school library. Their on-call availability, she says, was immensely helpful for students who were experiencing grief that came in waves, washing over them at unpredictable and sometimes inopportune moments.
The weeks that follow a school shooting, Cullen writes, are shaky. Students' routines resume, and many find comfort in the returning familiarity and controllability of their days, but many still experience sudden moments of fear, worry, and sadness at school. When Matt Deitsch, the older brother of two of the survivors, tells Cullen about his little sister's accounts of being at Douglas after the shooting, he says she's one of many students who get anxious when they use the bathrooms. "She says, 'Now when I go to the bathroom I think if I take a little longer to wash my hands maybe I'll survive if it happens again,' " Deitsch says. Or sometimes she'll take the long way back from lunch and wonder if this choice will save her life.
Many of the students Cullen spoke with mention the never-quite-normal presence of empty desks where students killed in the shooting used to sit. One student says sitting next to a slain friend's empty desk in classes they used to share is "when it hits [him] the worst." Another finds it haunting that during other periods of the day, "people probably sit there [in the conspicuously empty desk] and they have no idea this desk is the one we all look at in our class."
Parkland also illustrates all the tiny ways in which the memory of a shooting can find ways to disrupt students' lives even after their daily schedules and routines have long since picked back up. Before Douglas students performed their much-publicized production of the musical Spring Awakening last May, for example, their theater director had to confront the question of how, or even whether, to portray a fatal gunshot scripted into one of the final scenes. It was necessary to the plot of the show, she told Cullen, but it also seemed like an especially ghastly thing for this particular audience to have to witness. (Ultimately, the directors decided to keep the gun in the scene, but instead of a gunshot sound effect, they simply blacked out the lights.)
Throughout the rest of the school year, Cullen notes, certain events caused the student body's emotions to flare up again—and they highlight the fact that the school is full of kids who are moving forward at different speeds and in different ways. Hogg, for example, found herself crying at school in April while looking over a special edition of the school paper dedicated to the 17 victims. Other students nearby laughed at her for weeping. Many kids felt bad about enjoying springtime school events such as prom when they knew their dead classmates couldn't, while others balked at the idea of incorporating a memorial for the shooting victims into their prom event.
"Somebody brought up this idea of having something about the shooting at prom, and we were like, 'That's the worst idea you've ever come up with!' " one student told Cullen. Prom, the student added, needed to be a night when students could feel some modicum of normalcy kicking back in. In the end, prom included a 17-second silent tribute to the victims.
And graduation—"the most conflicted day" of recovery for school-shooting survivors—was a similarly fraught occasion, Cullen writes. To some seniors, it felt like a statement of strength, of fortitude in the face of tragedy. To others, moving forward into their college and adult years without their fallen classmates felt unfair.
Most of how Marjory Stoneman Douglas High School handled the aftermath of the shooting last February, it's worth noting, tracks closely with what experts consider to be best practices, such as the open-house event before classes resume, the many counselors and therapy dogs stationed all over the building or campus, the slow easing back into academics in the classroom, and the heads-up to teachers that kids will be moody or upset or weeping on particular days for the rest of the school year. Cullen's Parkland offers a rare and vital glimpse into what all these measures look like in action—and a reminder that no matter how many active-shooter trainings or lockdown drills have been implemented, no matter how many school-reopening protocols are in place, these tragedies cannot be prepared for before they happen or quickly resolved after they do.