What Do Students Do When a For-Profit College Closes?
Unfortunately, they may not be able to do much.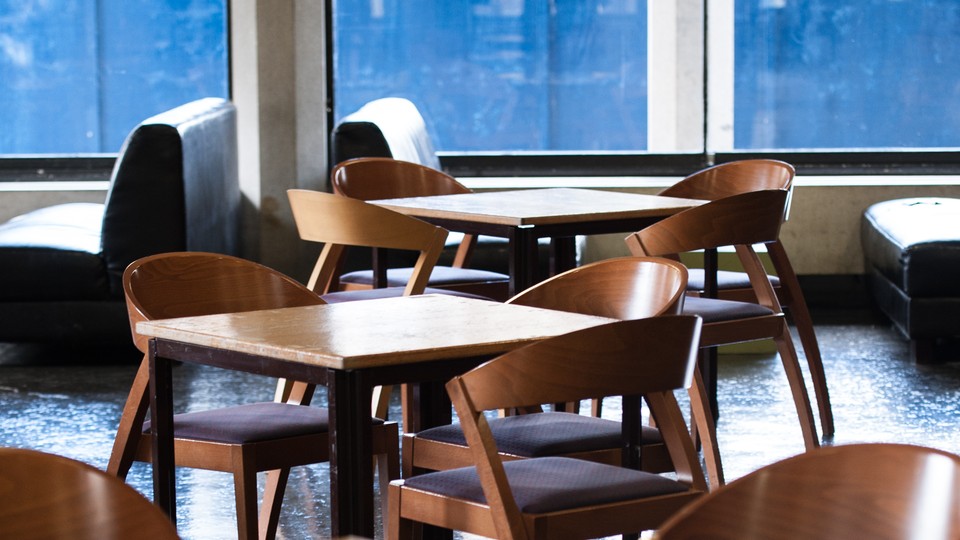 Jasmine Lee had finally found something she was happy with and wanted to pursue. She had been working as a medical assistant at an orthopedic center, and she was enjoying it. But she wanted more. So she figured she should check out the certificate program at Virginia College in Birmingham, where she works.
"I'm just trying to better myself, and provide a better life for my kids," Lee, the 23-year-old mother of two, told me. Last summer, she decided to enroll. She applied to the medical-assistant certificate program, got accepted, and found out she was eligible for the financial aid. Everything happened very fast, she said.
"They quickly had me signing up, they quickly had me trying to take a test," she told me. She told her enrollment adviser that she wanted to start in August—it would be best for her job—but he advised her that the tuition would go up a significant amount soon, and if she started in July, she could "lock in" the current rate. According to the Virginia College website, tuition and fees for the nine-month certificate program were $16,750. A comparable program at the local community college in Birmingham costs roughly 10 percent of that.
Once she started, Lee enjoyed the program. The people—teachers and staff included—seemed to actually care about the students. "I was getting good grades, I had a good GPA, I found out I was on the dean's list," she said. And then, on Wednesday, the school's parent company, Education Corporation of America, announced that on Friday it would close all of its campuses nationwide. And Lee, five months into her nine-month program, will likely never receive the certificate she has sunk both time and money into.
Lee is one of the more than 19,000 students affected by the abrupt closure of Education Corporation of America, one of the country's largest private for-profit college operators, which runs Virginia College, Brightwood College, Brightwood Career Institute, Ecotech Institute, and Golf Academy of America. The for-profit operator had been in a precarious position for some time, given a pending loss of accreditation and access to federal financial-aid funds. In a letter to students on Wednesday, Stu Reed, the CEO of Education Corporation of America, said, "It is with extreme regret that this series of recent circumstances has forced us to discontinue the operations of our schools." The company had tried to "dramatically restructure" itself, including campus closures over time. But the outside pressures, it argued, were too powerful, and it had to accelerate the process of closing schools. But until then, students, by and large, were unaware that the problems were that severe. ECA did not immediately respond to a request for comment from The Atlantic.
There have been a handful of closures of major for-profit operators over the past few years, most notably the closure of Corinthian Colleges in 2015 and ITT Technical Institute in 2016. In each of these cases, there were thousands of real people, like Lee, who were left wondering how to pick up the pieces after they'd invested valuable resources into an education that suddenly disappeared.
When a college closes abruptly, students can often have their federal student loans discharged, Toby Merrill, the director of the Project on Predatory Student Lending at Harvard, told me. But that doesn't happen automatically, she says, and students have to apply to receive the funds. Typically, after they apply, the discharge takes roughly a month or two. Historically only a fraction of students who were eligible for such discharges have ever received them. However, the Department of Education recently changed its policies to provide automatic loan cancellation to all eligible students, as long as they do not enroll in another program that uses federal financial aid within three years.
But even though students may be eligible to get their loans discharged, Lee says, they are unlikely to get any credit for the work they've already done, and that doesn't account for the money they spent out of their own pocket. "Signing up for school, they were telling us that a lot of schools do not take their credits," Lee told me. But she figured it would be worth it because if she finished school there, the credential would follow her for life. Now that the school is closed, though, the consequences of this are more readily apparent: She can't transfer into another program and would likely have to start from scratch. "I've missed out on five months of things with my kids to be in school," she says. "I only had four more months to go." And to have that rug pulled out from under her is "discouraging."
Local community colleges and technical colleges will often try to step in to help students who have been affected by the closures, but their hands are tied in terms of what credits they can allow to be transferred over, Trace Urdan, a managing director at Tyton Partners, a higher-education consulting firm, told me. Since many of the credentials—including certificates—offered by the colleges are essentially one long course broken apart, most regionally accredited colleges can't use the credits. It's like taking half of a calculus course, he said.
Lee and other students in the medical-assistant program at Virginia College were still encouraged to take their final exam on Thursday evening. Lee went to class, hoping to learn more about what would happen to the students and their credits. On Friday, she told me that the school had suggested two institutions that may accept their credits. "But the classes are different," she said, "so the ones who were at the end [of the program] may have to take another class or two."
All of this is happening to a student body not well equipped to weather major setbacks. Statistically, students at for-profit colleges are more likely to be low-income than those at other institutions, and are less likely to have the resources to draw on to be able to come up with a good Plan B. And so they'll end this year a little older, maybe a little wiser, and with even fewer options than they had when they started.