'We Don't Want to Live a Long Life in Fear'
A mass shooting just two days after the midterm elections has motivated the young gun-reform activists of March for Our Lives to continue their mission.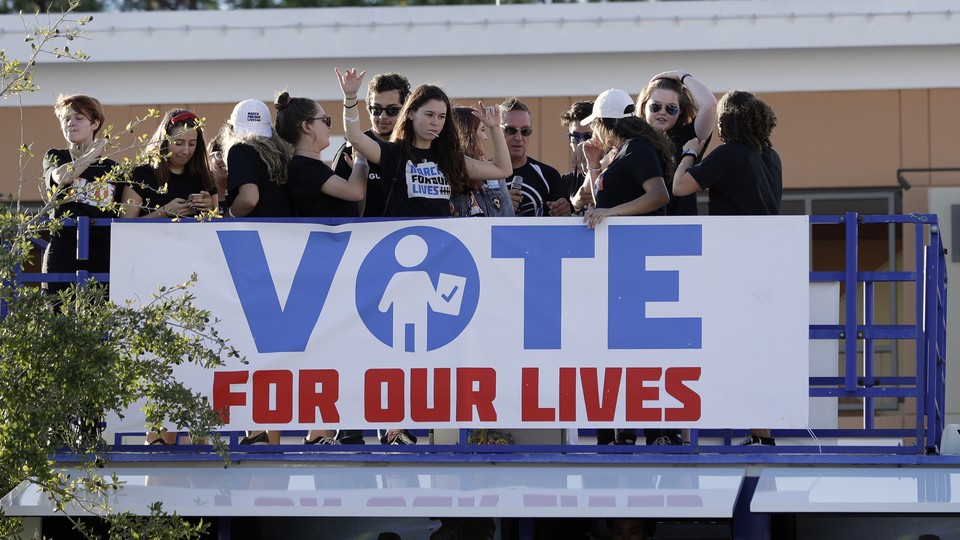 The past few months have been busy for the student activists of March for Our Lives, an advocacy group founded after a gunman killed 17 people at a Parkland, Florida, high school earlier this year. In anticipation of the midterm elections, organizers toured the country encouraging young people to vote for candidates who support stricter gun-control laws. That didn't quite pan out exactly the way they had hoped on Tuesday night, as their favored Senate and gubernatorial candidates in Florida didn't win outright, and those elections are currently still being contested.
And then two days after the election, they woke up to yet another mass shooting, as at least 13 people were gunned down during college night at the Borderline Bar and Grill in Thousand Oaks, California, which was frequented by students from the nearby Pepperdine University, California Lutheran College, and California State University Channel Islands.
Matt Deitsch, the older brother of two Parkland survivors and a member of the Marjory Stoneman Douglas High School class of 2016, is the chief strategist for and one of the founders of March for Our Lives. He spoke with me on Thursday about what happened in Thousand Oaks, the push March for Our Lives has been making for stricter gun control, and how the group plans on responding to the latest shooting.
---
Natalie Escobar: I want to start off by acknowledging that today must be hard. Could you tell me about what's on your mind?
Matt Deitsch: I had a thought of being back to those horrific moments [right after I learned about the shooting at Marjory Stoneman Douglas]. I also thought about how before the midterm elections, politicians were talking about things that weren't really a threat to American citizens [instead of talking about gun violence], and now after the election, mass shooters are still in the headlines. We've had over 300 this year, and it's not going to slow down until we do something about it. I think now we have a Congress that will at least potentially take the conversation beyond where it's stalled for so long.
Escobar: Reportedly, two of the people at the bar last night were there celebrating their 21st birthday—that detail hit a lot of us in the newsroom pretty hard. It's supposed to be a milestone of adulthood, and I'm wondering if you think that how young people feel about coming of age has changed at all in a time when events like this keep happening.
Deitsch: We understand that we have a long life ahead of us, and we don't want to live a long life in fear. And so we're going to do something to stop this horror. I turned 21 last month. We hear about all the young people with so much potential gunned down, and we have to stop it, because the future is suffering and our youth are traumatized.
Escobar: March for Our Lives has recently been focused on the midterms and getting young people to the polls. What was your Election Day like? Can you tell me about the things you were doing in the hours before results came in?
Deitsch: A week and a half before the election, we did a tour of 25 colleges around the country. We came to Parkland for Election Day, and we created a "war room" with local students. In the war room, we set up a phone bank and called 18-to-21-year-olds across the state of Florida, and we made over 9,000 phone calls in one day. Then we went to a viewing party at night. The Florida numbers weren't surprising, but it definitely reminded us where we are in Florida. The youth turnout was the highest it has ever been in American history, so it's a huge step in the right direction.
Escobar: Are the election results going to change your strategy at all? What are you planning next?
Deitsch: Our organization has never really been candidate-centric or policy-centric. We hope to expand the electorate of the people who care about this issue, and understand the urgency of putting this issue first. We're going to keep doing what we're doing and create a blueprint for young people to have more of a force in the electoral process. Elected officials now know that they're going to need young people to win these close races.
Escobar: I'm wondering what you observed in your Parkland community on the night of the election and if you've seen people change since February.
Deitsch: There's a reason it takes you three times voting to become a lifetime voter, because you understand the wins and the losses and what's necessary to be a part of the system, to feel your own power. I think Parkland is starting to see its own power. I felt really hopeful, and there's so much to celebrate.