Refusing to Put Fear at the Center of Jewish Identity
Students in Pittsburgh must grapple with the realization that there are people who hate them for their religion.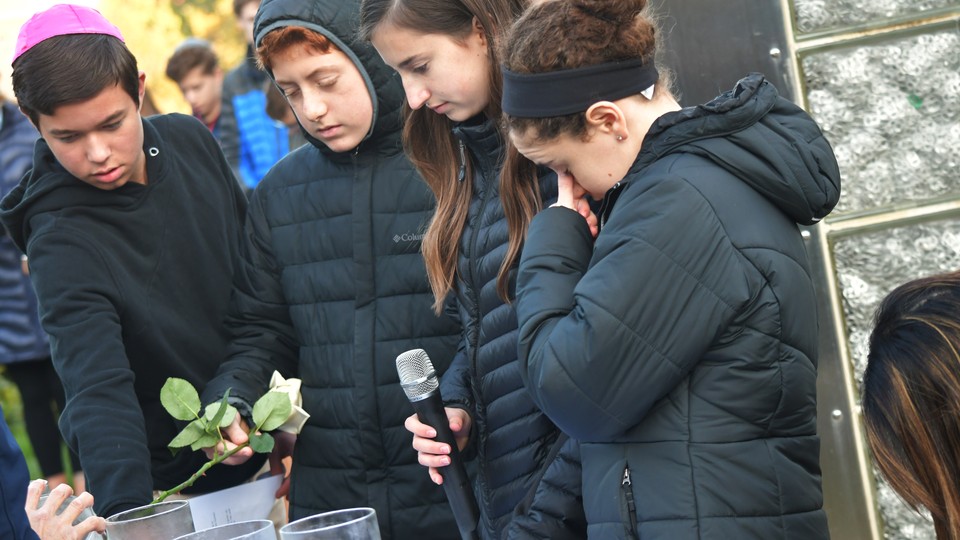 PITTSBURGH—In so many other towns, schools have been the targets of choice for people who want to commit acts of violence. The Tree of Life synagogue, where a shooter killed 11 congregants and injured two others on Saturday, is a little more than a mile from Community Day School, a pluralistic Jewish school for kids ages 3 through eighth grade. The two communities are intimately connected: A number of the students' families are members at Tree of Life; the middle schoolers have attended a morning prayer service, or minyan, there once a week for several years. This week, as students went back to school, the older kids were thinking, "This could have been me. I go there all the time," says Avi Baran Munro, the head of the school.
For many of these kids, anti-Semitism is a concept from history class, Baran Munro told me. They learn about the conditions that led to the Holocaust and longtime patterns of discrimination against Jews.(Their curriculum isn't exclusively focused on Jews, and also includes units on other forms of bigotry, such as racism, segregation, and anti-immigrant sentiment, Baran Munro noted.) "But they feel safe in America as Jews, and they feel safe in Pittsburgh as Jews," she said. "They know it hasn't gone away. But they don't have examples." She paused. "Which, now they do."
[Read: How will Pittsburgh's Jews translate tragedy into action?]
But at this school, the educators are determined to not let fear become a cornerstone of their students' Jewish identity. In fact, they are doing what they can to prevent that. Schools, and particularly Jewish schools, may feel like especially unsafe places right now. But Baran Munro said she believes they are no more vulnerable this week than last, in part based on her conversations with the authorities. "I don't think the risk is higher today than it was last Friday," she said on Monday, the first day back. But, she added, "I think the awareness of what could happen is higher."
Fear has always been part of the vocabulary of Jewish life, but in the United States, it hasn't necessarily been as tangible as it is in Israel or countries in Europe. ("Israeli parents, in particular, are very sensitive to the fact that we have open playgrounds and open fields," Baran Munro said. "In Israel, the schools are fortresses.") As Jews have assimilated into American society, many communities have focused on constructing a positive identity based on values and heritage, rather than a negative one based on a sense of persecution.
Particularly over the past several years, though, fear and anxiety have inflected the conversations in many Jewish communities, based on the perception that anti-Semitism and xenophobia are on the rise in America. While kids may have been learning about anti-Semitism as an artifact of history, many adults seem to have a growing, ambient sense of threat. If anything, in their eyes, what happened in Pittsburgh is an ugly confirmation of their fears.
[Read: The Jews of Pittsburgh bury their dead]
But Community Day School isn't interested in "selling … kids and families on a vision of Judaism that [says], 'We are victims of persecution, we are victims of the Holocaust, we are endangered, it's the end of the Jewish people,'" said Baran Munro. Especially in liberal communities, where kids might live much of their lives outside of Jewish contexts, "Jewish families are not going to embrace a message of persecution and victimhood and segregation," she said. "So we lead with pride and joy."
While some kids expressed fear about coming back to school on Monday, ultimately, attendance was typical that day, the school said. Walking through the halls that day, it was difficult not to think about the vulnerability of the space. In one classroom, little boys wearing kippot, or Jewish head coverings, squirmed on the carpet next to soft-spoken little girls in uniform. The cheerful classrooms, labeled with colorful Hebrew letters and bursting with art and books, seemed like a haven from what had happened. They "know that they're sad, and that something's not right," said Elke Cedarholm, a third-grade teacher. "So we're just focusing on kindness, sending good thoughts out there, and on being the best little people that we can be."
As Pittsburgh's Jewish community enters a new period in its history, its members have a choice about how they will frame this experience, and how they will teach it to their children. They will have to decide how much their newly legitimated fears will shape lives in their synagogues and their schools; what kind of political action they will demand; and whether their city's name will become just another entry in a long list of sites of mass shootings.
[Read: A broken Jewish community]
On Tuesday morning, a crowd gathered at a vigil organized by the school's eighth graders at the Holocaust sculpture on the school's front lawn. Students and parents sang songs, including one by Matisyahu, a Jewish pop star, and took turns making remarks about what had happened. They lit 11 tall candles on a table covered in a black cloth, and shared short tributes to the victims of the shooting.
The kids here are already helping the members of Pittsburgh's Jewish community decide who they are going to become. "They really have a no-B.S. censor, and they're not shy about speaking out," said Baran Munro, "which gives me hope." Rabbi Jeffrey Myers, the rabbi at Tree of Life, attended the vigil planned by the students, who had often showed up at his synagogue to pray. "You've given me some strength to get through today," he said. "And for that, I thank you."