A Mass Shooting in One of the 'Safest Cities in America'
At least 13 were killed at a bar in Thousand Oaks, California, that was frequented by college students.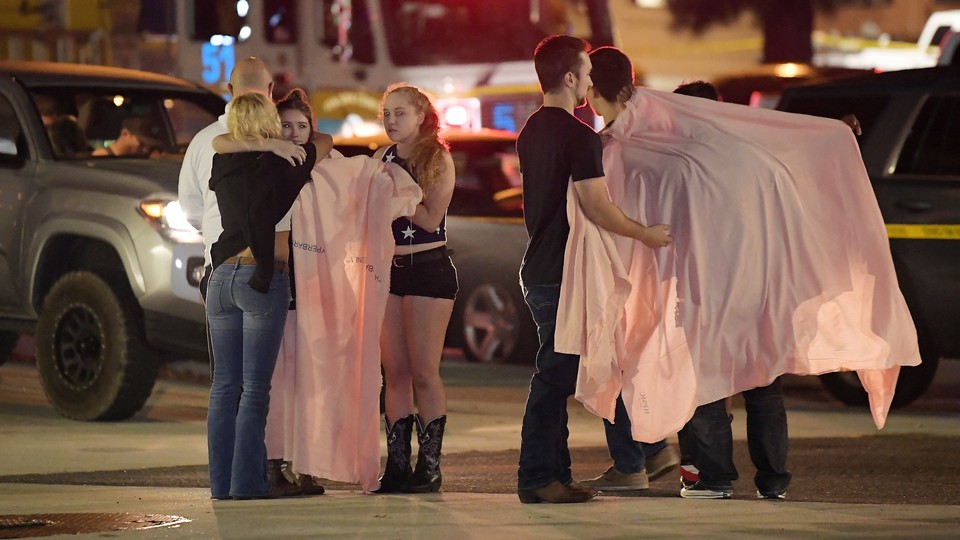 A gunman entered Borderline Bar and Grill, in Thousand Oaks, California, late Wednesday night and opened fire. By the time the rampage was over, at least 13 people were dead, including one police officer and the gunman.
Thousand Oaks, California, is routinely named one of America's safest cities for its relatively low number of crimes reported in FBI statistics. But such day-to-day statistics can't neatly forecast mass shootings, which are seemingly random and can happen anywhere. The sites of mass shootings over the past few years have touched so many corners of American public life: churches, malls, synagogues, bars, concerts, schools, movie theaters, office buildings, even a yoga studio.
The bar, located near Pepperdine University and California Lutheran University, was frequented by college students, and it was hosting a "college country night" for students on Wednesday, according to Ventura County Sheriff Geoff Dean. Pepperdine confirmed on Twitter that multiple students were among the hundreds of people inside the crowded bar at the time of the shooting. Law-enforcement officials have not yet determined a motive. Southern California had another mass shooting on a similar scale just three years ago, in 2015, when 14 people were killed in San Bernardino.
Earlier this year, a spate of school shootings—in Parkland, Florida; Marshall County, Kentucky; and Santa Fe, Texas—ignited a new wave of activism around gun-control laws. Parkland, too, was rated one of the safest cities in the country before a gunman killed 17 people at Marjory Stoneman Douglas High School in February. The Parkland students made passionate calls for action, moving lawmakers in Florida, one of the country's most gun-friendly states, to pass an array of gun-control regulations.
But efforts to weaken the influence of the National Rifle Association, the leading gun-rights advocacy group, in the state seem to have hit a wall. In Tuesday's midterm elections, a candidate for governor who was backed by the NRA claimed victory, and the state may have two NRA-supported senators. The reporter Lois Beckett, who was with Parkland students Tuesday night, wrote that one student, Jaclyn Corin, said that she was "shaking with anger" over the election results. "It's like the same feeling I was getting the night of February 14, so angry that I don't know what to do with that anger," Corin told those gathered. "We're not going to stop fighting, I can tell you."
During a press briefing after the Thousand Oaks shooting, Dean expressed an all-too-common sentiment. "I never thought I would see the things around the country that would happen, but I've learned it doesn't matter what community you're in," he said. "It doesn't matter how safe your community is; it can happen anywhere."