The Fleeting Magic of Scholastic Book Fairs
Years later, many adults still pine for the days their school libraries, auditoriums, and gyms transformed into pop-up bookstores.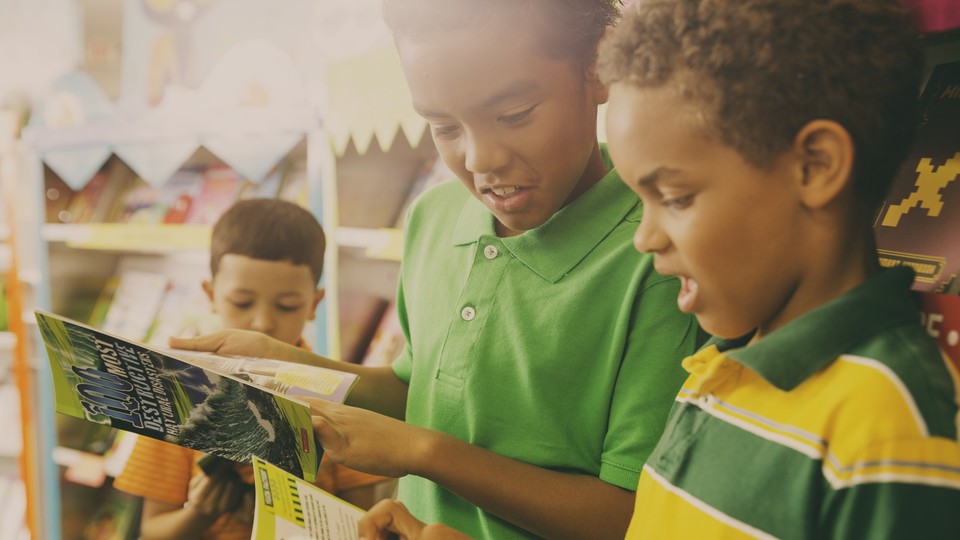 In the early 1980s, the world of school book fairs was "a highly competitive and very secretive industry," according to a New York Times article at the time. The fairs numbered in the thousands and spanned the United States. They were put on by a mix of organizers: A few national corporations, about 25 to 30 regional companies, and assorted bookstores.
By the 1990s, one organizer reigned: the Scholastic Corporation. Scholastic, founded in 1920 to publish books and magazines aimed at young readers, had purchased several of its smaller competitors. The company became the largest operator of children's book fairs in the country, a title it still holds today.
But we're not here to talk about Scholastic's business history, and I think you know that. If you're a young adult who attended elementary school in the United States, I'd guess that when you saw the headline on this story, something deep inside your mind cracked open. With an unmistakable pang of nostalgia, the memory of a Scholastic book fair, with all its concomitant joys, came flooding in.
At the turn of the century, after the availability of dial-up internet but before the widespread use of mobile phones, the euphoria in the weeks before a Scholastic book fair was palpable, like the anticipation before a big holiday. When it was finally time and the doors opened, the drab libraries, auditoriums, and gyms that students moved through every day were transformed, almost as if by magic, into bookstores full of colorful covers, glittery pens and pencils, and cute classroom tchotchkes. Kids were free to roam the fair, to pick up books and sniff their glossy pages, and, if their parents had sent them to school with a few dollar bills, buy them. The thought of selecting a book all by oneself, of exercising a little independence—in such short supply at that age—was delicious.
The experience seems to have lodged in the memory of many of the adults these children became. For some, Scholastic book fairs provided a distinct brand of uncontaminated joy that exists only in childhood. Because of Scholastic's national reach, pining for that joy can be a collective activity, which makes tweets such as this so popular and painfully relatable:
I've spent my whole adult life chasing the high of a scholastic book fair

— regular skeleton (@Merman_Melville) October 3, 2016
It is with this high in mind that I walked into a Scholastic book fair at Woodfield Elementary, a school of about 300 students in Gaithersburg, Maryland, a suburb of Washington, D.C. When my tour guides, a pair of regional Scholastic sales representatives, arrived, they led me from the main office, down hallways covered in posters and drawings, to the library. As we approached, my heartbeat quickened in anticipation, just as it did so many years ago. We turned a corner and stepped inside.
For a split second, it felt as if someone had sucked all the air out of the room. This was not the Scholastic book fair I remembered.
It certainly looked like one. Metal bookshelves lined the room, topped with brightly colored banners designating genres—science, adventure, animals. Schoolchildren flitted from section to section, giggling as they went. A person dressed from head to toe as Clifford the Big Red Dog, the star of a well-known Scholastic-made book series, waved his fluffy red paws enthusiastically.
But unlike the fairs I attended in elementary school, the sight was underwhelming. The setup, sparkling and grand in my mind, turned out to be rather plain and small in the bright, fluorescent lighting. I felt a pit of disappointment in my stomach. Memories are notoriously malleable, and my recollection of Scholastic book fairs had become warped over the years. Each time I had thought back fondly on the fairs, I added a coat of rose-colored paint to the experience. Now that magical sheen had been stripped away.
I didn't say any of this, of course. I came to Woodfield Elementary to interview the kids, not warn them of adulthood's cruel tendency to render formerly wondrous things mundane. I didn't have much time to process my reaction anyway, because the students, a group of fourth graders, wanted to give me a tour of the fair and talk about their favorite books.
Charlotte Francke likes Wings of Fire, a fantasy series about dragons. "I completely recommend it," she said. "I just want them to come out with a second one, because I'm kind of mad at the ending. They killed one of my favorite characters."
Her classmate Darby Hitt prefers thrillers. "I like mystery books because they leave a mystery every chapter and I get really excited to read the next one," she said.
The students guided me through the sections. There were Picture Books, for the younger readers; Chapter Books, for older readers ready for some narrative; Friendship Tales, stories of kids and their furry companions; Fearless, stories of adventure and survival; Fun Facts, for a hint of science; and Girl Power!, a section I didn't remember from my own experience. (A Scholastic representative later told me the section was added in 2017.)
Cassidy Kemensky said she found the book fair easier to navigate than a traditional bookstore such as Barnes & Noble. "It's very crowded in there, and there's sections for adults and stuff," she said.
The selection at book fairs is carefully curated by Scholastic staffers, who receive advance copies of virtually every forthcoming children's book from many publishers, not just Scholastic, according to Alan Boyko, the president of Scholastic Book Fairs. Before he joined Scholastic in 1988, Boyko ran a business leasing and selling trucks. He soon realized the venture wasn't as profitable as he'd hoped; there were only so many people who wanted to buy trucks, and customers returned only when they wanted upgrades years later. Boyko decided to use the trucks to sell and distribute books instead, and Scholastic eventually scooped up his business.
The vetting process for the books is quite intense. About 50 staffers pack into a room and start talking. "It's crazy," Boyko says. They discuss which books sold and which flopped in previous seasons, present new ones for consideration, and then vote. Boyko says he reads every book that makes it onto the shelves.
Stephanie Brant, the principal of Woodfield Elementary, said Scholastic allows schools to tailor the book selection to their student populations. The majority of students at Brant's previous school were Hispanic, so she requested more Spanish titles. "I think it's really important for kids to see themselves in books," she said.
Brant said that not everyone at Woodfield can afford to buy books at the fair, some of which cost under $5. She uses confidential school records to determine which families may not have the funds. Those students receive a bookmark that they can trade for a book of any price. (The school pays for these by dipping into the proceeds Woodfield receives from the book fairs.) This year, about 20 percent of Woodfield's students received bookmarks, including one kindergartner who Brant says took home his first book from the fair this year. "We would never have known that he didn't have a book at home" if he hadn't come to the fair, Brant said.
Eventually, it was time for the fourth graders to return to class. I asked Clifford, who turned out to be the school's building-service manager, whether he would remove the head of his costume for an interview. "No, no," one of the Scholastic reps said. "If any child saw that—it's way too traumatic."
That's when reality set in. The sight of beloved Clifford taking off his head would not traumatize me, because I am not a child and therefore I am not Scholastic's target audience. I had embarked on the school visit thinking that the magic of the book fairs was timeless, that I would feel the same rush I did as a kid, but I had forgotten to account for the passage of time and what it does to adults.
As I drove away from Woodfield Elementary, a part of me wished I hadn't come. I missed the dreamy soft lighting of my elementary-school memories. For those of you still chasing the high of a Scholastic book fair, take my advice: Keep chasing. Don't go back. But if you do—this time, with your own kids—relish the knowledge that their memories will stick with them for years to come.