The Questionable Year of the Teacher Politician
While claims that a record number of educators ran for office in 2018 may have been overstated, Tuesday night showed the political momentum at their back.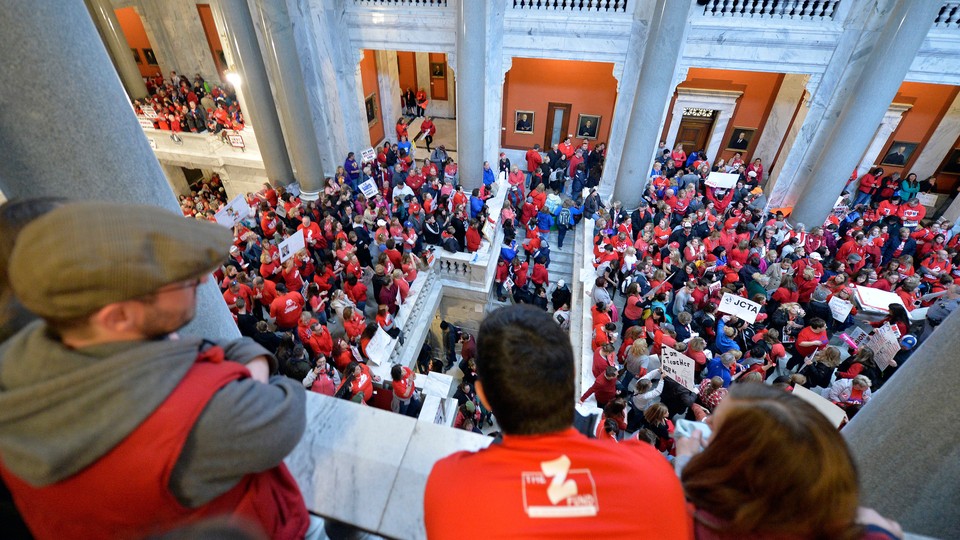 Even before the election, pundits were calling 2018 "the year of the teacher." The Christian Science Monitor and the Associated Press both said an unprecedented number of educators sought political office this year. "The teacher strikes pushed a record number of educators to run for office," wrote Vox, in an article noting that "more than 1,000 teachers will be on the ballots across the country." A few days before that, Al Jazeera reported that 1,450 educators would be vying for state legislative seats, though it noted that many of them weren't actively working in education. On Friday, USA Today packed all the main points in a single headline: "'We're Just Fed Up': Teachers Running for Office in Record Numbers, Motivated by Low Pay and Education Cuts."
These claims of a historic trend were sparked by a memo issued last month by the National Education Association (NEA), the country's largest teachers' union. In it, Carrie Pugh, the organization's senior political director, cited "available state campaign data" in claiming that an unprecedented 1,800 educators sought seats in state legislatures this year. The numbers were broadly similar to those from the Democratic Legislative Campaign Committee (DLCC), a group that works to elect Democrats to state legislatures, which concluded that 1,456 educators ran for office this year.
But there are some pretty significant caveats, and together they are reason enough to doubt the overall picture. First: The NEA uses the word educator liberally, counting essentially anyone who currently works in or used to work in an education-related job, such as professors, guidance counselors, and school administrators. Other definitions have yielded drastically different numbers. After the Education Week reporter Maddy Will and her colleagues conducted their own analysis—consulting teachers'-union rosters, thoroughly reviewing news-media coverage, and verifying information they received through online submissions—they concluded that the number of teacher political candidates (meaning people currently working as K–12 teachers) in 2018 was 177—less than a tenth of NEA's count.
Second: There isn't a reliable set of data to which the 2018 figures can be compared. In fact, an analysis by the Wall Street Journal reporter Michelle Hackman found that while the NEA asserts that 1,600 educators ran in 2016 (about 200 fewer than this year), the DLCC puts the number at 1,629 for 2016—173 more than it says ran this year. These discrepancies, and the glaring gap between the NEA tally and conclusions drawn by Education Week, may come down to the inconsistent ways in which candidate lists are compiled from state to state and organization to organization.
Nevertheless, it is the case that teachers are having a moment, likely emanating from a series of high-profile walkouts earlier this year. In late February, teachers across West Virginia staged a strike demanding higher wages and better school conditions, inspiring their counterparts in other states to follow suit. Many of the educators had never before engaged in politics. Of the 177 teachers that Education Week tracked, 41 won last night, and most of them were Democrats. (That number could rise to 42, as one race has yet to be called.) The victors include 13 teachers in Arizona, Kentucky, Oklahoma, and West Virginia—four of the states that experienced the most educator activism this year.
Perhaps the hype around the wave of teacher candidates and the assumption that they have shifted the country's priorities on education were overblown, as the American Enterprise Institute's Frederick Hess has suggested. In a recent Gallup poll, for example, just 2 percent of voters identified education as the most important problem facing the nation. That being said, evidence of the reach of teacher activism has surfaced in all kinds of ways this year, such as voter opposition to school-voucher proposals, unusually contentious elections for schools superintendent, and a body of survey data showing a spike in support for raising teachers' pay.
And beyond the teachers turned state legislators, two candidates who are current educators also made history Tuesday night by winning their bid for higher-level office. One was Wisconsin's Democratic gubernatorial candidate, Tony Evers, the state superintendent of public instruction, who beat the two-term incumbent, Scott Walker, after a high-profile battle in which he leveraged criticism over the quality of the state's public schools. The other is the Democrat Jahana Hayes, a school administrator and a past Connecticut Teacher of the Year winner, who ran a victorious campaign for Congress in the state's Fifth District. She put education front and center in her campaign, and her win marks the first time voters in Connecticut will send a black woman to the Capitol. Tuesday night's outcome, she declared in her victory speech, showed that voters "believe that we have to protect the future that we promise for our kids." Now voters across the country are expecting Hayes and other newly elected teacher politicians to make good on that promise.